With so many choices of pens out there today it can easily get a bit confusing – do I need a ballpoint, rollerball, or gel pen?
The main difference between a gel pen, ballpoint pen, and rollerball pen is the type of ink they contain, and this affects how they write.
In this guide, we will explain what is a ballpoint pen? what is a gel pen? and what is a rollerball pen? We then compare gel pens vs ballpoint pens, rollerball pens vs gel pens, and rollerball pens vs ballpoint pens.
We also recommend some of the best ballpoint, gel, and rollerball pens.
1. Ballpoint Pens vs Rollerball Pens vs Gel Pens
It is estimated that there are over 20,000 different pens in the world. Having such a wide choice to choose from though is not a bad thing as it gives you plenty of options when looking for a pen to fit your needs.
One of the questions that we are most often asked is what the difference is between a ballpoint pen a gel pen and a rollerball pen. And how does this affect how they write?
We'll start with some of the basics and explore the differences between ballpoint pens, rollerball pens, and gel ink pens to help you make a more informed decision when choosing your next pen.
What all the labels basically come down to is ink. Even more simply put, thick ink or thin ink. Thicker inks dry quickly, last longer, and make neat, but uninspired lines. Thinner inks dry more slowly and run out faster, but can make sharper, more vibrant lines. Pens generally are classed by the types of ink they use and their delivery system.
2. What is a Ballpoint Pen?
Most of us will use a ballpoint pen on a frequent basis and they were first invented by Laszlo Biro back in the late 1930s. But what exactly is a ballpoint pen?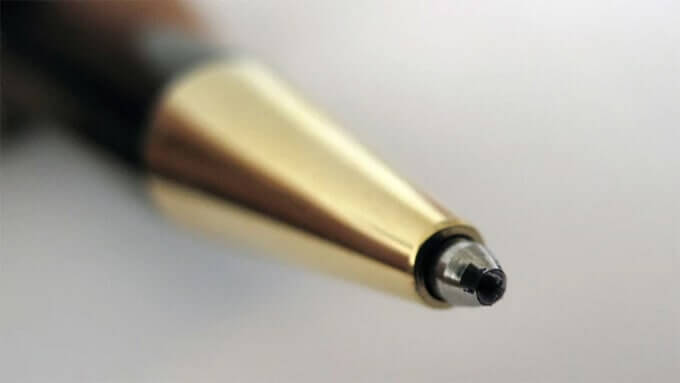 A ballpoint pen is a pen that uses a thick, oil-based ink that is essentially a paste. A ball at the tip of the pen picks up the paste and presses it onto the paper. The ink is carried in an alcohol solvent, which dries quickly, leaving the ink stuck to the paper.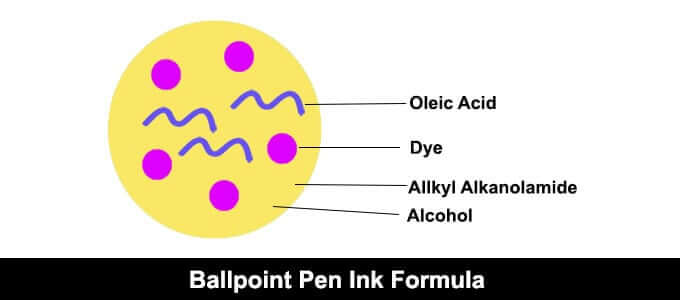 If you look at the Ballpoint Pen Ink Formula diagram you can see that a typical ballpoint pens ink will contain:
Oleic Acid – which is a fatty acid to lubricate the ball and keep it rolling smoothly.
Dye – this is what determines the color of the ink.
Alkyl Alkanolamide – assists the dye to impregnate paper before the ink formula dries.
Alcohol – added to create the right liquidity to enable the ink to apply smoothly to the paper.
Obviously, the advantage of ink that dries quickly is that it's less likely to smudge. And, because the ink is thick, less of it comes out as you write, so ballpoints pens tend to last a long time. The ink is also far less likely to bleed through the paper.
However, the thick ink is more prone to clumping and takes more writing pressure to apply to the paper. Since you have to press harder, it makes for a less comfortable writing experience.
Due to their longevity and ease of care (you don't need to do much to maintain a ball pen), and the fact that ballpoint pens can write on many different types of surfaces, they remain a popular option for everyday life.
3. What is a Gel Pen?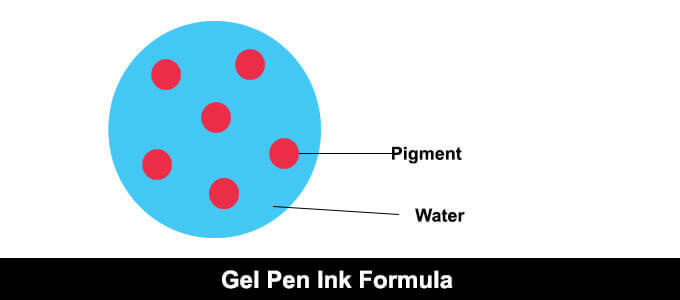 When it comes to what is a gel pen then this is where it can get kind of confusing because this ink is used in both gel and rollerball pens. The ink is a water-based gel that isn't quite as thick as a typical ballpoint paste but isn't quite as thin as rollerball liquid. It's delivered the same, via a rolling ball.
If you look at the Gel Pen Ink Formula diagram you can see that a typical gel pens ink will contain:
Pigment – this is what determines the color of the ink.
Water – a water-based solution that the pigment is suspended in to make the gel ink.
The idea of gel ink is to achieve a balance so that it dries quickly and is less likely to blot or smudge but still flows freely enough to write more smoothly than a standard ballpoint. Because gels use pigments, rather than dyes, there also is more variation in the colors available.
Gel pens, like liquid ink rollerballs, create bold, rich lines and tend to write quite comfortably. But the thicker ink also tends to clump occasionally, like ballpoint ink, and doesn't always coat the ball evenly, leaving skips in the line.
With these considerations in mind, further down we have some recommendations for you in the gel pen arena – pens which we feel deliver the best combinations these pens have to offer.
4. What is a Hybrid Ink Pen?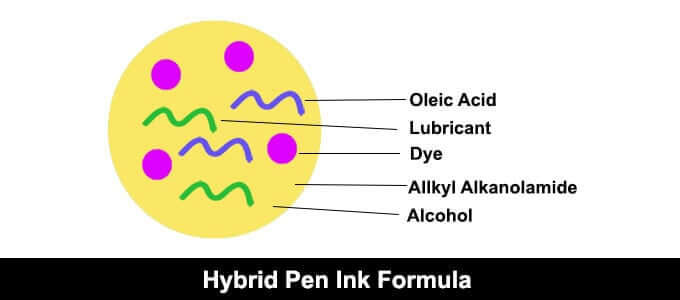 Hybrid ink pens represent a fairly new development in ink pen technology. Taking the best features of a ballpoint pen, namely the ability to write on most surfaces with quick-drying ink, combined with the intense colors and smooth, dense flow of gel ink, hybrid pens cover all of the bases.
If you look at the Hybrid Pen Ink Formula diagram you can see that a typical hybrid pens ink will contain:
Oleic Acid – which is a fatty acid to lubricate the ball and keep it rolling smoothly.
Lubricant – Added to give similar smooth writing to that of using a gel pen.
Dye – this is what determines the color of the ink.
Alkyl Alkanolamide – assists the dye to impregnate paper before the ink formula dries.
Alcohol – added to create the right liquidity to enable the ink to apply smoothly to the paper.
The ink produces a line that is as even as the line provided by a gel rollerball pen but resists drying out, also giving you the longevity of a ballpoint pen.
There are several ranges of pens available now which feature this hybrid ink, but there are a couple of standouts that we recommend.
5. What is a Rollerball Pen?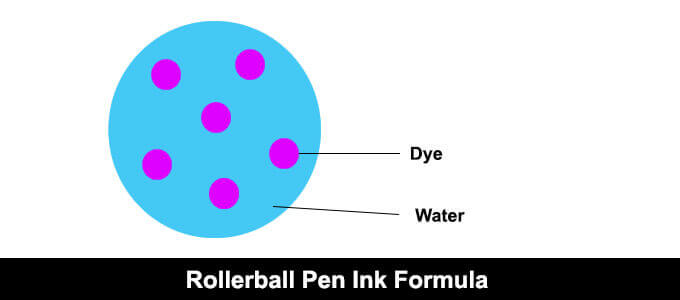 Rollerball pens use thinner, water-based ink that comes out as a liquid (which is why you also see them referred to as liquid ink pens). The design is basically the same as a ballpoint: a ball held in a cone-shaped or pronged tip that picks up the ink and rolls it onto the paper. The solvent, water, is slower to dry than alcohol.
If you look at the Rollerball Pen Ink Formula diagram you can see that a typical rollerball pens ink will contain:
Dye – this is what determines the color of the ink.
Water – a water-based solution that the pigment is suspended in to make the gel ink.
Some considerations to keep in mind include the fact that since the ink dries more slowly, it is more prone to smudging, especially for lefties whose hands drag over the lines as they write. The thinner ink also flows out of the pen at a faster rate, so the ink cartridges have a much shorter life than ballpoints. Also, paper absorbs the ink more readily, so bleed-through is a concern.
The main advantage of these pens over standard ballpoints is that the ease of flow makes writing extremely smooth, and the richer saturation is just more attractive.
6. Gel Pens Vs Ballpoint Pens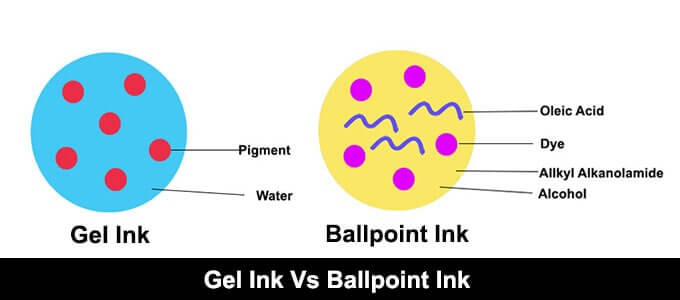 When comparing gel pens vs ballpoint pens the type of ink in a ballpoint pen has very different characteristics to that of a gel pen.
It is the biggest difference between the two types of pens and makes them interact differently with paper when writing.
A ballpoint pen has a thick oil-based dye ink and an alcohol carrier. This means that as you write the ink is applied to the paper via its ball and dries very quickly before the paper can absorb too much of it.
A gel pen has water-based gel ink that is not as thick as a ballpoint pen. This makes the pen feel smoother to write with as there is less resistance to the paper. Because the ink is wetter it does not dry quite as quickly as a ballpoint pen's ink does.
When you write with a gel pen the solid ink is applied by the ball and becomes a liquid as the ball rolls and returns to a solid once on the paper.
Because the ink of a ballpoint pen dries so quickly the pen can be used to write on many surfaces with no bleeding or smudging. A good example of this is writing on the back of a photograph.
Whereas the gel pen will smudge and smear due to its wetter ink. When using on cheaper and thin paper the gel pen may bleed through to the other side whereas the ballpoint pen will not.
Gel pens write a lot smoother than a ballpoint pen but where they really come into their own is that their water-based gel ink is a pigmented ink.
Because the ink is pigmented it is available in a far wider range of colors than a ballpoint pen. whose colors are limited due to its dye-based ink colorant.
Not only does a gel pen have a lot more colors to choose from but the ink is denser and produces more vibrant colors on the paper.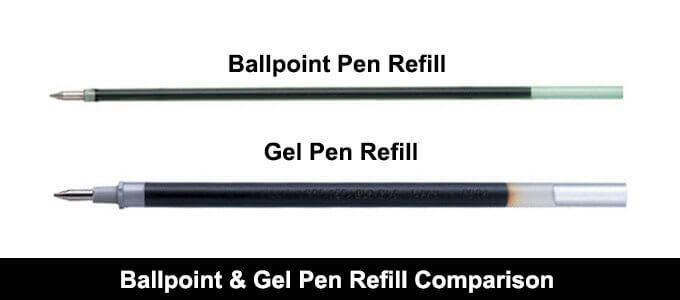 The other big difference between ballpoint pens vs gel pens is the size of the refills and how long the ink lasts a ballpoint pen has a very thin refill and can write for a very long distance. The average ballpoint pen can write for 900 meters.
If you would like more information, then check out How far will a Ballpoint Write.
A gel pen on the other hand has a very thick refill when compared to a ballpoint pen and is a good way of finding out what sort of pen you have if you are unsure.
The refill is not only thicker, but gel pens tend to be a bit longer than a ballpoint pen check out how long is a pen for more info.
You would think that because a gel pen has a thicker refill and can sometimes be longer than a ballpoint pen refill then it would write for a greater distance than a ballpoint pen.
Sadly, this is not the case a gel pen writes a lot shorter distance than ballpoint pens 900 meters. The manufacturers don't publish these figures which are known as pens' write-out length, but it is probably in the region of 500 meters.
Therefore, your gel pen runs out of ink quickly compared to that of a ballpoint pen. Rollerball Pen Vs Gel Pens
7. Rollerball Pens Vs Gel Pens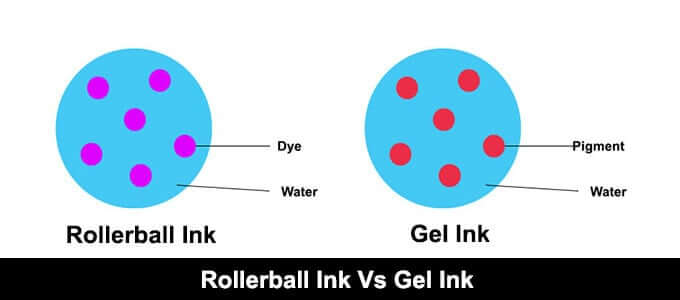 In the previous section, we explained how a gel pen's ink is a water-based pigmented ink that is thinner and wetter than the ink of a ballpoint pen.
A rollerball pen has an even wetter ink than that of a gel pen and its dye-based ink is very similar to the type of ink used for fountain pens.
When you write with a rollerball pen the wet ink flows easily around the ball allowing your pen to smoothly glide across the paper. This provides a great writing experience, but the ink is so wet it takes longer to dry than a gel pen. It also produces wider lines as the wet ink spreads out more than gel ink does.
Because the ink is so wet, we do not recommend using rollerball pens on cheap low quality, or thin papers as it will bleed through. The ink in gel pens dries quicker than a rollerball pen and is a lot more forgiving on most papers and notebooks in comparison.
Rollerball pens have vivid ink colors that really pop out on paper however they are usually only available in black, blue, red, or green ink.
You may find some rollerball pens available in other colors but nowhere near the range of gel pens. A good example of this is that Cross Rollerball pen refills are only available in black, blue, red, or purple.
When you compare this to the Pilot G2 gel ink pen it is available in a huge range of colors. For more information on the Pilot G2, gel pen check out The Complete Guide to Pilot G2 Pens.
8. Rollerball Pens Vs Ballpoint Pens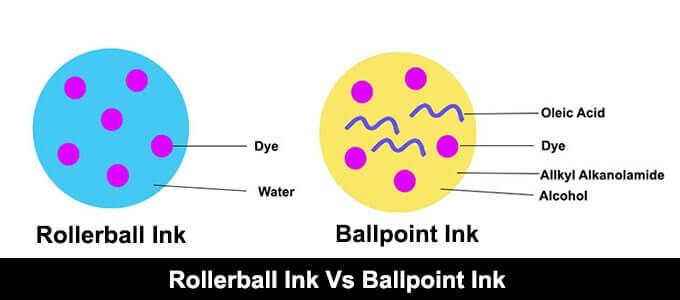 Comparing rollerball pens to ballpoint pens is like comparing apples to oranges as they are very different in how they write and what they are used for.
A ballpoint pen has a thick oil-based ink that dries very quickly and can write on different surfaces. Because the ink is thick it requires a bit of pressure to move the pen across the paper.
Whereas a rollerball pen has a water-based liquid ink that requires less pressure than a ballpoint pen and the ink flows smoothly onto the paper making them far easier to write with.
Because a rollerball pen's ink is wetter it takes longer to dry and requires good quality paper to prevent feathering and bleeding. They are perfect for letters and high-quality journals/notebooks and extended periods of writing.
9. Recommended Ballpoint Pens
The following are a few ballpoint pens that we like and have included the very cheap but underrated Paper Mate Inkyoy, The pen again which is an unusual ergonomic pen and one of our favorites the Fisher Space pen with its pressurized refill it will literally write on anything.
9.1. Paper Mate Inkjoy Ballpoint Pen
Paper Mate InkJoy ballpoint pens have a wide range which all feature Paper Mate's unique low-viscosity ink combined with optimized tips, meaning these pens start to write quickly and smoothly with minimal pressure, giving you crisp, clean lines exactly where you want them.
9.2. Pilot BPS Ballpoint Pen

Pilot ballpoint pens offer affordability with comfort, longevity, and environmentally-friendly options. The Pilot BPS range of capped, stick ballpoint pens features a comfortable triangular rubber grip with refillable ink, making them smooth-flowing and easy to use.
9.3. Pilot Acroball Ballpoint Pen

The Pilot Acroball ballpoint pens feature a hybrid ink that combines the best qualities of fast-drying liquid ink with a quick-drying ballpoint pen, giving you smudge and water-resistant, archive quality writing in the ease of a ballpoint pen well suited for left-handed writers.
9.4. Parker Jotter Ballpoint Pen

If you are looking for something a little more expensive, the Parker Jotter and the new Urban range are firm favorites of ours.
The Jotter has been one of the most popular pens in the UK since 1954, with good reason. Their sleek stainless steel style is combined with their unique ink system, ensuring a smooth, consistent flow of ink for your writing,
9.5. Pen Again Ergonomic Ballpoint Pen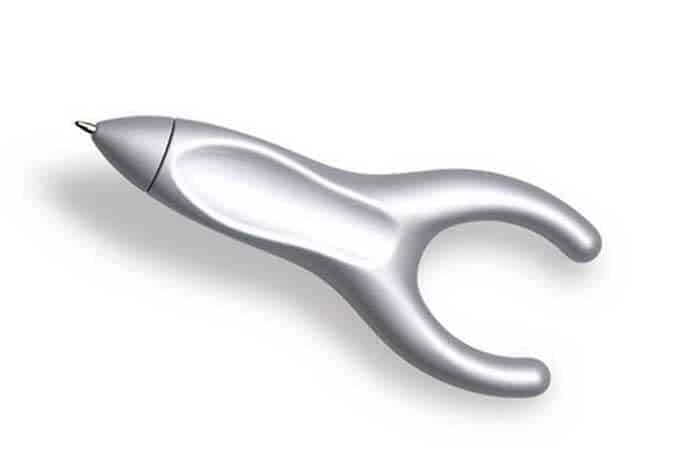 If you are looking for a pen that will relieve the strain of writing, PenAgain has an ergonomic Y-shaped wishbone pen specifically designed to let the natural weight of your hand supply the pressure needed to produce a smooth, vibrant line, alleviating writer's cramp and repetitive strain injuries.
9.6. Fisher Space Pen
For a truly versatile pen, the Fisher Space Pen is a top contender, coming with a pedigree that includes actual space travel. This pen was designed for use anywhere. Being pressurized, it can write upside, underwater, or on almost any surface, with a compact bullet shape that makes it fit handily in your pocket or purse.
10. Recommended Gel Pens
The following are a few of our favorite gel pens including The Sakura Gelly roll is made by the company that invented gel pens for more information check out our post celebrating Sakuras 35th anniversary. They are great for coloring but when it comes to writing I just love the smooth flowing ink of the Pentel Energel pens.
10.1. Sakura Gelly Roll Gel Pen

Today's much-loved gel pen craze started when the renowned company Sakura introduced the first gel pen with the Gelly Roll pen in 1984. Since then, their innovations continue with gel pens available in pastels, vibrant colors, metallic, glitter, even 3D inks – countless options which make them a favorite brand for anyone doing arts and crafts or just bringing a spot of color to their writing.
10.2. Pilot G2 07 Gel Pen

The Pilot G2 07 pens are probably the most famous and written-about gel pens in the world featuring fluid gel ink with vibrant, intense colors. These pens are available in a wide range of 26 colors to choose from.
So you can add a dash of color to your work or art or you can express yourself over an entire page in the color that best suits your needs and mood. They are ergonomic pens that have a rubber grip and a retractable tip to add comfort and ease to your writing.
10.3. Pilot Frixion Erasable Gel Pen

Another popular option in the gel pen range is the highly versatile Pilot Frixion pen range. This line of erasable gel ink pens means that you can select the vibrant look you desire for your writing and then easily correct any undesirable mistakes that may occur – the best of both worlds!
10.4. Pentel Energel Gel Pen
The Pentel EnerGel pen range is another popular option, especially for left-handed writers. The EnerGel ink is specially formulated to combine liquid and gel ink for an intense color line that dries quickly and helps prevent smudging. If smudge-free writing is a priority for you, check out our post here with additional information and recommendations.
11. Recommended Hybrid Ink Pens
When it comes to hybrid ink pens the Uni Jetstream is king and well worth trying if you have not come across them before. Because they are smoother writing than a ballpoint with quick-drying ink they are firm favorites with left-handed writers. If you are left-handed then check out The Best Pens for Left-Handed Writers to see these and other popular pens for lefties.
11.1. Uni-Ball Jetstream Pen

Uni-Ball was the first to introduce this new hybrid ink in its Jetstream range of pens. The pigment-based inks make the Jetstream range fast-drying pens with dense vibrant colors that do not smudge, making them ideal for left-handed writers.
Their intense color also bonds with paper, making the Jetstream pen terrific for signing documents or using when you want archival quality and longevity for your writing.
11.2. Zebra Z-Mulsion Pens
The Zebra Z-Mulsion range is another line that features an emulsion of oil and pigment to give you ink that is the perfect balance of a gel pen and ballpoint pen with vivid, bold colors to add flair to your writing or art.
10. Recommended Rollerball Pens
When you think of rollerball pens then the luxury brands spring to life such as Cross and Lamy. They may make great pens but the Pilot V Series Liquid ink pens really are superb pens with silky smooth writing from their liquid ink.
10.1. Pilot V System Rollerball Pen
The Pilot V-System range of liquid ink rollerball pens all features a regulator system for the ink flow, ensuring smooth writing to the very last drop of ink. Available in a range of widths and colors, the precision and longevity of these pens have made them a favorite for many years.
10.2. Uni-Ball Air Rollerball Pen

The Uni-Ball AIR rollerball features a unique rollerball tip that continues to roll smoothly at any angle, providing a dense line that is water and light-resistant. Combined with its comfortable feel, this makes the AIR an ideal pen for documents or any long-term writing.
10.3. Waterman Hemisphere Rollerball Pen

If you are looking for something a bit more upmarket or sophisticated for yourself or for a present, then the Waterman Hemisphere pens are an excellent choice.
13. Conclusion
So which one is best for you? That really depends on the type of writing you do the most, and what your priorities are when choosing a pen – the cost, the writing experience, or the way it looks on paper.
Expense:
Ballpoints use less ink, which means buying fewer refills, and they're less prone to drying out when not in use. They're dependable, inexpensive, everyday writers that will get the job done.
Feel:
Rollerballs float across the paper nearly as smoothly as fountain pens for the most graceful, comfortable writing experience. You can use them for long periods of time without cramps or fatigue. Speaking of fountain pens if you are thinking of trying one out don't forget to check out our First-time buyers guide to fountain pens.
Appearance:
Gels produce the cleanest, most precise lines without sacrificing vibrancy. They're perfect for adding bold signatures to documents, for writing journal entries, or for artwork.
Your best bet probably is to start out with a good ballpoint or gel pen and try using it for a while. You can always trade up if you want a smoother writing experience and don't mind the added expense. But we're betting that once you pick up the right pen, you'll be perfectly happy to stick with it.
That's our take – but we want to hear from you. Which pen is working best for you right now?