There's a lot of secrecy around the trailers for the upcoming movie based on the Warcraft games.
The gaming and movie press have gotten to see some of them, including an extended preview at Comic-Con recently, but access outside those circles has been limited.
So a few people with varying degrees of artistic talent have gotten creative by coming up with their own movie trailer drawings.
Bryan Bishop, reporting from Comic-Con for TheVerge.com, was armed with a Uniball Signo 207 and a Moleskine notebook when he saw the preview.
He decided to sketch the movie trailer for Warcraft.
The set is a little..rough…but you get the gist of it. Orcs travel through a portal and get into a war with humans. I loved Bishop's sketch of the human in the lion helm. It reminded me of this guy.
Gamers who attended BlizzCon last year also got an exclusive look at the Warcraft movie. The trailer was limited to those present, so Chinese freelance artist Yanmo Zhang took a shot at creating movie trailer drawings from memory.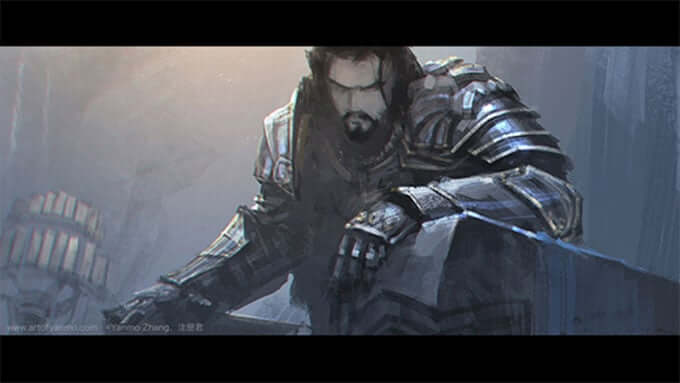 The result was a spectacular set of artworks depicting the trailer.
(I'm not sure what Zhang used to create these images. He's a painter, but also a CG artist. In interviews, he says he paints, sketches in pencil, and also draws digitally using a stylus and tablet.)
Warcraft isn't the only movie getting the with fans drawing trailers.
David Mohr, who posts on YouTube as The Stars War, made his own animated remake of the official teaser trailer for Star Wars: Episode VII – The Force Awakens.
First, here's the official trailer.
And now Mohr's movie trailer drawings.
Not bad, right? Nearly a shot-for-shot remake, all hand-drawn and hand-painted.
David was kind enough to respond to a question about the tools he used. This is what he said:
I used Faber-Castell Pitt Artist Pens for the drawings and Utrecht Artists' Watercolors. I scanned the drawings and used Photoshop to create the stills for the animation.
Sometimes, even Disney, which has largely abandoned old-school animation, will turn out a hand-drawn movie trailer.
Disney promoted the Japanese release of Big Hero 6, a computer-animated feature, with a movie trailer drawn by artist/ comedian Tekken. The result was a touching trailer about a boy who loses his big brother and forms a friendship with a robot.
It's never even occurred to me that people would want to make movie trailer sketches, but it certainly makes sense. They're full of dynamic images and rich colors that an artist would want to emulate. And when a studio is trying to be coy with its footage, it's also a real service for those of us who want to know what we're missing.
Got some movie trailer drawings of your own? Feel free to share. We love seeing our readers' work.
If you enjoyed this post you may also like 10 Favourite Pen Quotes that either amused us or seemed to have a particular resonance: