Do you suffer from pain or discomfort when writing? ergonomic pens can help to relieve your pain and make writing more pleasurable. This guide is designed to help people suffering from conditions such as arthritis, carpal tunnel syndrome, tendonitis or a repetitive stress injury. It is also for those in professions that require a lot of writing by hand
We provide detailed information and recommendations as to which are the best ergonomically designed ballpoint pens, gel pens, fountain pens, rollerball pens & pencils. This will help you to choose the best ergonomic pen for your needs and help ease any pain or discomfort you may have while writing.
What is an Ergonomic Pen?
There's no firm definition of exactly what an ergonomic pen is supposed to be or how it should look. The general idea seems to be that a good ergonomic design for a pen is one that allows the user to hold it in the gentlest possible grip and apply the least amount of pressure possible in order to write.
That typically means a large body with a padded grip of some kind, using a rollerball or gel ink. Some are simply standard pens made larger, while others, as you'll see, go in quite another direction.
Which is the Best Ergonomic Pen?
When deciding which is the best ergonomic pen. It would be nearly impossible to try every single pen that by its shape or size could be called an ergonomic pen. Just because I like the design of a pen, how comfortable it is to hold, its weight and balance and how it writes do not mean that other people will feel the same way. They may have a more serious condition such as arthritis, carpal tunnel syndrome, tendonitis or a repetitive stress injury which affects their interaction with the pen in a different way. So how did I compile a list of the best ergonomic pens?
Quite simply following the wisdom of the crowd. I looked at pens with ergonomic designs that have consistently earned good reviews from as many other pen users as possible, This included other bloggers and my personal favorite type of review. From someone who has parted with their own hard-earned bucks and used the pen on a regular basis. Then take the time to leave a review either at Amazon or another online store where they purchased it for the benefit of other people.
Ergonomic Ballpoint Pens
An ergonomic ballpoint pen is generally considered to be a pen with a wider barrel and a comfortable cushioned grip. It will have an oil-based ink that is usually not quite as smooth a writer as say a gel pen or rollerball pen. Although with hybrid inks becoming more popular this
It is not always the case. If you like to know more about the differences then check out Ballpoint, Rollerball or Gel Pen where we give a detailed explanation of the pros and cons of each type. There are always exceptions to the rule regarding the shape of the pen as you will see with the Y shaped PenAgain and the Yoropen with its adjustable grip.
Pilot Dr Grip Ballpoint Pen

The Pilot Dr. Grip retractable gel ink pen shows up near the top of just about every ergonomic pen list, probably because it is endorsed by the Arthritis Foundation for Ease-of-Use. And that's for good reason. The soft rubber grip is a joy to hold, and the gel ink flows freely so that it takes minimum effort to move the pen across paper. This is a pen you can use comfortably for long writing sessions. Not a bad-looking pen, either.
Check Prices and Reviews on Amazon
Uni Alpha Gel Ballpoint Pen

The Uni Alpha Gel ballpoint is another highly rated ergonomic ballpoint pen. It has a metallic finish which gives it a premium-quality feel to it.
But what this pen is renowned for is its wide squashy grip that is a joy to hold. Amazon customers who have bought and reviewed this pen rave about how comfortable it is to hold with comments such as the grip is phenomenal, and the grip is super comfortable.
Added to that it has the hybrid smooth writing Jetstream ink what's not to like.
Check Prices and Reviews on Amazon
Bic XXL Ballpoint Pen

The Bic XXL is one of the widest-bodied retractable ballpoints on the market. The fat, round barrel, and foam grip make the pen incredibly comfortable to use. These are typical ballpoints, so they aren't exceptionally smooth writers, although their performance is perfectly acceptable. Takes a standard Bic refill. The downside is that the foam cushion tends to dry out and get scratchy. Unfortunately, these pens are difficult to find in the US and almost impossible to get outside the US.
Check Prices and Reviews on Amazon
PenAgain Ballpoint Pen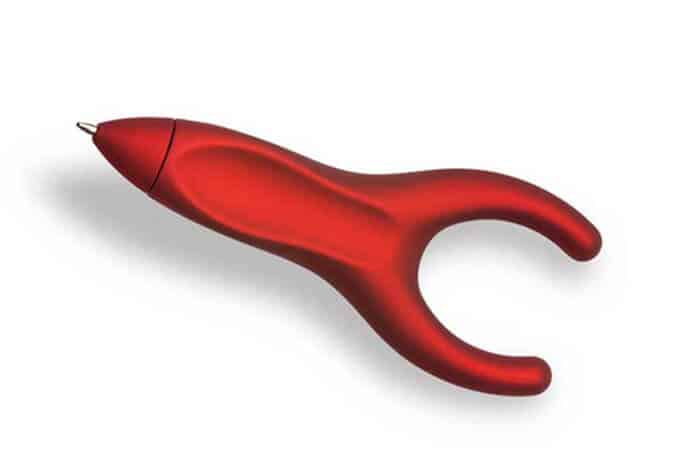 The Pen Again is one of the oddest-looking ergonomic pens you'll find, but that almost seems to be a requirement for ergonomically designed products. Instead of holding the pen in a triangle between thumb, forefinger and middle finger, you slip your index finger into the U-shaped opening and rest it on top of the pen. Depending on the model, the body is made of soft rubber or molded plastic. Most reviews seem to focus on how comfortable it is without going into much detail about how it writes, although there have been complaints about ink not flowing smoothly enough. The pen is refillable.
Check Prices and Reviews on Amazon
Yoropen
Another ergonomic pen with a unique shape. The Yoropen has an adjustable tripod grip that is designed to keep your index finger from sliding down the pen into the classic – and wrong – pinch hold. Because of the grip rotates, you can position wherever it's most comfortable for you. (We also recommend this pen as a possible option for lefties.) Available in both standard ballpoint and gel ink. One word of caution: Be careful not to grip the pen too tightly, as that might cause hyperextension of your index finger.
Check Prices and Reviews on Amazon
Thixotropic Oversized Ballpoint Pen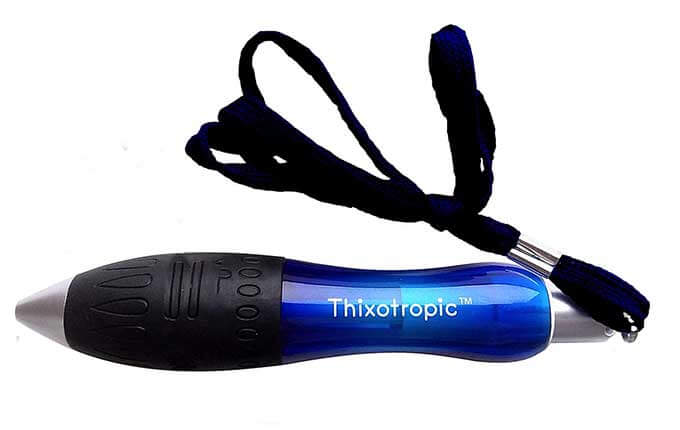 This is a super-sized pen with a rubber grip and a detachable lanyard. It has great reviews from people with arthritis saying how easy it is to hold. There are a couple of negative comments about the refill not being that smooth to write with and a bit scratchy. This is a typical trait of most cheap Chinese made pens; however, it can be refilled with Parker refills. If you like the size of the pen and it provides relief while writing, then I would fit it with a smooth writing Parker Quink Gel Refill. The downside is that the Parker refill will cost more than the pen itself, but they can be Bought from Amazon Here.
Check Prices and Reviews on Amazon
Ergonomic Gel Pens
An ergonomic gel pen again would be one with either a wider barrel with a comfortable grip or a design that enhances the pens comfort while writing. Being a gel pen its ink will be smoother to write with than a ballpoint pen. You should also be able to swap the refills out for a more vibrant range of colors than good old fashioned black or blue ink.
Uni-Ball 207 Premier RT Gel Pen

The Uni-ball 207 Premier RT Gel Pen has a very comfortable gel grip which is great for extended periods of writing. This is combined with Uni Super Ink Plus which is super smooth to write with, dries incredibly fast and has deeper line intensity than other gel pens. Other benefits of Uni Super Ink are that it is archival quality, light and water-resistant, and check fraud-resistant. All-round it is just a great pen to have for daily writing and the fast-drying ink makes it perfect for left-handed writers. Read our Uni-ball 207 Premier full Review
Check Prices and Reviews on Amazon
EzGrip ResQ Gel Pen

The Ezgrip ResQ gel pen is another one that makes most of the lists. Designed by Dexter Technologies, the Ezgrip pen features a unique grip with a wide shelf of sorts – what the company calls a "comfort ledge" – where the tip of the index finger rests on top of the pen. Writing is accomplished by pushing gently on the pen to guide it. According to Dexter, a study by the Cleveland Clinic found that compared to other pens, the EzGrip takes far less https://www.dextek.com/index.htmpressure to use and is significantly more controllable. Arthritis experts Carol and Richard Eustice at About.com give the pen top marks. Uses Parker refills.
(Note: While the company claims, in hyperbolic fashion, that the pen is the end of writer's cramp, medical researchers have actually discovered that writer's cramp is linked to brain abnormalities.)
Update: We received a response from the makers of the EzGrip.
Wanted to mention the author is referring to Dystonia, also known as Focal Dystonia, in which de Quervain's Disease is included as well. Our well founded claim – The End of Writer's Cramp – Guaranteed – still stands. We refer to the everyday cramping writer's get from holding on too tight — an overuse or repetitive stress injury. A human frailty – not a brain abnormality. (just in case you may have it)
Check Prices and Reviews on Amazon
Ergonomic Fountain Pens
The Lamy Safari and Lamy al Star are fountain extremely popular fountain pens with a triangular-shaped ergonomic grip. These are what I would recommend for people to start with and the nibs are of reasonable quality for their price. But the question of how smoothly a fountain pen nib writes is a subject that millions of words have been written about. The main reason is that there is not only a variation between European, Japanese & American nibs but also between different the different manufacturers.
As you can see, we didn't explore ergonomic fountain pens in this article in great depth, but you might want to check out "Voodoo Ergonomics" over at the Fountain Pen Network, where Jon does a pretty fair round-up of the most comfortable pens. it is a little dated now but still worth reading.
Lamy Safari Fountain Pen

The Lamy Safari fountain pen has a very distinctive ergonomic triangular-shaped grip that is unlike nearly all other fountain pens. It is a lightweight pen with a good-sized round barrel and a sprung metal pocket clip and available in a wide range of colors. The Safari is Lamy's bestselling pen with great reviews from users & very reasonably priced. It can be refilled with either Lamy ink cartridges or bottled ink using an ink converter. Its nib is reasonably smooth to write with and available in a wide range of sizes although most people use either a fine or medium nib.
Check Prices and Reviews on Amazon
Lamy Al-Star Fountain Pen
The Lamy Al-Star fountain pen is the premium version of the Lamy Safari fountain pen. It has an anodized aluminum barrel and the same distinctive ergonomic triangular-shaped grip. It also has a sprung metal pocket clip and is available in a wide range of colors. Again it can be refilled with either Lamy ink cartridges or bottled ink using an ink converter. The Al-Star uses the same Lamy Z50 nibs as the Safari which can be easily changed if required.
Check Prices and Reviews on Amazon
Ergonomic Rollerball Pens
Rollerball pens tend to be very smooth writing pens with liquid ink that can take a little longer to dry. They are more associated with being a luxury pen than one with an ergonomic design. However, we have come across an ergonomic rollerball pen the Schneider Breeze.
Schneider Breeze Rollerball Pen

The Schneider Breeze rollerball pen is a wide pen with a large ergonomically designed decorated rubber grip. It is a smooth writing cartridge pen that can be refilled with Schneider Universal 852 rollerball ink cartridges. If the ink is a Royal Blue washable ink that can be erased with an ink eradicator. If you are not familiar with how this is achieved look at our article How to Cleanly Erase Ink from Paper which gives a nice detailed explanation.
Check Prices and Reviews on Amazon
Ergonomic Pencils
Traditional wooden pencils have a slimline wooden barrel so are not really very good for people who have arthritis, carpal tunnel syndrome, tendonitis or a repetitive stress injury. Which leads us on to an ergonomically designed mechanical pencil. There are two that really stand out the Faber-Castell Grip Plus with its wide barrel and ergonomic triangular rubber grip. And the Sakura Sumo Grip which has a wide barrel and comfortable grip.
Faber-Castell Grip Plus Pencil

The Faber-Castell Grip Plus has a chunky nonslip ergonomic triangular-shaped rubber grip that is very comfortable to hold. With a high quality extra-long twist-out eraser. Its tip can be fully retracted making it safe to carry around in a pocket or handbag. The barrel is available in several different metallic colors and the lead in various sizes including 0.7mm and 1.4mm
Check Prices and Reviews on Amazon
Sakura Sumo Grip Pencil

The Sakura Sumo Grip is a lightweight pencil with a large squishy comfortable rubber grip that that Japanese manufacturers are renowned for. It may not be as well known in The U.S as other brands but it is extremely popular in the UK and Japan. It's the sort of pencil that is a kind of hidden gem once you have bought one you will wonder how you ever managed without it. Again it is available in different lead sizes including 0.5mm, 0.7mm, & 0.9mm.
Check Prices and Reviews on Amazon
Children's Ergonomic Pencils
The best wooden pencils for children have a triangular-shaped grip and for younger children they have an oversized barrel for more information check out The 10 best wooden pencils for children. Where we show you what the best pencils are to start your children off with and what they should move on to as they get older and have better control of the pencil.
When it comes to choosing a mechanical pencil for a child then a nice wide barrel is a must especially for younger children as it allows them to get a proper grip. Also, a wider diameter lead will withstand more pressure than 0.5mm or 0.7mm. The Stabilo Sumo Grip with its wide barrel and 0.9mm lead makes our list of the 6 best mechanical pencils for children.
If you enjoyed this guide you may also like our Complete Guide to Erasable Pens and see what we think are the Top 10 Drafting and Mechanical Pencils.