How should you store your pens and markers? Is a question that we get from time to time and to which it seemed like there would be a simple answer, but alas, that is not the case.
It all depends on the type of pen or marker and how you store it properly. The proper position for an unused pen varies by the type of ink and even specific geographical considerations such as humidity and altitude.
Table of Contents
1. General Tips
If you are unsure about what type of pen you have, the following top tips will help you get the best out of your pens. However, if you know what type of pen or marker you have, follow the advice given in this guide.
1.1. Vertically or Horizontally
People often ask should you store your pens or markers upside down? As we said earlier, it depends on the type of pen or marker that it is for how it should be stored, but when in doubt, go horizontal.
The ink will be evenly distributed in the cartridge, which should help it return to action more quickly. And if it contains alcohol-based ink, storing it horizontally will prevent the ink from evaporating.
1.2. Never Leave a Tip Exposed
Never leave a tip exposed. Cap stick pens and fountains; make sure to retract click pens. This helps keep air away from the ink, so it won't dry out as fast.
1.3. Avoid Extremes
Avoid extremes. Probably not a good idea to keep your pens under a bright lamp or near any other source of heat or to leave them in an unheated room during cold weather. That's a sure way to dry out or clog up the ink. Unless you are using a pen designed to work in extreme conditions.
1.4. Pick Your Surface Carefully
Pick your surface carefully. There is always the chance a stored pen is going to leak. If you put your pens into a container that you love or lay them on top of important papers or a favorite fabric, there's a good chance they will end up ink-stained.
2. How to Store Ballpoint Pens
The best way to prevent your ballpoint pens from drying out is to keep the ballpoint tip down so that the heavier, slower-moving ink is at the pen's tip when needed. A pen pot is ideal for this, and you can use anything from an old cup to something more bespoke and designed to hold your pens.
I recently gave The Groot Pen Holder to my daughter for her birthday, and she loves it. My wife, however, can't live without her mobile phone and wouldn't be without her combined pen and phone holder.
3. How to Store Brush Pens
When it comes to storing brush pens, it depends on what type of ink is in pen. Some pens, such as the Tombow ABT dual brush pen, have water-based pigment ink, so they can be stored either horizontally or vertically.
However, any brush pens that contain alcohol-based ink, such as Copics or the Tombow ABT Pro, need to be stored horizontally. The reason for this is that if you store them vertically, then the ink will evaporate.
If you are unsure which type of ink is in your brush pen, then definitely store them horizontally. They are expensive enough to buy, and you don't want to replace them more often than you need to.
4. How to Store Gel Pens

With gel pens, you need to keep the pressure off the tip to keep them from leaking. The best way is with the tip-up. After being stored this way, they may need a few strokes to start the ink flowing, but it's no big deal. However, storing gel pens horizontally is also fine; most people tend to keep their gel pens in pencil cases.
I have always thought it is a bit strange that something predominantly used to store pens is still generally referred to as a pencil case.
5. How to Store Felt Tip Pens

With a felt tip pen, you want to prevent the fibrous felt tip of the pen from drying out, so the best way is to store the pens vertically with the tip down
6. How to Store Fineliner Pens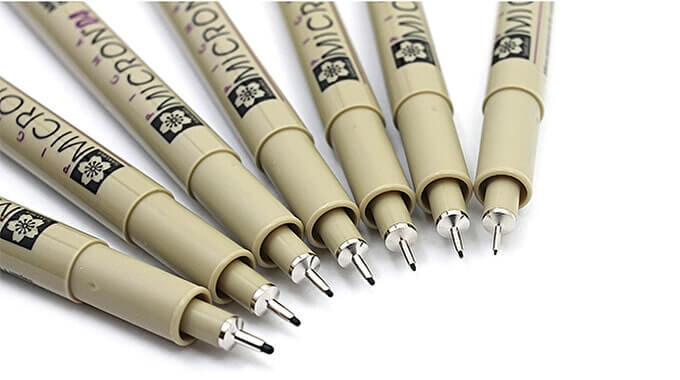 Fineliner pens usually contain water-based ink although some may have oil-based ink. They can also have either a plastic or fiber tip. Our advice is to treat fineliners like felt tip pens and store them with the tip down to prevent the tip from drying out.
If you know that you have a fineliner with a plastic tip and water-based ink then it can be stored however you prefer.
7. How to Store Fountain Pens

The best way to store a fountain pen is horizontally in a nice pen case. Storing a fountain pen this way helps to prevent its ink from leaking into the cap while at the same time keeping it wet enough to write with straight away. The other advantage of using a pen case is that fountain pens tend to be more expensive than ballpoint or gel pens, so it is a great way of keeping them safe.
8. How to Store Highlighter Pens
Highlighter pens have a fiber tip so it is best to store them with the nib down which will prevent it from drying out.
9. How to Store Marker Pens

When storing marker pens, the type of ink in the pen will determine how to store it. Generally speaking, you want to store a marker pen with the tip down so that the ink will keep the tip wet and prevent it from drying out.
N.B If you have an alcohol marker however the last thing you want to do is store it vertically as its ink will evaporate. Therefore alcohol-based markers should always be stored horizontally when not in use.
10. How to Store Rollerball Pens
Rollerball pens have water-based liquid ink and are usually supplied with a bit of wax over the tip to prevent them from leaking. If possible, you should store your rollerball in a horizontal position, and when you are not using it, always ensure the cap is fitted correctly to prevent it from drying out.
It is also worth noting that rollerball pens are not airplane friendly if you have the tip pointing down, the ink will ooze out due to the change in air pressure. Therefore always keep a rollerball pen tip pointing straight up while on a plane.
If you would like to more about the differences between rollerball, ballpoints, and gel pens, then check out our guide on rollerball, ballpoint, or gel pens.
11. How to Store Sharpies

Contrary to popular belief, the normal everyday ones are alcohol-based unless you are using a specific oil or paint sharpie. Therefore, you should store Sharpies the same way as any other alcohol-based, horizontal marker.
12. Horizontal Pen Holder
The best way to store a lot of these pens is horizontal. I thought that, bearing this in mind, many horizontal pen holders would be available. How wrong could I be?
After scouring the internet, I eventually came across The Crafters Companion on Amazon, which is described as the ultimate marker empty storage pack. With over 500 reviews and a 4.7 out of 5 rating and comments such as amazing, love it, and best thing ever, it seems to be a big hit.
If anyone else has any tips on the best way to store pens, please chime in. We'd love to hear how you handle your collection. Now that you know how to store your pens, here are 5 ways to keep you from losing your pen and some more tips on how to stop your pens from drying out.