We all have our favorite pens for writing with but sometimes you need a pen for writing outdoors, and these will have different requirements from your everyday writer. We have put together the 10 best pens for writing outdoors.
An outdoor pen needs to be robust and ultra-reliable to be able to write on wet or greasy paper and work in extreme conditions. There are also specialized outdoor that serve a specific purpose such as tough permanent markers that will write on rough surfaces and last a long time. And Tactical Pens which can be used in an emergency to break glass if you are trapped or protect yourself from an assailant.
1. Fisher Trekker Space Pen

Fisher Space Pen – Of course, we couldn't omit the pen that started it all. Fisher pens come in a broad range of barrel designs, but most share the same basic features: a tough aluminum or steel body and a pressurized cartridge that works in wet conditions, extreme temps, high altitudes, and at any angle.
They vary in price quite a bit, depending on whether you choose a basic or luxury pen. As you can see all Fisher Space Pens are good for outdoor use but the one, we particularly like is the Fisher Trekker Space Pen.
This pen was built for taking outdoors with you it has a rugged matt black barrel with a clip-on cap that is fitted with a key ring. It requires a firm action to remove the cap so it won't just fall off, but you can still easily remove it when needed.
It is a great pen for outdoor trips as it is supplied with a carabiner and breakaway lanyard. This allows it to be easily attached to pretty much anything you want to such as belt loops, backpacks, climbing gear, or even clip it to a purse.
Check Price and Reviews on Amazon
2. Rite in the Rain All-Weather Pen

Rite in the Rain makes notebooks that can be used in the rain, so it only makes sense that they would offer pens for the same purpose. Their pens have a pressurized refill so they can do all the things that you would expect of a pen fitted with this type of refill, write in extreme temperatures through water, grease, mud and at any angle.
Although Rite in the Rain makes some bold claims about their proprietary ink, they say that it can write underwater up to 35 feet. Other pressurized pens say they will write underwater but are brave enough / have tested to put a figure on it.
Even more impressive they state that their pens will write without skipping in extremely wet conditions far better than other comparable all-weather pens.
Rite in the Rain makes a range of pens they have their own version of the Fisher Trekker Space Pen which is similarly priced. Their entry-level pens start at about 12 bucks but some reviewers on Amazon feel that they feel a bit cheap and plasticky for the price.
For outdoor use, you definitely need something that is sturdy so I would recommend getting one of their metal-bodied pens.
Check Price and Reviews on Amazon
We may be recommending the 10 best pens for writing outdoors but when it comes to paper that will stand up to water, sweat, grease, and mud then there is only one brand that excels in this area and that is Rite in the Rain.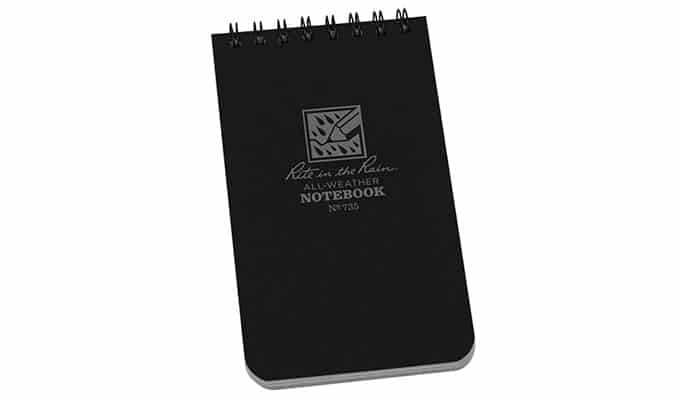 Check Price and Reviews on Amazon
3. Sharpie Extreme Permanent Marker

When it comes to writing outdoors sometimes you don't want a pen you need a marker to leave a long-lasting mark or write on a rougher surface.
But we all know that ink fades in sunlight and when exposed to varying weather conditions. This is why general-purpose markers may look ok when you first use them but a few months later are illegible. Also, their nibs are designed for writing on smooth surfaces such as paper and cardboard.
Luckily Sharpie has come to the rescue with their Extreme Permanent Marker. This is one of the best outdoor markers around.
To start with it has a strong robust tip that will stand up to be used on rougher surfaces. The ink is quick-drying which helps to stop smudging and smearing as you write.
Sharpie says that it is extremely resistant to wet and dry outdoor elements as well as UV light from the sun. this is backed up by lots of positive reviews on Amazon and they are relatively inexpensive. So, you can either use them at home or chuck one in a pack and take it on your trips, after all, you never know when it will come in handy.
Check Price and Reviews on Amazon
4. Sminiker Professional Defender Tactical Pen

Pressurized pens are great for writing in the wet extreme conditions etc. but sometimes you may want a pen that not only can write but has other useful features for when you are outdoors. This is where tactical pens which are also known as EDC pens (every day carry) come into their right.
The Sminiker Tactical Pen is an extremely strong pen that is made from aircraft-grade aluminum. You can tell at first glance that this is no ordinary writing pen with its no-nonsense matt black oversized barrel and knurled grip area. It also has a large strong removable pocket clip.
What may not be so obvious is how practical it is. The nib is extended with a slight twist and it writes reasonably well for a pen with an unbranded refill. When the ink runs out it can be replaced with a better-quality Parker refill as it is a standard G2 refill.
At the none refill end of the pen is a very hard point which can be used to break glass in an emergency such as if you find yourself unfortunate enough to be trapped in a car or even a building that has caught fire.
It can also be used to protect yourself to ward off an attacker, the pen is strong, quite heavy with the knurled grip area allowing you to get a good firm grip. Then you can repeatedly strike your assailant with the glass breaking end until they desist.
Check Price and Reviews on Amazon
5. Staedtler Garden Marker Pen:

Some outdoor pens have a very specific purpose and the Staedtler Garden Marker is just such a pen. Quite simply it is the best pen for gardeners who want to mark plastic plant labels, plant pots, and most other surfaces outside.
It is waterproof, lightfast, quick-drying with a medium 1mm black tip. There's not much else to say apart from buy it.
There are plenty of other garden markers kicking about but they vary in quality and performance from awful to quite reasonable but why settle for second best.
Check Price and Reviews on Amazon
6. TakeFlight 4 in 1 Tactical Pen

The TakeFlight 4 in 1 is the second tactical marker pen to make our top 10 as it offers additional features when compared to the Sminiker Tactical Defence Pen.
Just like the Sminker Tactical Defence Pen It is made from aircraft-grade aluminum and has a hard point that can be used to break glass or defend yourself. But this is a gadget lover's dream pen. If you unscrew the glass breaking tip it reveals a very handy bottle opener. How cool will it be to whip this bad boy out when someone asks you if you know where the bottle opener is the next time that you are at a barbeque or on a camping trip.
It also has a built-in LED flashlight which is another useful feature. As for the pen itself, this is revealed by unscrewing the flashlight end just over a third of the way down the barrel. And it can be refilled with Parker G2 refills which are widely available.
Check Price and Reviews on Amazon
7. Tombow Airpress Ballpoint Pen
When it comes to pressurized pens everyone knows that Fisher Space Pens are king of the jungle with their history, lifetime mechanical guarantees that are backed by the Fisher brand name. but that comes with a premium price tag.
You can buy a Tombow Airpress Pen for about the same price as a Fisher Space Pen Refill. This makes them a credible alternative as Tombow is a well-respected Japanese pen manufacturer.
Unlike most other pressurized pens, the refill in the Tombow Airpress ballpoint pen is not already pressurized. This is achieved by pressing its push button to extend the tip hence Airpress.
When you press the push button the refill is primed with a clever internal piston mechanism and you can see this happening through a little window in the barrel of the pen pretty cool eh! Once primed the pen will write for 150 meters.
It has a handy lanyard loop so you can easily attach it to rucksacks, kit bags, etc belt loops, etc.
Like other outdoor pens with a pressurized refill, it will write upside down, on dusty or wet paper and in extreme conditions. It has a chunky barrel allowing you to get a good grip when your hands re may be wet and cold so all in all it's a quite handy cost-effective pen for carrying about with you.
Check Price and Reviews on Amazon
8. Troika Construction Ballpoint Pen

The Troika Construction Pen is the sort of pen that a lot of dads/boyfriends would have at the top of their Xmas wish list. It is packed with lots of useful features that are not gimmicky and is very well made by a respected brand name.
Ok, let's get down to what it does first and foremost it has a retractable ballpoint pen with a capacitive stylus for iPad phones etc. at the other end.
Along the length of the barrel is a ruler which is handy as you can never find one when you need it.
Built into the barrel is a spirit level, always comes in handy when your nearest and dearest is questioning the straightness of the latest job you have just finished for them.
Last but not least underneath the stylus is a dual-tipped slotted/crosshead screwdriver. It might just get you out of a jam and save a trip to buy a screwdriver at a push.
As for the build quality it's made from solid brass which is reassuringly heavy and virtually indestructible. It takes standard D1 refills so again finding them for this pen won't be any trouble.
Check Price and Reviews on Amazon
9. Uni-Ball Power Tank Ballpoint Pen

You can't have a top ten list of outdoor pens without having the Uni-Ball Power Tank in it and if you do you should be ashamed of yourself. Even though it is affectionately known as the poor man's Fisher Space Pen it is one of my favorite pens.
Nearly 10 years ago I wrote about why your car should have a pen and notebook in your glove box. No prizes for guessing which pen I still carry in the car to this very day.
But on a serious note, the Uni-ball Power Tank does everything that a Fisher Space does but at a few dollars each for a fraction of the price.
If you are out camping or hiking and lose your Space Pen a few tears will be shed at the thought of replacing it. Not so with the Power Tank just grab another from the draw when you get home.
There is a slight downside though and that is they are made of plastic, so they are nowhere near as durable or as well made as a branded metal barreled pen. If they get crushed or trod on (it happens) and it is your only pen, then you will be without one till you get home.
My advice would be to take one with you as a backup anyway even if you own a more expensive outdoor pen. I am the sort of person who likes to be over rather than underprepared.
Check Price and Reviews on Amazon
10. Zebra F701 Ballpoint Pen

Although it is not a pressurized pen the Zebra F701 is still a very good pen for outdoor use. This pen is nearly bulletproof, made from stainless steel it will take lots of abuse. Short of putting it in a vice and hitting it with a hammer.
As its stainless steel, it doesn't get rusty and it is a smooth writing pen with a nice weight and feel to it. It is the sort of pen that tradesmen can throw in their toolbox and forget about it until they need to use it.
Zebra do make a pressurized pen their X701 extreme ballpoint pen but a lot of people complain that its build quality leaves a bit to be desired as it is a mixture of metal and plastic. I suspect this is because it does not use a pressurized refill but pressurizes it in the barrel like the Tombow Airpress.
The other great thing about the Zebra F701 pen is its price it is exceptional value for money for a metal pen. There is no other stainless-steel pen available at this price and build quality.
There is an updated version of this pen that is known as the Zebra F-XMD it is the same pen to all intents and purposes as the Zebra F701 but all parts of the pen are X-ray metal detectable so they can be used in food production and other industries.
Check Price and Reviews on Amazon
There are lots of reasons to have a pen with you when you are not at home you may be hiking, mountain climbing, sailing or taking part in some other outdoor leisure pursuit. Where a pen would be handy. It may be that you need a pen as you go about your daily business such as a delivery driver, ambulance driver or tradesman at work.
Whatever your reason hopefully you found something in our 10 best pens for writing outdoors to suit your needs.
If there is anything that you use and would like to recommend, then please leave a comment.