The U.S. president signed the historic health care bill last week using a different pen for each portion of the letters in his name. The Washington Post reported that it took Obama, a left-hander, about 90 seconds to complete the signature and that he used 22 pens.
And what kind of pens was President Obama using? According to the Post's secret source, they were black Cross pens, customized with the presidential seal and the President's signature.
Check Price and Reviews on Amazon
The reason for all the different pens is that they are typically given away at signings to commemorate the moment for those involved in the passage of key legislation. Politico.com reported that the signature pens went to various political figures, including Senate Majority Leader Harry Reid, and that the President gave one to a Catholic nun and kept one for himself. Two others went into the National Archives.
President Obama also used a black lacquer Cross pen to sign inaugural documents when he took office last year.
The number of pens used for the health care billing signing has brought more than a few jokes. One Philadelphia newspaper blogger cracked that Jesse James, philandering husband of Sandra Bullock, had so many girlfriends, they outnumbered the President's pens.
The signing made reporters at a television station in Minnesota, in the northern U.S., curious about the pen their governor uses to sign legislation. We had to take exception with this exchange between the reporter and a staffer from Gov. Tim Pawlenty's office:
"When the Governor signs a bill does he use 22 pens like president Obama did?" asked WCCO reporter Jason DeRusha.

"He does not. Gov. Pawlenty uses one pen to sign a bill," said Brian McClung, the Governor's Deputy Chief of Staff.

"The Uniball Vision Micro — this is not exactly a high quality pen," said DeRusha.

"This is not a real fancy pen, but you know what Jason, we're all about streamlining, government efficiency, tightening your belts, so there's really no need to go out for fancy gold pen," said McClung.
C'mon. Just because the Vision Micro is not an expensive pen, doesn't mean it isn't a good one. Chances are, that Uniball probably writes nearly as well as the presidential Cross, and you don't have to spend a day's pay on the Uniball.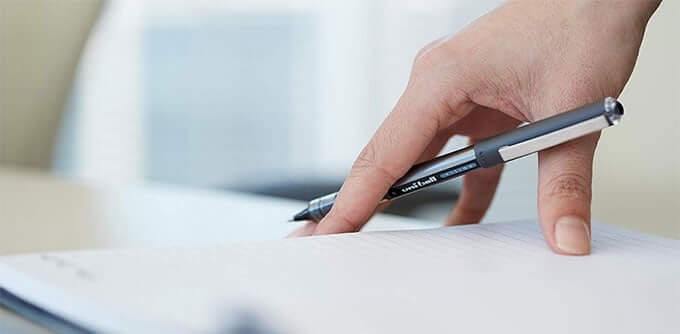 Apparently, the former U.S. president also gave away Cross pens, but actually favored Sharpies. In fact, George W. Bush had his own sets of customized Sharpies printed with "The White House," according to U.S. News & World Report.

"He asks for them by name," says a Bush insider, "and if someone hands him something else, he barks, 'Where's the Sharpie?'"
Meanwhile, in the UK, the official pen brand of the royals seems to be Parker. The Parker Pen company was given a Royal Warrant in 1962 as the sole provider of the royal house.

If you enjoyed this article Tony wrote a follow-up about which pens president Obama uses in presidential pens part 11 which has a bit more history of how the presidents came to give their pen's away.