The Blackwing 602 pencil and the Caran d'Ache Swiss Wood pencil are amongst the finest wooden pencils that there is. However, this quality comes at a premium price tag and you want to get the maximum use from them. Artists use lots of colored pencils and also want them to last as long as possible.
But what do you do with wooden pencils that are too short to use? The answer is simple to buy a pencil extender which is sometimes referred to as a pencil lengthener. If you are not familiar with pencil extenders they act a bit like the cap of a pen and sit on the end of the pencil making it longer so that you can hold it comfortably and get the maximum use out of your pencils.
1. The 10 Best Pencil Extenders
When choosing a pencil extender it needs to be robust, comfortable to hold, and manufactured to a high standard. More importantly, though a good quality pencil extender should be able to hold stubby pencils in place securely. The following are what we consider to be the 10 best pencil extenders that meet these requirements.
1.1. Chinco Wooden Pencil Extenders

Price [amazon fields="B07SJ6C2JK" value="price"]
These Chinco wooden pencil extenders are a simple design and outstanding value. The wooden body of the extender is attached to a split metal ferrule with an outer ring. Simply insert the pencil and the ring down the metal ferrule to hold it in place.
They are supplied as a pack of 12 which is amazing value for such a low priced item and ideal for those with several pencils.
1.2. Derwent Pencil Extender Set
Price [amazon fields="B002U0OX4C" value="price"]
The Derwent Pencil Extender Set contains two high-quality adjustable metal pencil extenders. The black-colored extender is for standard-sized pencils up to 7mm in diameter and the silver-colored extender is for larger pencils up to 8mm in diameter.
To use the Derwent pencil extender once you have inserted the pencil twist the crosscut grip area at the end of the extender and this will tighten against the end of the pencil that is in the extender holding it firmly in place.
They measure 80mm in length and are suitable for a wide range of pencils including Blackwing, Polychromos, Prismacolor, and Staedtler.
1.3. Faber Castell Design Pencil Extender
Price [amazon fields="B000WL2S0W" value="price"]
The Faber-Castell Design Pencil Extender is for those that want a more upmarket version of their multifunction pencil cap. Their original model is made of strong plastic in the classic Faber-Castell green color. However, the Faber-Castell Design Pencil Extender is made of aluminum and has a more quality look and feel to it making it an ideal gift.
The Multifunction cap has an integrated pencil sharpener and most standard size pencils can be used with this extender. You may also want to check out our Ultimate Guide to Kum Pencil Sharpeners if you are looking for the world's best pencil sharpeners.
1.4. Faber-Castell 9000 #2 Pencil with Built-in Pencil Sharpener and Extender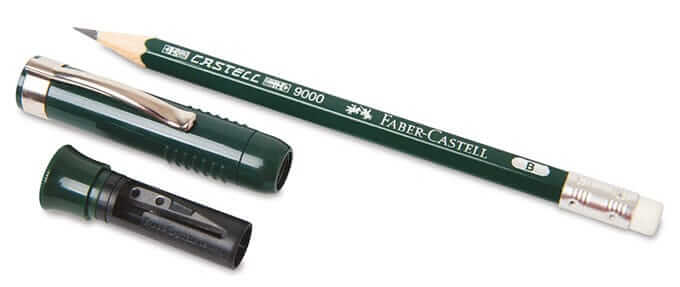 Price [amazon fields="B000KT8RSI" value="price"]
This Faber-Castell set contains everything that you need from one of Germany's oldest and most respected pencil manufacturers. Sporting the distinctive Faber-Castel green livery this set includes a Faber-Castell #2 9000 Perfect Pencil and a multifunction cap that doubles up as both a pencil extender and has a nifty integrated pencil sharpener that is super useful.
Once the Faber-Castell Perfect Pencil has run out you can use most standard-sized pencils with the multifunction cap.
1.5. Koh-I-Noor Pencil Extender

Price [amazon fields="B0027AAIP8″ value="price"]
Koh-I-Noor is renowned for making high-quality pencils they are based in the Czech Republic and were established in 1790. They have divisions in Germany, Italy, and other countries which is why you can see that this Koh-I-Noor pencil lengthener is marked as Koh-I-Noor Germany.
As for the extender itself, it has a nickel-plated ferrule that the pencil is inserted into and a sliding ring system to securely hold it in place. The Koh i Noor pencil extender measures approximately 4″ long and will take standard-sized pencils although some reviewers have said that they have found that it is particularly suitable for thinner pencils.
1.6. Kutsuwa Knock Pencil Holder

Price [amazon fields="B018IF1386″ value="price"]
The Japanese Kutsuwa Knock Pencil Holder is perhaps the most innovative design out of all the pencil holders featured here. Most of the traditional pencil holders use either a ring that is pushed down a ferrule or a twist-action crosscut grip mechanism to secure the pencil.
Whereas the Kutsuwa knock is different it uses a set of jaws with a clutch action to hold the wooden pencil. Simply press the push button at the end of the holder to open its jaws, insert the pencil, and then release it.
This works in pretty much the same way as a clutch action pencil/ lead holder does. The great benefit of this type of pencil holder is that it can securely hold a wider range of pencil sizes.
The Kutsuwa Knock Pencil Extender is made from aluminum and 105mm in length. They also make a pencil cap which is featured lower down the page.
1.7. Prismacolor Pencil Extender Set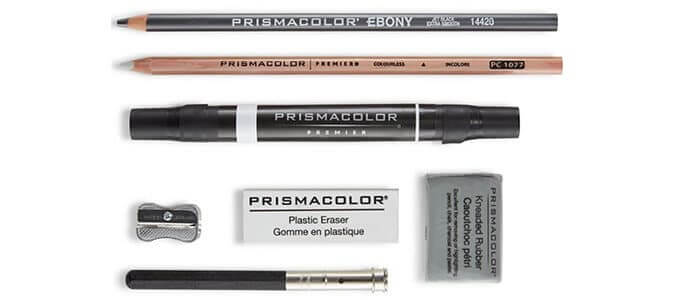 Price [amazon fields="B000OKZYJ8″ value="price"]
The Prismacolor Premier Colored Pencil Accessory Set is great for anyone who enjoys drawing including students and artists, Not only is there a pencil extender but everything that you could need for blending, drawing, erasing, and sharpening.
This Prismacolor set includes :
Dual Tip Colorless Blender Marker Pen
Colorless Blender Pencil
Graphite Pencil
Plastic Eraser
Needed Rubber Eraser
Pencil Extender
Pencil Sharpener
Although this is a pencil extender for Prismacolor pencils like most other pencil extenders on this list it can be used with most other standard sized pencils.
1.8. Staedtler 900 25 Pencil Extender
Price [amazon fields="B0014R5UXK" value="price"]
The Staedtler 900 25 pencil extender has built up a cult following among pencil aficionados. It is actually made for the Japanese market who are very particular about their pencils, and therefore when buying in the U.S it has most definitely been imported from Japan.
As you would expect from Staedtler it is exceptionally well built, it is made from anodized aluminum and has a knurled area that you adjust to grip the pencil firmly in place.
Just above the knurled grip is a lead grade indicator which is very handy for an artist who may have several pencil extenders with different lead grades of pencil, and almost unique to the 900 25. I am not aware of any other extender with this feature.
At the end of the 900 25 pencil extender is a cap that unscrews to reveal a replaceable eraser. That can be replaced with Staedtler 77R56 replacement erasers. The Staedtler 900 24 is 129mm in length, 11.3mm in diameter, and weighs 18 grams.
1.9. Travellers Company Brass Pencil Extender
Price [amazon fields="B06XKQY3Y9″ value="price"]
If you are looking for a brass pencil extender then the highly rated Travellers Company Brass Pencil is ideal. It is made by the Japanese company Midori and is sold as a brass pencil complete with a stubby cedar wood pencil.
Once you have used the stubby pencil then you can insert any brand of a pencil into it that will fit. Customers on Amazon have confirmed that it will fit Palomino Blackwing Pencils. Being made of brass it is a little heavier than some other pencil extenders and has a nice solid feel to it. At the end of the extender is a handy eraser that can be replaced when it has worn out.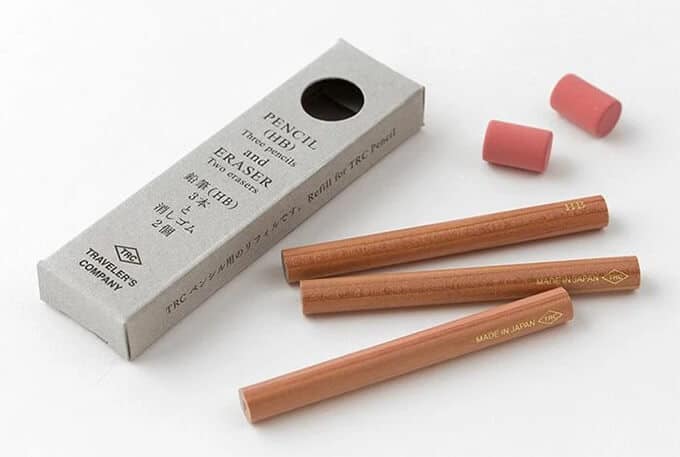 Price [amazon fields="B06XPGKSSS" value="price"]
The Travellers company Brass Pencil measures 100mm in length from the tip of the rubber to the end of the brass and weighs 20 grams. Replacement Travellers Company pencils are available and they measure 75mm in length x 7.5mm in diameter. Replacement erasers are 15mm in length x 10mm diameter.
1.10. Youshares Aluminum Pencil Lengthener For Colored Pencils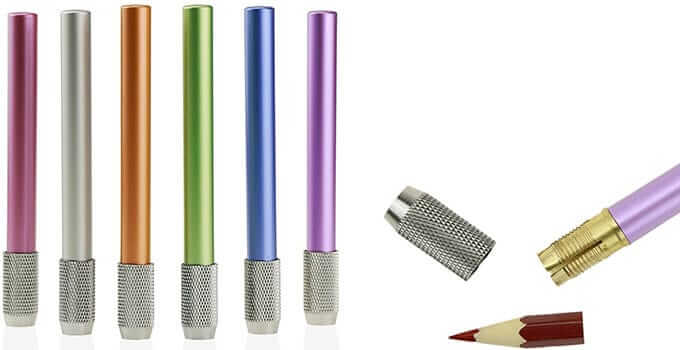 Price [amazon fields="B078XB3CTG" value="price"]
These are a lightweight aluminum pencil extender with a twist-action knurled grip to secure the pencil. They are supplied in a pack of 6 bright colors.
They are suitable for most brands of colored pencils including Crayola, Derwent, Prismacolor, and Spectrum Noir.
2. Double Ended Pencil Extender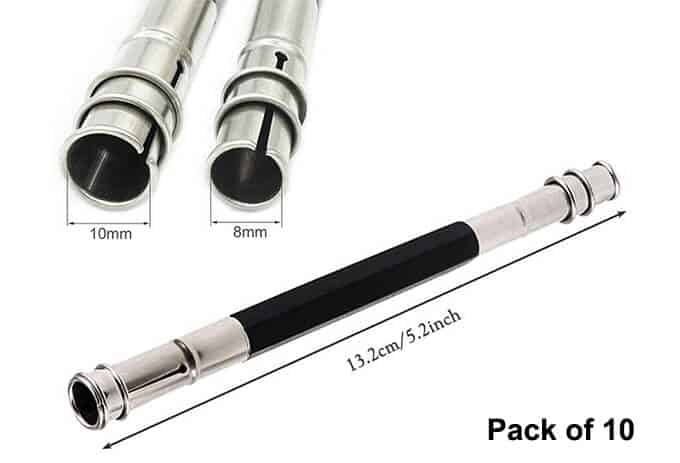 Price [amazon fields="B07SZDB7B9″ value="price"]
Most of the main brands do not make a double-ended pencil extender. After a bit of research, the best double-ended pencil extender that I could find is sold by Aukohy on Amazon. It has a four out of 5-star rating and most people seem to be very happy with it.
As for the extender, it has the classic design using two stainless steel ferrules with an outer adjustable ring to hold firmly hold the pencils. The barrel between the two holders is made of plastic and hexagonal shaped to match the feel of holding a traditional hex pencil.
These dual-head pencil extenders have different sized holders for the pencils at one end is an 8mm holder for standard-sized pencils and at the other end is a 10mm holder for pencils with wider barrels. They are also outstanding value as they are supplied as a pack of 10.
3. Lyra Pencil Extender
Price [amazon fields="B01N1WUXW7″ value="price"]
The Lyra Pencil Extender did not make our list of the 10 best pencil extenders but it is still worth an honorable mention. It is specially designed for children and is made of beechwood with a nice wide barrel for them to grip.
The Lyra extender is 3.5 inches in length and is not adjustable as it has been specifically designed for Ferby, Super Ferby, and Color Giants pencils. It may fit pencils that are made by other brands but you might need to make adjustments to the pencil more details on how to do its are further down in the section Do Pencil Extenders Fit all Wooden Pencils?
4. Kutsuwa Pencil Caps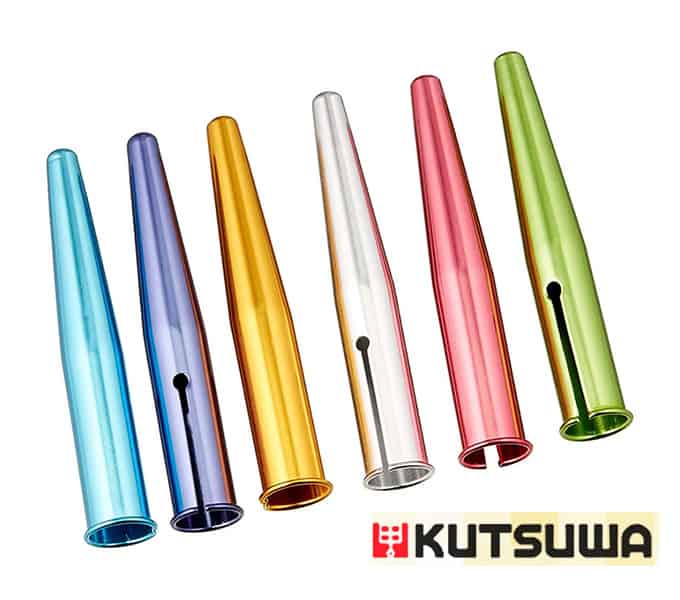 Price [amazon fields="B01B2UIIN2″ value="price"]
Pencil extenders are great for extending the life of your pencils but if you are looking for something to protect your pencils when carrying them around with you then Kutsuwa Pencil Caps are perfect for this.
As we have already mentioned the Japanese are obsessed with their pencils and make some of the finest quality pencils around. But how do you protect the point of the pencil and keep it sharp when not in use?.
Enter the Japanese-made Kutsuwa Pencil Caps they are made from strong lightweight aluminum and measure 9.5m in diameter with an internal diameter of 7.8mm at their widest point and are 55mmin length.
The Kutsuwa Pencil Caps have a slot down each side that allows them to expand or contract to allow them to be used on most standard size pencils. They have rave reviews on Amazon with reviewers saying that they are useful and practical perfect for pencils such as Blackwing, and Mitsubishi. They are also great for cheaper pencils such as Ticonderoga.
If you would like to know more about pencil caps then take a look at our post on the 7 best pencil caps to protect pencil points.
5. What is a Pencil Extender?
A pencil extender is a device that small pencils are inserted into which extends the length of the pencil making it easier to hold. They are favored by artists but anyone who uses wooden pencils either at school, college, home, or in the office will benefit from using one.
6. Why Use a Pencil Extender?
The main reason that most people use a pencil extender is to extend the length of a pencil when it has become too short to use so that it becomes more comfortable to hold and can still be used as it gets shorter.
There are also two more added benefits to using a pencil extender. The first is if you have bought high-quality cedarwood pencils such as Blackwing then these are quite expensive to buy. If you throw your pencils away once they become too short to hold comfortably then you are quite literally throwing money away.
The second benefit is to reduce waste and lessen your impact on the environment. You don't have to have expensive pencils to use a pencil extender. If everyone used pencil extenders to get the maximum life out of their pencils, then this will have an impact on the environment. It may be one small step but if we all take lots of small steps then together, we can have a positive impact on becoming a greener planet.
7. How do You Use a Pencil Extender?
To use a pencil extender the end of the pencil is slid into a metal tube that has a slot in it. some pencil extenders have an external metal ring around this tube and you slide the ring down the tube it close the slot and holds the pencil firmly in place.
With other extenders such as Derwent once the pencil is pushed into the tube there is a knurled grip area at the end of the tube which you twist until the pencil is securely held in place.
8. Do Pencil Extenders Fit all Wooden Pencils
Pencil extenders will fit most wooden pencils and it doesn't matter if the barrel is round, hexagonal, or triangular shaped. they usually have some sort of adjustment to accommodate different diameters of pencils. If the diameter of the pencil is still too small then the pencil extender will not be able to grip it and hold it in place. However, a top tip is to wrap a little scotch tape around the end of the pencil to pad it out a little, and then it should fit perfectly.
Conversely, if the barrel diameter is too large then the pencil will not fit inside the extender. Your best option will be to try and find a pencil extender that will accept pencils with larger sized barrels.
If this is not possible then you could try and carefully pare the wood down with a sharp knife. If you do try this method it is at your own risk, and I cannot be held responsible for any accidents.
If you are interested in wooden pencils then you may want to take a look at our post on why wooden pencil points break so easily there are four main reasons and we also show you how to sharpen colored pencils without the tips breaking.