Are you unsure which refill you need for your 5280 Pen?
This complete guide to 5280 pen refills shows you every refill that 5280 makes for their pens, which pens they fit and alternatives from other brands where available.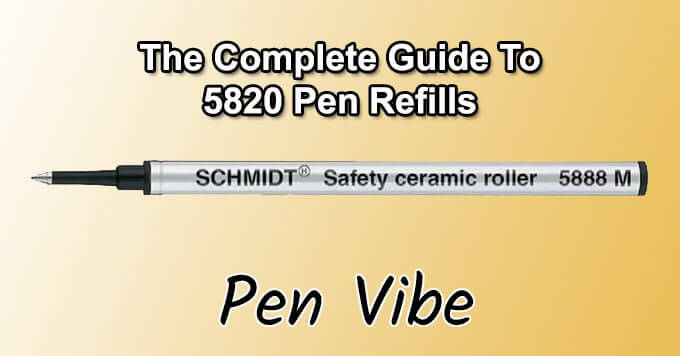 1. About 5280 Pens
5280 Pens is the brand name of a range of pens designed and sold by the Colorado Pen Company. The 5280 name originates from The Paradise Pen Company, whose headquarters were in Denver, Colorado, before they ceased trading in 2017, Which is 5280 feet above sea level and where the idea for the pens originated.
2. 5280 Ballpoint Pen Refills
5280 doesn't make ballpoint refills and uses the Schmidt P900 M refill in their ballpoint pens or the Schmidt Easyflow 9000 M.
Both are Parker Style Refills; they are available in fine, medium, and broad tips with a choice of ink colors.
The main difference between the refills is that the Schmidt Easyflow 9000 has hybrid ink, making it smoother to write with than the Schmidt P900 M, which has an oil-based ballpoint ink.
For more information on the different types of ink, check out our guide Ballpoint, Rollerball, or Gel Pen.

Buy Schmidt easyFlow 9000 Refills on Amazon
Check out our Ultimate Guide to Schmidt Refills for more information on these refills.
The Parker Style G2 refill is a standard-size refill. Check out our Ultimate Guide to Pen Refills for more details on the different types of refills.
Many alternative Parker Style refills are available, including ballpoint, gel, and hybrid ink.
If you fancy trying another refill in your 5280 Ballpoint Pen, then check our Ultimate Parker Style G2 Refill Guide for more details
Schmidt P900 M / Easyflow 9000 Refills fit the Following 5280 Pens:
5280 Ambassador Ballpoint Pen
5280 Aspen Ballpoint Pen
5280 Aspire Ballpoint Pen
5280 Majestic Ballpoint Pens
3. 5280 Rollerball Pen Refills
5280 doesn't make rollerball refills and uses either the Schmidt 5888 F Safety Ceramic Roller or the Schmidt 888F Safety Ceramic Roller refill in their rollerball pens.

Buy Schmidt 5888 Refills on Amazon
These are both Euro Format refills, and the main difference is that the 888F is a cheaper refill with a plastic barrel.
Euro Format refills are standard-size refills with many different types available from other brands. Check out our Ultimate Guide to Euro Format Refills for more details
5280 Rollerball Refills fit the Following Pens:
5280 Ambassodor Rollerball Pen
5280 Aspen Rollerball Pen
5280 Aspire Rollerball Pen
5280 Ebonite Rollerball Pen
5280 Majestic Rollerball Pen
5280 Opera Rollerball Pen
4. 5820 Fountain Pen Refills
5820 makes six fountain pens:
5280 Ambassodor Fountain Pen
5280 Aspen Fountain Pen
5280 Aspire Fountain Pen
5280 Ebonite Fountain Pen
5280 Majestic Fountain Pen
5280 Opera FountainPen
They have a German-manufactured Schmidt nib in either fine or medium nib size and with a piston convertor to refill it with ink from a bottle.
Many different fountain pen bottled inks are available to choose from. Diamine has a wide range of colors, and Pilot Iroshizuki ink is a highly regarded premium ink.
5820 Fountain Pens can also be refilled with international standard-size ink cartridges.
If you also have a different brand of pen, check out Pen Refill Guides, where there is a complete list of our in-depth refill guides for each manufacturer.