The Pilot G2 Pen has been around since 1997 it is a superb smooth writing pen that has developed an almost cult status and is one of the best selling pens in America. Some people are unsure if the Pilot G2 is a ballpoint pen, a gel pen, or a rollerball pen. We answer this plus all your other Pilot G2 questions in the following guide.
1. Is the Pilot G2 a Ballpoint Pen?
The Pilot G2 is a gel ink pen and a mighty fine one at that it is one of my all-time favorite gel pens. What is slightly confusing however is that Pilot refers to the G2 is as a gel rollerball pen. This is not strictly true as although it has a rolling ball to put the ink on the paper a rollerball pen is usually a liquid ink pen.
If you would like to know the differences between the different types of ink pens then check out our article ballpoint pen vs a gel pen vs a rollerball pen to see which is best for you. The Pilot G2 is available in several different tip sizes with the G2 07 fine point being the most popular. Take a look at our Pilot G2 07 Review where we put it through its paces.
2. Pilot G2 Pen Sizes & Types
The Pilot G2 gel pen is available in 5 tip sizes which are 0.38mm, 0.5mm 0.7mm, and 1.0mm. It is also available as a Ltd Edition, Pro, mini, and in a 100th-year anniversary edition.
2.1. Pilot G2 0.38 Ultra Fine Tip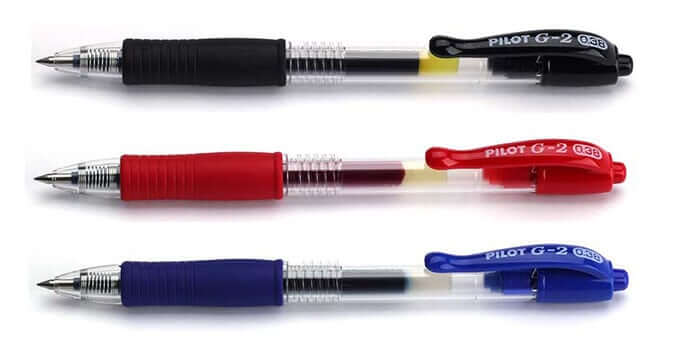 The Pilot G2 0.38 Ultra Fine gel pen has the finest point tip of the G2 range and it writes very thin lines. It is a retractable gel pen and is usually available with black, blue, red, or green ink. Although more colors may be available in Asia where they prefer pens that write narrower lines. Read our Full Review Here
Check Price and Reviews on Amazon
2.2. Pilot G2 05 Extra Fine Tip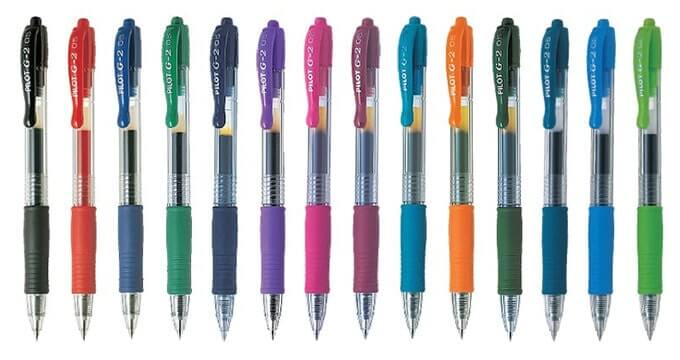 The Pilot G2 05 Extra Fine Pen is the next size up in the G2 range and has a 0.5mm tip. It is available in a greater range of colors than the 0.38 pens.
 Check Price and Reviews on Amazon
2.3. Pilot G2 07 Fine Tip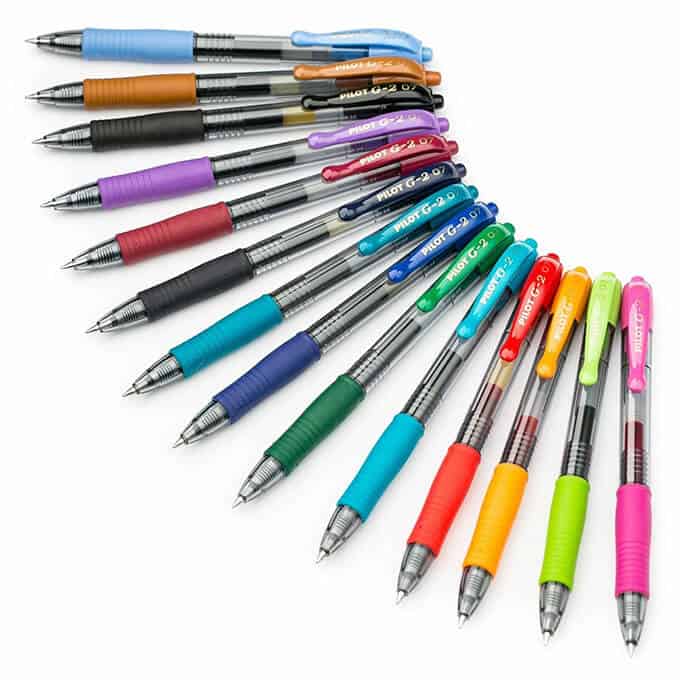 The Pilot G2 07 has developed an almost cult-like following it is quite possibly the most reviewed pen online. Both in traditional blog posts and on YouTube. The G2 07 is Pilots' biggest selling gel pen and is available in a huge range of colors which now includes metallic shades and pastel shades. It is also available in a cut down mini version and in special editions such as the Mika. The Pilot G2 measures 14.3cm in length.
 Check Price and Reviews on Amazon
2.4. Pilot G2 10 Bold Tip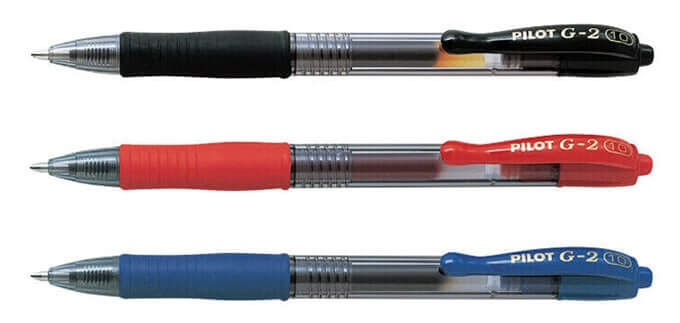 The Pilot G2 10 Bold Point is for those that like strong bold lines its 1.0mm tip writes the widest line of all the G2 pens.
 Check Price and Reviews on Amazon
2.5. Pilot G2 Mini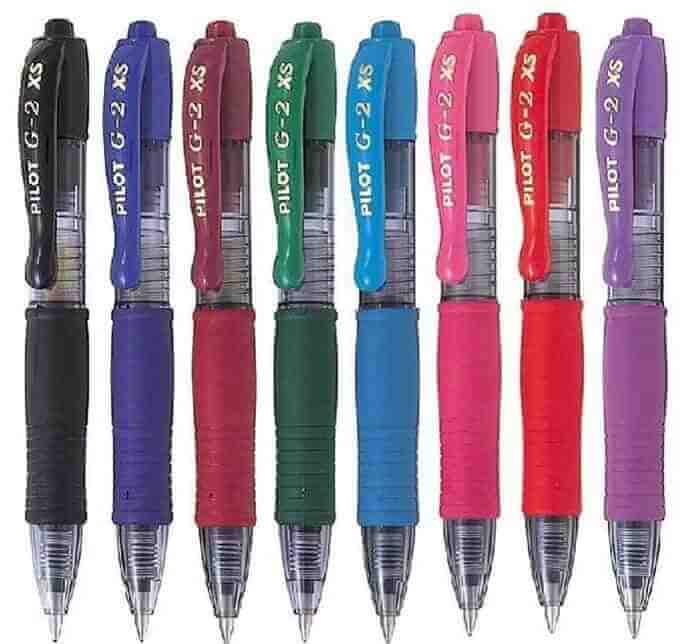 The Pilot G2 Mini is a cut-down version of the G2 07 measuring only 11.2 cm in length, It is also known as a Pilot Pixie and a Pilot G2 XS. It may be small but it is still quite popular check out our Pilot G2 Pixie Review to see how it stacks up against its big brother. 
 Check Price and Reviews on Amazon
2.6. Pilot G2 Mika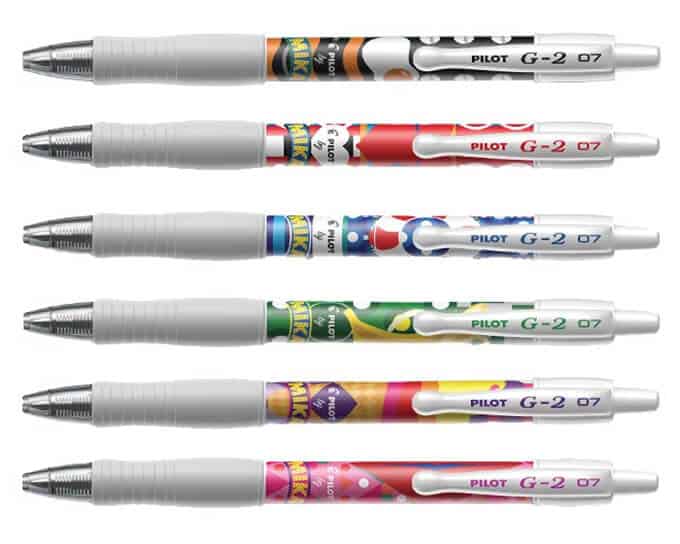 The Pilot G2 Mika gel pens were a special edition brought out in September 2018. They were designed in collaboration with Mika the popular singer/songwriter and are a G2 07 pen with decorative barrels.
2.7. Pilot G2 Limited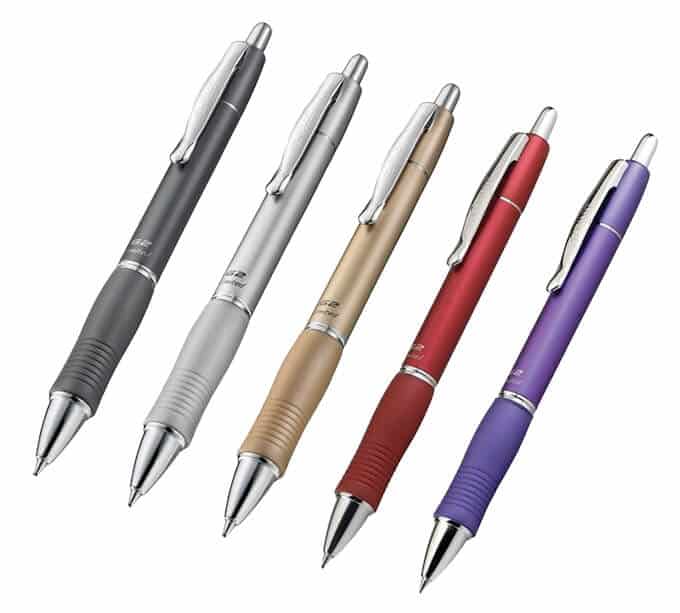 The pilot G2 limited is an all-metal pen with a rubber grip and 0.7mm tip. It uses the same refill as a G2 07.
 Check Price and Reviews on Amazon
2.8. Pilot G2 Pro

The Pilot G2 Pro has a very wide barrel that is color-coded to match its ink color and has a 0.7mm tip. It uses the same refill as a G2 07.
 Check Price and Reviews on Amazon
3. Is Pilot G2 the Best Pen?
It can be argued that the Pilot G2 is the best gel pen by the fact that it is the most popular and far outsells any other gel pen. There are those who prefer the Uni-ball Jetstream and the Pentel EnerGel which is perhaps a smoother writing gel pen. However, they cannot match the Pilot G2 in popularity.
4. Where are Pilot G2 Pens Made?
Pilot Pens is a Japanese company and the majority of their pens are still made in Japan including the Pilot G2. So far they have resisted the temptation to outsource the production to another country with cheaper production costs.
5. What is The Length of a Pilot G2 Pen?
The Pilot G2 measures 14.3cm in length and the Pilot mini measures 11.2cm
6. How Far Can A Pilot G2 pen Write?
How far a pen can write is known as its write out the length and measured in kilometers. Unfortunately, Pilot Pens don't give out this information they just state on the packet that the Pilot G2 has been proven to be the longest-lasting gel pen out of its competitors.
However, I can tell you that a Pilot G2 can write 37 pages in a notebook which is 1166 sentences. This was accomplished by Alex Lee who wanted to find out for himself and even did a video of it.
7. Are Pilot G2 07 Pens Waterproof?
Apart from pressurized ink pens such as the Fisher Space Pen very few pens are truly waterproof. The Pilot G2 07 is no exception it is water-resistant. What does that exactly mean? Well if you splash a small amount of water it may not smudge or run. Give it a good soaking and it will be a terrible mess.
8. Are Pilot G2 Pens Archival?
Pilot G2 Pens are of archival quality they contain a dense water-based ink that does not contain any acid or solvents.
9. How to Refill a Pilot G2 Pen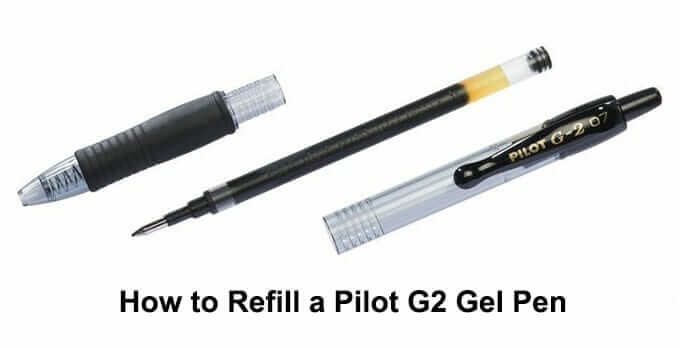 Refilling a Pilot G2 gel pen it is quite straightforward you simply hold the pens rubber grip in one hand and use the other hand to twist the upper part of the barrel.
As you can see from the image the barrel will now unscrew into two separate parts allowing you to take out the refill and replace it with a new one.
10. Pilot G2 Refills

The Pilot G2 pen refill not only fits G2 gel pens but it is also the same refill for Pilot G6, DR Grip Gel & Dr Grip Ltd, Q7, Begreen Precise Gel, G Knock, B2P and Pilot M.R. The codes for the four sizes of G2 refill are as follows:
 Check Price and Reviews on Amazon
10.1. Pilot G2 0.38 Ultra Fine Refills
Black – BG23RBLK
Blue – BG23RBLU
Red – BG23RRED
Green – BG23RGRN
10.2. Pilot G2 05 Extra Fine Refills
Black – BG25RBLK-6PK
Blue – BG25RBLU-6PK
Red – BG25RRED-6PK
10.3. Pilot G2 07 Fine Refills
Black – BG27RBLK-6PK
Blue – BG27RBLU-6PK
Red – BG27RRED-6PK
Green – BG27RGRN-6PK
Purple – BG27RPPL-6PK
Navy Blue – BG27RNVY-6PK
Pink – BG27RPNK-6PK
Turquoise – BG27RTRQ-6PK
Burgundy – BG27RBRG-6PK
Orange – BG27RORG-6PK
Teal – BG27RTEA-6PK
Periwinkle – BG27RPWK-6PK
Lime Green – BG27RLIM-6PK
Caramel – BG27RCAR-6PK
10.4. Pilot G2 10 Bold Refills
Black – BG21RBLK
Blue – BG21RBLU
Red – BG21RRED
Green – BG21RGRN
Purple – BG21RPPL