Femi Martin is a storyteller.
She's created fiction inspired by Charles Dickens novels, shared her struggles with illness in the Achalasia Diaries on BBC 4, and captivated UK festival audiences with performances of her short stories about love, relationships, and stolen chocolate bars.
Her stories always start at the point of a pen, and Femi was kind enough recently to share with us how writing by hand guides her creative process.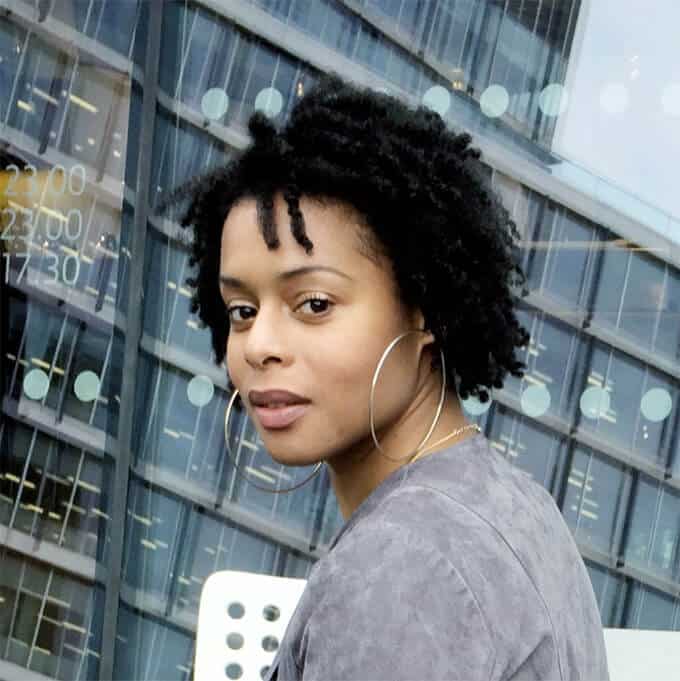 Tell us a little about yourself.
I write fiction but am an avid reader of non-fiction. I am particularly interested in the body, especially the brain. As I am prone to over-thinking I have to carve time out of my day for switching off. I do this by either going to the gym, meditating, or watching reality TV. My favourite reality show is Project Runway but I mostly watch anything to do with love and relationships. Oh, and Judge Judy, of course.
Tell us a little about your work.
I am a writer, performer, and workshop facilitator. My writing and performing life is currently centred around the development of my one woman show, How to Die of a Broken Heart. It's a show about breakups and their effect on the body and is based on my own experience of developing a chronic illness after a serious heartbreak. As a facilitator I am working on projects based in prisons, where I often run creative writing sessions. It is my favourite place to work; always heartening, always surprising, and often sad and challenging, but so worth the time and effort.
What is your writing process?
All my writing starts with pen and paper. I brainstorm and write quick notes and when I see something more concrete forming I move to my laptop, which is where the bulk of the writing, and most of the editing takes place. If I am writing something for performance then when the work is 'finished' I record myself reciting it, which flags new edits that I have to make. These are often about the rhythm of the text, or even how it 'feels' in my mouth as I say the words. Once I am happy with how the work feels when performed I then listen to my recording and make further edits based on what sounds right. When it sounds good, I know I am done.
How does it help you to start all your writing with pen and paper?
It helps for a few reasons. I feel that writing by hand is the closest I can get to accurately relaying the swirl of thoughts in my head. Perhaps it's the fact the thoughts flow out of me in my handwriting, as opposed to a font, but I just feel there is something affirming about the immediacy. I also like it because it helps to make physical, and thus make real, the abstract. I like that I can see and touch those initial thoughts that have made a real dent on the page. It helps to believe in the work. The final reason is that there is a freedom to be messy on the page. You can put a line through things, add arrows and stars to notes you've made elsewhere, and create such a mess that only you could possibly read it. It encourages play, which is crucial to the writing process.
I hold onto my notebooks because there is often a nugget on those pages that was removed during the writing and editing stage that I can use for something else. Sometimes it's just nice to see what my first thoughts about a piece were; to see where it all started. I like to have that reference.
What do you enjoy most about writing with a pen?
I like holding it; how a pen feels in my hand is just as important as how it writes. I love writing with ink. I think that stems from primary school and that wonderful moment when you graduate from writing in pencil to a handwriting pen. When I'm using an ink pen I feel like I mean business. I think there is also something poetic about the ink flowing as the words flow. If a pen has a lid then I have to be able to put the lid on the end of the pen when in use. If I'm using a biro then it has to be retractable and the sound of the click has to be pronounced and one I can feel. It makes it more fun to use.
Which pens/paper do you use most often?
My daily pen is the Uni-Ball Vision Elite with 0.8mm tip. It writes really well, dries fast, and the click on the lid is really strong so there's no chance of it leaking. I use the Muji A5 Recycled Notebook for all my creative thoughts; it's really good quality and very reasonably priced. If I'm at home with lots to do then the only way I can guarantee I will complete my tasks is by making a list. I don't use my Muji Notebook for lists, lists have to be written on a nondescript spiral-bound notebook, spirals at the top.
What advice would you give to young writers about using pen and paper?
Don't discount it! Everybody has a process that works for them, but in the months or years it takes to perfect your process you must try everything. Tablets and phones can do so much, but your thoughts in your handwriting is a special thing.
*****
Read more about Femi and listen to some of her work at her website, FemiMartin.com.
Our thanks to her for sharing her thoughts on pens, writing, and the creative process.