OK, here's the thing: The 5 pens that everyone should have aren't the only pens you should own. They aren't even the most expensive pens you can own. But what they are is a set of pens that can easily and ably handle most of your daily tasks with style and without costing you a small fortune.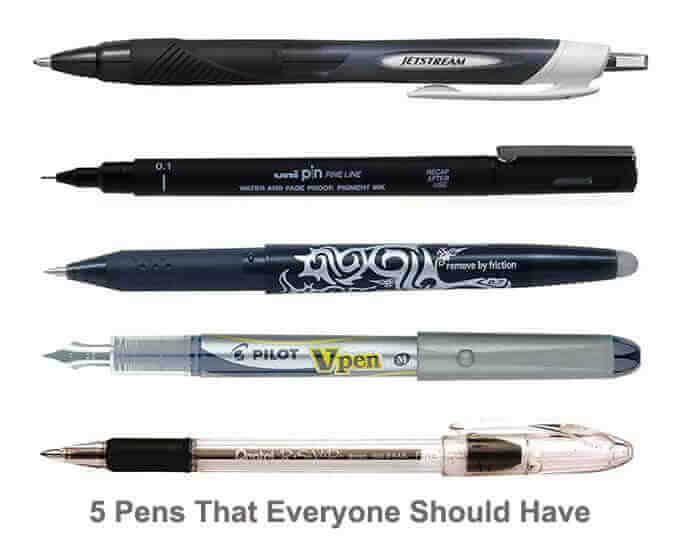 Table of Contents
1. Pentel RSVP Ballpoint Pen

The Pentel RSVP is an ordinary ballpoint pen which might seem an odd recommendation, but not every task calls for a fine writing instrument. Sometimes you just need a solid workhorse pen that will do the job when you have to jot some quick notes or write up a rough draft of a memo.
And the RSVP fine point in black ink fits that bill. It's extremely comfortable to use, with a thicker, rounded barrel and a little extra length to add balance (which is why they're popular with pen spinners).
Although fine points tend to feel scratchy to me, this one writes fairly smoothly, especially for a non-gel pen. The ink is a little light and has some very minor issues with skipping and clumping, but overall performs well and looks fine.
The bottom line, the RSVP is as dependable as ballpoints come and are inexpensive enough that you can keep a dozen in a drawer and won't be afraid to loan them out.
Check Price and Reviews on Amazon
Pilot VPen/Varsity Fountain Pen

The beauty of the Pilot Varsity pen is that you get the smooth flow and superior look of a fountain pen without all the fountain pen chores. The VPen (or Varsity, in the U.S.) is disposable, so there's nothing that needs to be filled, nothing to be cleaned.
Just pop off the cap and start writing like you would with any fountain pen. The medium stainless steel nib moves fluidly and lays down clean, vibrant lines with an even ink flow. It writes a little wet, although not nearly as much as you might expect with a fountain pen, and a little window in the barrel shows you the ink level. If the blue ink – which is supposed to be erasable – doesn't work for you, then there's a whole variety of colors, including black, green, pink and orange.
The barrel is probably my least favorite part of the pen, as it is a little too short and has a light, cheap feel to it. However, mine has held up well to getting tossed about on my desk and even chewed on by a cat. Highly recommended for regular use signing letters or journaling.
Check Price and Reviews on Amazon
Pilot FriXion Erasable Pen

What are your options when you make a mistake filling out a form? Cross it out, use correction fluid, toss the whole thing and start over? Pilot's erasable gel pen lets you simply remove it and keep right on going for neat, error-free documents. The ink is heat-sensitive and disappears when rubbed with the friction-generating stub on the end of the pen.
It works very well on most common paper, vanishing entirely with a little fast rubbing, but it is more difficult to remove and sometimes leaves ghost impressions on thickly textured paper such as card stock. As for the writing experience, it's as smooth and comfortable as most medium point gel pens. The ink tends to be a shade or two lighter than non-erasable and, as you can see in the writing sample, blots slightly when the point first touches the paper.
Other than that, it's a fairly neat and consistent writer. For what it's worth, the barrel also sports one of Pilot's more attractive designs. While it isn't a pen that you will use every day, it is perfect for completing order forms, writing out math problems or answering crossword puzzles. (Of course, since the ink is erasable, it should not be used for any important permanent documents.)
Check Price and Reviews on Amazon
Uni Pin Fine Line Pen

The Uniball Pin Fine Liners is the pen range for those times when you need precision, whether in your handwriting or in artistic or technical drawings. The Pin is available in seven sizes, from 0.8 mm down to 0.05 mm with black ink. The marker tips are extremely smooth, and the lines are strong, dark and consistent, even with the finest point.
The ink is also waterproof. The round barrels are a little larger than you might expect and are surprisingly comfortable, given the minimalist design. The cap snaps into place with a satisfying "click," but feels a little weak when fitted on the other end for use. There are two small windows so you can see the tip size without removing the cap.
The Pin is ideal for artists and designers and, even if you don't draw, it's definitely a pen that communicates attention to detail.
Check Price and Reviews on Amazon
Uniball Jetstream Gel Pen

For all-around everyday professional use, the Uni-ball Jetstream gel pen is an absolute favorite, and for good reason. It's versatile, reliable and refillable, so you can use it anywhere for anything and continue using it for as long as you want. The 1.0 mm Jetstream is hands-down one of the smoothest writing pens you'll ever find.
The tip glides across the paper so easily that it takes only the lightest grip to move it. The lines are bold and crisp, and I've experienced only the slightest problems with skipping, although that is an occasional complaint about the pen.
Another great thing about the Jetstream is that it has a very professional appearance. There's nothing garish or fancy about it, but it looks far from cheap. The smallish barrel is sleek, pointed at either end and bears two small metal inlays stamped "Jetstream." The cap fits snugly, and the whole pen feels solid. While the barrel could be a little longer, it's reasonably comfortable to hold, probably because of the light grip required.
The other pens listed here each serve a certain purpose, but the Jetstream is the pen that will serve in any circumstance.
Check Price and Reviews on Amazon
Now, what do you think…are these the right pens, or would you recommend something else? Let us hear your best ideas for the five pens everyone should have. Once you have your pens you will want to keep them safe here are our 5 top tips to stop losing your pen.
You may also want to check out our post ballpoint gel or rollerball pen which is best for you?