It happens to everyone. You find the perfect pen – you know, cozy grip, smooth roll, the ink that comes out in clean, neat lines. You don't want to lose this pen – and swear that you'll never let it out of your sight. Everything's great for a few weeks, or, if you're lucky, a few months.
Then, suddenly it vanishes. Maybe you left it at the bank, or maybe some co-worker with light fingers snatched it when you weren't looking. Whatever happened, you find yourself obsessively searching for it. Your purse, your car, the same desk drawers over and over again. But you never see that lost pen again.
Frustrating, isn't it? Well, try some of these 5 top tips so the next time you find the right one, you don't lose your pen.
Wear a Lanyard
Yeah, sure you may look a little geeky with this thing around your neck but these days there are some pretty cool designs around. But at least it's not a pocket protector, and a lot of people around the office already are wearing them. Your company might even supply you one if you asked.
Some lanyards come with detachable pens, ranging from inexpensive disposables to sturdy refillable. Otherwise, if you have your own pen you'd rather use, you need a lanyard with either a snap hook, keyring, or cord loop. With one of those, you simply clip your pen to the hook/ring/loop, and you're set.
Then, just train yourself into the habit of always returning your pen to the lanyard when you're finished using it. If it's a capped pen, always listen for the snap to be sure you put the pen back into the cap tightly.
Check Prices and Reviews on Amazon
Fisher Space Pen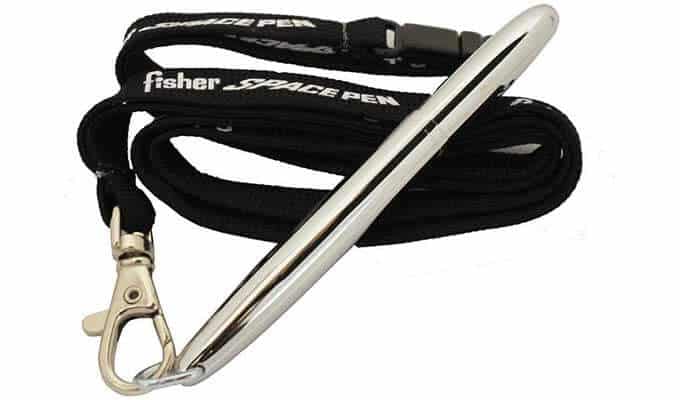 The bullet-shaped Fisher Space Pen is a superb pen with a pressurized refill that allows you to write upside down, under water, in extreme temperatures and even outer space if you can hitch a lift. This is one pen that you don't want to lose and it is supplied with a handy Lanyard. Fisher Space pens also come with a lifetime warranty.
Check Prices and Reviews on Amazon
Sheaffer Ion Gel Rollerball Pen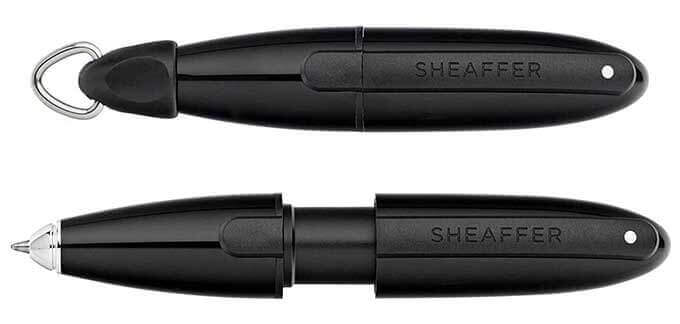 The Sheaffer Ion Gel Rollerball Pen is a pocket-sized pen with a smart modern design that is available in several different vibrant colours. The snug fitting detachable cap is fitted with a ring that you can easily attach to a keyring, lanyard schoolbag or if you like to spend your day chasing white balls around an oversized field it is perfect for attaching to your golf bag. As an added bonus this pen also has hybrid gel ink that is super smooth writing.
Check Prices and Reviews on Amazon
Zebra X701 Ballpoint Pen

If you need something a little more rugged then the Zebra X701 is just the job. It has a pressurized refill so like the Fisher Space Pen it will write at any angle and even upside down. The pen has a lanyard loop and is made from heavy-duty non-reflective matte black plastic.
Check Prices and Reviews on Amazon
Key Reel
And if the lanyard isn't your thing, you might also consider a key reel to ensure that you never lose your pen. Remove the keyring from the reel and clip your pen to the hook. Then put the key reel on your belt and let your pen hang into your pocket.
There are hundreds of different key reels available to buy but basically, they fall into two categories. Clip-on, these usually have a metal sprung clip that simply clips to your clothing. Carabiner Fastener. With these, they have a locking carabiner type faster which you can use to attach to belt loops bags etc. The following two key reels are highly recommended by Amazon customers.
Heavy Duty Clip-on Key Reel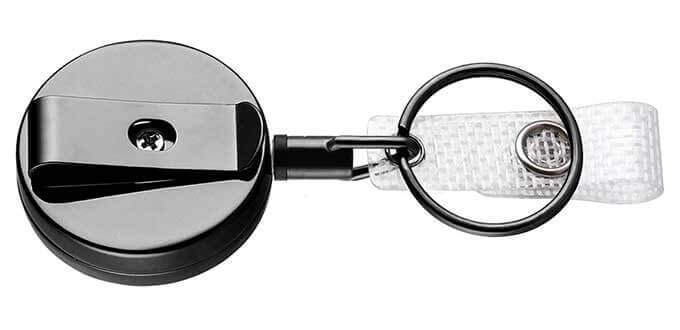 This is a heavy-duty clip-on type key reel with a steel wire that the manufacturers claim is much stronger than corded key reels and old up to 8 keys as opposed to the usual 4 keys of other brands. It has a 4.5 out 5-star rating and over 1700 reviews.
Check Prices and Reviews on Amazon
Key-Bak Sidekick Heavy Duty Carabiner Key Reel

The Key-Bak Sidekick is a heavy-duty key reel with a strong Kevlar code that can hold up to 6 keys. The carabiner fastener allows it to be clipped to belts loops bags & purses. It has a 4.6 out 5-star rating and over 2000 reviews.
Check Prices and Reviews on Amazon
Customize Your Pen
People are less likely to try to walk away with a pen that clearly belongs to someone else, especially if the pen is decorated in unusual ways. You can do it yourself, or buy a pen that is customized just for you.
One of the easiest ways to customize your pen is with a little reflective or neon tape. Another simple option is to dab a little bright fingernail polish around the top of your pen.
Check Prices and Reviews on Amazon
Or, go to a hobby store and buy some brightly colored yarn, glitter, stickers, adhesive gemstones and whatever else you want. Add anything that will fit. Have fun. The Half Pint Pixie blog even suggests taping fake flowers to them.
If gaudy isn't your thing, you also can customize it by taking it to an engraver to have your name added. It shouldn't cost more than $10. You also can order custom pens in bulk with anything from your company logo to HANDS OFF printed on them. Those will cost just a few pence each.
Buy A Pen Holder
What do you do when you're finished writing, just drop your pen on your desk? Stick it behind your ear? Probably. That's what most of us do. But it's easier to keep from losing your pen when it always has a place to go.
This can be anything from a coffee mug to a wood or plastic desktop pen holder from an office store.
Black Mesh Desk Tidy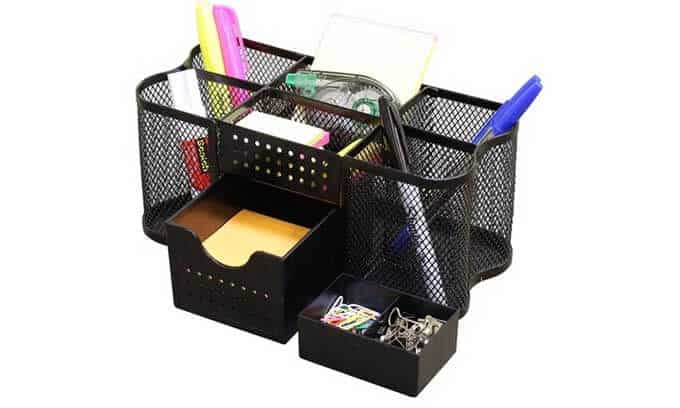 If you want an all-singing and dancing pen holder for your desk then the DecoBros black mesh desk tidy has an amazing 4529 reviews giving it a 5-star rating.
Check Prices and Reviews on Amazon
Dead Fred Pen Holder
If your looking for something with a little more personality try the Dead Fred pen holder. The little rubber man lays on your desk and just waits for you to stab your pen into his chest.
Check Prices and Reviews on Amazon
Get a Speciality Pen
Some pens are just made so that you can't lose them. These aren't your everyday use kind of pens because they tend to be small for convenience, but they still make nice back-ups.
True Utility Stainless Steel Pen Keychain
A good one is the True Utility Stainless Steel Pen Keychain with a built-in keychain that you can clip anywhere. It's just a little over two inches when closed and out to five inches when open. It's just a little over three inches when closed and pulls out to four and a half inches when open.
Check Prices and Reviews on Amazon
NarwhalCo Set of 2 Small Pens for Pocket, Wallet, Planner, Purse or Passport
Another handy specialty pen is the NarwhalCo Wallet Pen, a small 3-inch stainless steel pen that slides down into the fold of a wallet. It looks as if it may be uncomfortable to use for long periods, but when you need a pen right then, it works just fine. They are supplied as a set of 2 pens and have excellent reviews, not only that Narwhalco offers free pen refills for life.
Check Prices and Reviews on Amazon
Ohto Minimo Ballpoint Pen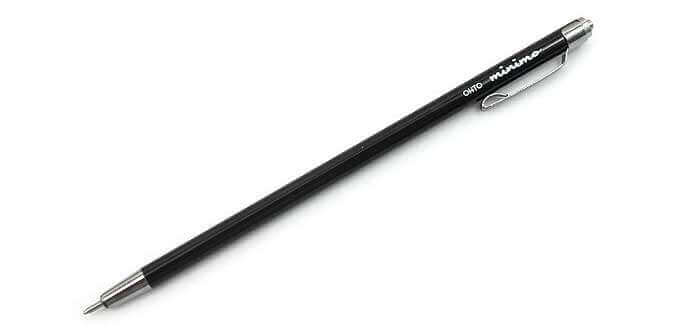 The Ohto Minimo Ballpoint pen is quite possibly the smallest pen on the planet measuring just 91mm in length and only 3.68mm in diameter. OK I know this article is called Don't Lose Your Pen – 5 Top Tips and I am recommending a tiny pen which at first glance does not make much sense.
However, what's great about this pen is that it is small enough to fit in nearly any wallet or purse and will fit most organizer loops. It is also supplied with a handy credit card-sized plastic holder to help stop you from losing it and can be refilled with either an OHTO R-4C5NP extra-fine, OHTO R-4C7NP fine refill or any D1 refill which are commonly available. It is also available as a mechanical pencil.
Check Prices and Reviews on Amazon
Tether Your Pen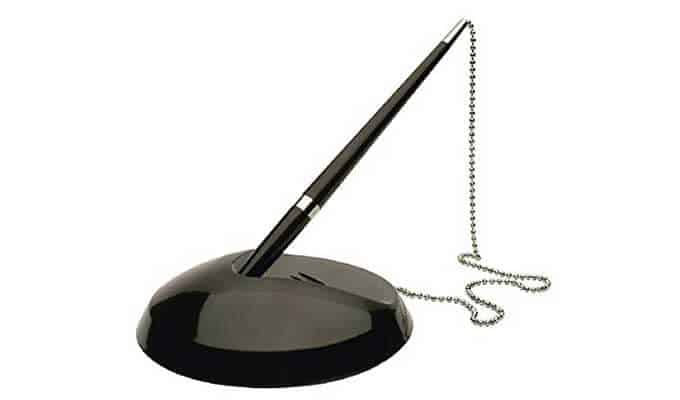 It's hard for you to misplace your pen, or for someone else to take it, when it's always tied to your desk, so try this if you're really desperate.
One option is to buy pens that are already tethered, the featured pen has adhesive on the bottom so you don't need to use any drill or screws.
Check Prices and Reviews on Amazon
If you want to tether your own pen, it will just take a little ingenuity. You'll need something supple for the tether, such as light nylon cord or ball chain (the kind that holds dog tags), and a good strong tape like electrician's tape or duct tape.
Tape one end of the tether to the end of the pen and attach the other end to your desk – you can tie the cord to a drawer handle or coil up a few inches of the chain and glue it to a heavy coffee mug. Use your imagination. Best not to drill any holes, though, since your boss might not appreciate that.
Don't Lose Your Pen You Will Die Poem:
There is another good reason not to lose your pen, as losing your pen leads to death according to this brilliant poem by happilyneverafter.
Lost your pen=no pen
No pen=no notes
No notes=no study
No study=fail
Fail=no diploma
No diploma=no work
No work=no money
No money=no food
No food=skinny
Skinny=ugly
Ugly=no marriage
No marriage=no children
No children=alone
Alone=depression
Depression=sickness
Sickness=death
What about you, readers, any ideas on how to keep from losing your pens?