Left-handed writers, we know you have it rough when it comes to finding the best left-handed pens since most of them are designed to be used by right-handers.
Who don't appreciate the difficulties that lefties face when writing with most pens?
A left-handed person has to push the pen from left to right. That requires the writer to press harder on the pen, which can be uncomfortable and can force the paper to foul the writing tip. Meanwhile, the writing hand drags over the ink and smudges it.
The Best Pens For Lefties
Obviously, then, the two most important qualities in a pen for lefties is that the ink dries quickly and that it flows as smoothly as possible. With that in mind, these are some of the best pens left-for handers. They include quick-drying pens, pens with pressurized refills, left-handed pens for children and leftie friendy fine-liners, and calligraphy pens.
1. Quick Drying Pens
1.1 Pentel Energel BL77 Gel Rollerball Pens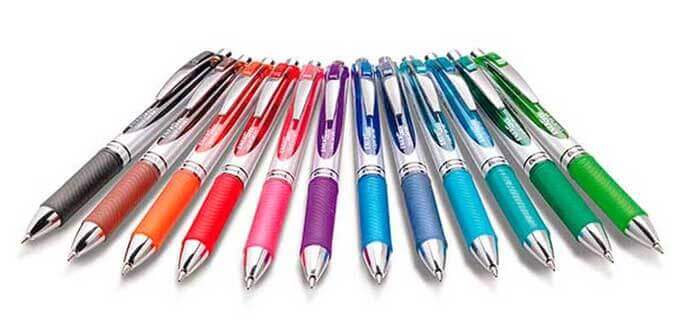 Pentel Energel pens contain EnerGel ink which is specially formulated with a combination of liquid and gel ink, giving you super-smooth writing which is quick-drying and smudge-proof, making it ideal for left-handed writers. They are available in a range of styles & tip sizes with the Pentel Energel XM BL77 being one of their most popular pens with its wide barrel, retractable 0.7mm tip & a choice of 12 vibrant ink colors.
Check Prices and Reviews on Amazon
1.2 Pentel Energel Sterling Premium Gel Rollerball Pens
If you prefer a more luxurious pen then the Pentel Energel Sterling Premium Gel Rollerball pens are ideal for lefties and they have an aluminum barrel that can be laser engraved with a name or personal message. How good is that?
Check Prices and Reviews on Amazon
1.3 Pentel Energel Tradio Rollerball Pens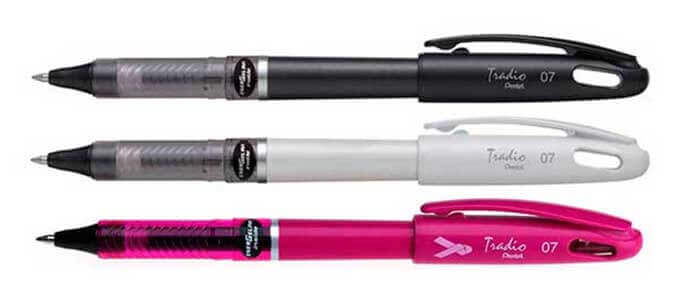 The Pentel Energel Tradio is another popular pen with Left-handed writers it is part of the Energel range and is a capped pen with a modern look and feels to it and a slightly slimmer barrel than the XM BL77.
Check Prices and Reviews on Amazon
1.4 Ohto Rays Extra Fine Gel Ballpoint Pens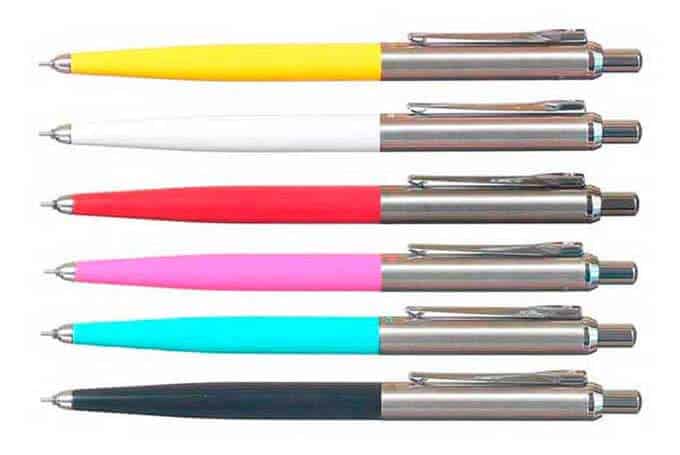 For those left-handed writers who prefer a finer line then the Ohto Rays gel pens are ideal pens for lefties they have the latest in super-fast drying ink technology with an extra-fine 0.5mm tip that writes a 0.2mm wide line. The pens resemble the original Parker Jotters with a plastic lower barrel and the metal upper part before Parker updated the design of the Jotter a couple of years ago.
Another cool thing about the Ohto Rays is that the PG-105NP refill that is available to buy separately. It is a Parker G2 style refill which means that it can be used in other brands of a pen that uses this type of refill. Ohto Rays Gel Pens are available in six different barrel colors.
Check Prices and Reviews on Amazon
1.5 Zebra Sarasa Gel Rollerball Pens

Zebra pens are renowned for their exceptional value for money and the Zebra Sarasa 0.7mm gel pen is one of the most popular pens that Zebra make. It is a super-smooth writing retractable pen with acid-free ink that is of archival quality. The Sarasa has the latest generation ink with an improved formula that is an exceptionally fast dry pen for left-handers. It writes on most types of writing papers eliminating smearing and smudging and making it a firm favorite with left-handed writers. Zebra Sarasa 0.7mmm gel pens are available with black, blue, or red ink.
Check Prices and Reviews on Amazon
1.6 Uni-ball Jetstream Rollerball Pens

A rollerball pen might not be the first choice for a lefty because the ink can smudge if your hand passes over it as you write. However, that's the main selling point of the Jetstream: It's a hybrid that combines the fast-drying ink more common to a ballpoint with the gentle glide of a gel. You get fewer smudges and a more comfortable experience. This is one of the best fast drying pens for lefties and a firm favorite with many left handed people.
Check Prices and Reviews on Amazon
2. Pressurized Pens
Any quality pen with a pressurized cartridge can be a good choice for left-handed people. The advantage is that since there's always downward pressure on the ink, you'll get a constant smooth flow, whether you're pushing the pen across the paper or pulling it. You won't be rubbing the ink off the ball, "drying up" the pen, as sometimes happens when lefties use ballpoints. And the pen will even write upside down or on wet paper. How cool is that?
Fisher invented the pressurized refill and it was first used in space by astronauts on Apollo 7 in 1968. They have a huge range to choose from so any Fisher Space pen would be a good choice for someone who writes with their left hand. The following are some of the more popular Fisher Space Pens. All can be refilled with Fisher pen refills which are available in 10 different colors & with a fine, medium, or broad tip.
2.1 Fisher Capomatic S251 Space Pens

The Capomatic S251 is Fisher's entry-level pen it is a retractable pen. The lower barrel is made from sturdy plastic and the upper part is made from metal with a chrome finish & there are 5 barrel five-barrel colors to choose from. The pen takes its name from the fact that you simply press its cap to advance and retract the nib. Being the lowest priced Fisher Space pen it makes it a good pen for lefties who want to try a pressurized pen from the company that invented them.
Check Prices and Reviews on Amazon
2.2 Fisher Bullet Space Pens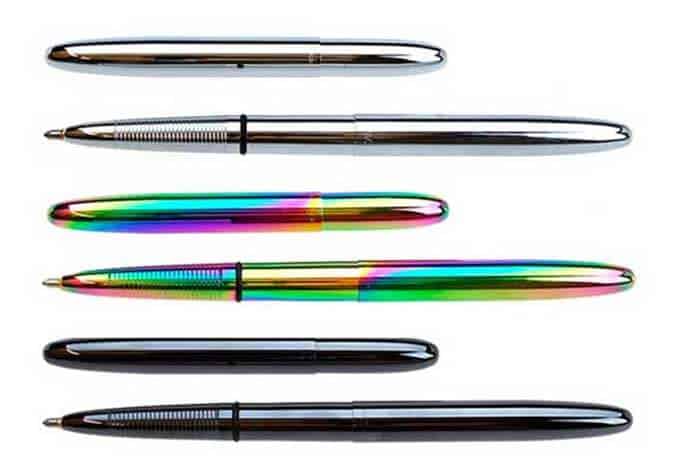 The bullet-shaped space pens are Fisher's most popular pen. They are a compact pen that is an ideal size to carry around. When the cap is removed it slides over the barrel to make it a more usable length. There are over 20 different finishes to choose from ranging from chrome to black titanium nitride.
Check Prices and Reviews on Amazon
2.3 Fisher AG-7 Original Space Pen

The Fisher AG-7 is the original space pen and its classic design has stood the test of time if you are looking for a gift for someone who is left-handed they don't come much better than this. How cool to own the same pen that the Astronauts still use to this very day.
Check Prices and Reviews on Amazon
2.4 Pilot Down Force Ballpoint Pens

The Pilot Down Force is a heavy-duty pressurized pen that is ideal for both left & right-handed people who have to work outside. From builders to delivery drivers or postmen. If you need a reliable pen that will write upside down or even on wet paper this is a top pen for lefties.
Check Prices and Reviews on Amazon
2.5 Uni-Ball Power Tank Ballpoint Pens

The Uni power tank is the poor man's version of the Fisher Space pens however it has a pressurized refill so it has the same benefits of a constant ink flow at its nib which should help when writing with your left hand. The power tank has a 1.0mm tip so it will suit those that prefer a slightly wider line and is available with black or blue ink.
Check Prices and Reviews on Amazon
3. Left-Handed Pens & Pencils for Children
Obviously, left-handed children can use any of the pens we have already mentioned that have fast-drying ink or containing a pressurized refill to help prevent smudging and smearing while writing. However, when it comes to pens and pencils which have been specially designed for children there is really the only company that stands out from that rest and that is Stabilo.
3.1 Stabilo Easy Rollerball Pens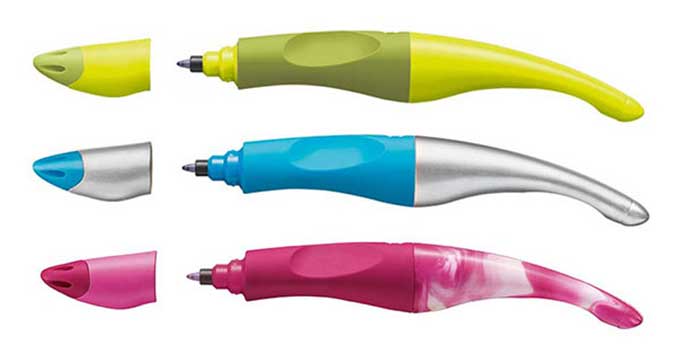 The Stabilo Easy range of rollerball pens are designed for kids, but there's no reason adults can't use it also. What's important is that STABILO makes a left-handed version of the pen that is molded with grip recesses so that your thumb and finger fit comfortably without any odd contortions. The idea is that you can hold it with a light grip, and it still will move easily across the paper.
These pens are available in a wide choice of barrel colors and there is a choice of a 0.5mm or 0.3mm tip. The smaller size is recommended for faster drying. Usually, ships with blue ink, although you can order black ink refills.
There are now 3 models in the Stabilo Easy Range:
Stabilo Easy Original – The original ergonomic pen
Stabilo Easy Metallics – Metallic effect finish & can be personalized with a laser engraved name.
Stabilo Easy Marbled Colours – the latest addition with each pen having a unique marbled effect.
Check Prices and Reviews on Amazon
3.2 Stabilo Easy Ergo 1.4mm Pencil

The Stabilo EASYergo 1.4mm pencil is designed for children aged seven and over who are ready to move on from using the bigger EASYergo 3.15mm pencils. Again this pencil is available in a left-handed version with a specially molded grip area.
Check Prices and Reviews on Amazon
3.3 Stabilo Easy Ergo 3.15mm Pencil

This pencil is designed for children just learning to write and the same as the Easy original pens the left-handed version is molded for the thumb and fingers to sit comfortably in the correct position.
Check Prices and Reviews on Amazon
3.4 Stabilo Easy Graph Pencils

If you prefer a more traditional wooden pencil then the Stabilo Easygraph pencil is an ideal choice. The pencil has a triangular-shaped barrel and unique non-slip moldings available in both left and right-handed versions which allow you to grip the pencil in a relaxed position.
Check Prices and Reviews on Amazon
4. Left Handed Fineliner Pens
4.1 Zebra Sarasa Porus Pen Fineliner

The Zebra Sarasa Porus fine liner pens contain Zebra's latest rapid dry quick-drying ink to prevent smearing and smudging, it is also acid-free & water-resistant. The pen has a 0.8 mm needle tip and is ideal for making precise lines as well as drawing and coloring.
Zebra Sarasa needle tip fine liner pens are available in five colors which are black, blue, green, red and violet. They are also available in a pack of eight which contains 3 extra colors which are orange, pink & light blue.
Check Prices and Reviews on Amazon
5. Left Handed Calligraphy Pens
5.1 Manuscript Callicreative Calligraphy Markers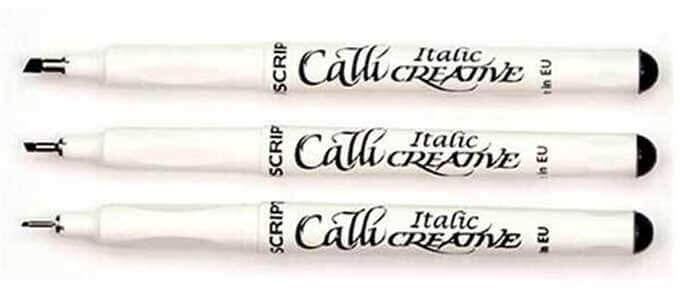 Manuscript is one of the few companies that make a calligraphy marker specifically designed for left-handed people. Their left-handed calligraphy marker triple pack contains a 1.0mm, 2.0mm & 3.0mm disposable italic marker. Each tip is cut at an oblique angle for left-handed writers and Arabic style writing. Check Prices and Reviews on Amazon
6. Left Handed Fountain Pens
There's much discussion online about whether left-handed people can use fountain pens. Some lefties say they've tried and found it impossible, while others swear they've been comfortably using fountain pens for years. The general consensus seems to be that it's difficult because the left-to-right upward motion distorts the tines of most pens. There are a few companies that claim to make specially designed left-handed nibs but none of these has proven to be any better or worse than a standard fountain pen nib.
When using a fountain pen left-handed writers tend to hold the pen at a different angle to the paper compared to the right hander's so that they avoid smudging while they write. This means that for most left-handed people a fountain pen with a standard nib in fine medium or broad will be okay.
However, there is some suggestion that it may be beneficial if you are left-handed and want to write with a fountain pen to try using a finer nib. The theory being that an extra-fine or fine nib produces a narrow line with less ink on the paper so it should dry more quickly.
6.1 Platinum Preppy Fountain Pens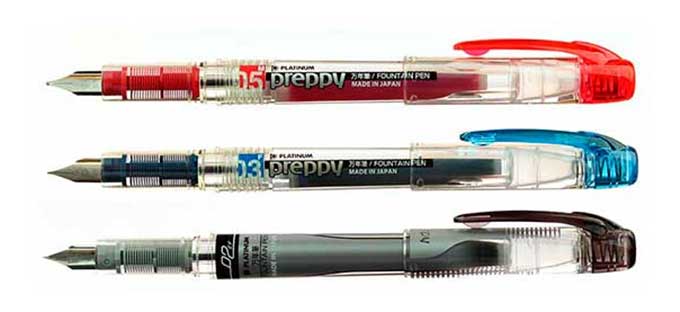 This is a great inexpensive fountain pen to try out if you are a left-handed writer and are not sure which nib size suits you. It is available in an extra-fine, fine & medium nib. Platinum Preppy fountain pens are available in a choice of 7 ink colors or they can be fitted with an ink converter that allows the use of bottled ink. Check Prices and Reviews on Amazon
6.2 Platinum Plasir Fountain Pens

With an aluminum barrel available in a choice of barrel colors, the Platinum Plaisir fountain pen is exceptional value for money and available in a 0.3mm fine or 0.5mm medium nib. This really is a truly amazing fountain pen that does not always get the recognition it deserves. It can also be fitted with an ink converter that allows the use of bottled ink.
Check Prices and Reviews on Amazon
6.3 Kaweco Classic Sport Fountain Pens

The superb Kaweco classic sport fountain pens have an octagonal barrel and can be bought with a plastic, aluminium, brass or steel finish. They have a wide range of nib sizes to choose from which are extra-fine, fine, medium, broad and double broad.
Check Prices and Reviews on Amazon
7. Conclusion
Of course, these are only a few of the pens available to left-handed people. We'd like to hear about your experiences with pens for lefties. Have any favorites that have worked for you, or any that you've tried and know just don't do the job? Let us know.