In the right hands, fountain pens produce some beautiful lettering, so it stands to reason that giving your child a fountain pen might be the right way to neaten the little one's Ps and Qs. But can using a fountain pen really improve your children's handwriting?
It very well might be the case and there is at least one Junior School that is convinced of the benefits of introducing children to fountain pens at a very young age. Also when it comes to doing exams if your child has neat legible handwriting then this can only be a good thing in the eyes of an examiner. They must get very frustrated trying to decipher something resembling spiders crawl when they have hundreds of papers to mark.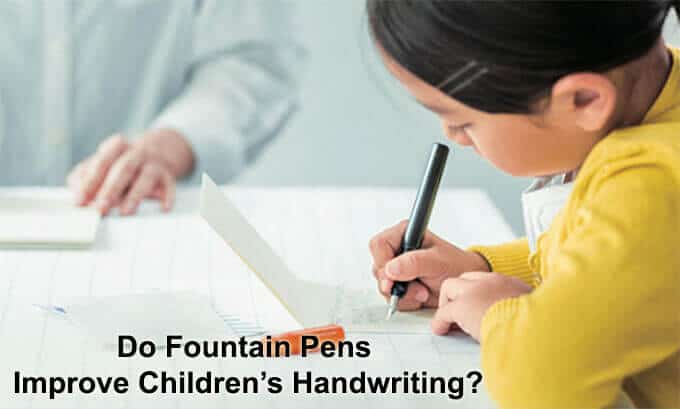 Image By J Subculture
Do Fountain Pens Improve Children's' Handwriting?
There seem to be two schools of thought on the use of fountain pens to improve children's handwriting. One holds that it might make some small improvement, but isn't the main contributing factor and that there are plenty of other suitable pens for children. The other posits that the use of a fountain pen instills handwriting discipline that leads to neatness.
We think there's some merit to the idea that fountain pens can help children write more neatly, but do not see it as the sole solution.
Dyas Lawson, who has written the definitive guide to handwriting on the Paperpenalia.com site, puts it this way: (Editors Note sadly Paperpenalia.com is no longer available)
A fountain pen may make your writing look a bit better, but if your writing looks as if frenzied chickens got loose on the page, chances are this won't be enough. Most likely, you'll need to retrain your arm and hand.
We posed the question to the fountain pen enthusiasts at the Fountain Pen Network and got some thoughtful, interesting replies.

MJSchuelke, from Munich, wrote:
Keep in mind…that fountain pens are still common in schools in several European countries, e.g., France and Germany…And while I can't speak for others, I remember that my own handwriting became much more fluent and legible when I switched from pencil to fountain pen, about 1/2 year into school.
OtterNZ, a university student from New Zealand, said:
Growing up in the 90's I was never taught proper cursive, only print. For print a ball point was fine, but I'm trying to teach myself cursive so I needed something that could write easily at a low angle. So yes, they are useful for teaching proper handwriting. Also, I'm a university student, so I do large amounts of writing. I find that with a fountain pen I can write for longer before I get any cramping, than I would with a ball point.
There was agreement among the fountain pen users that, while fountain pens make for a more comfortable writing experience due to the low writing angle, they could be too messy for younger children because of the potential for ink spills.
The Letterforms That Children Find Easiest to Read
We also talked to Dr. Rosemary Sassoon, one of the UK's top experts on handwriting. After discovering that no one had found out what kind of letterforms children found easiest to read, she spent two years of research on the subject before designing the original Sassoon Primary typeface.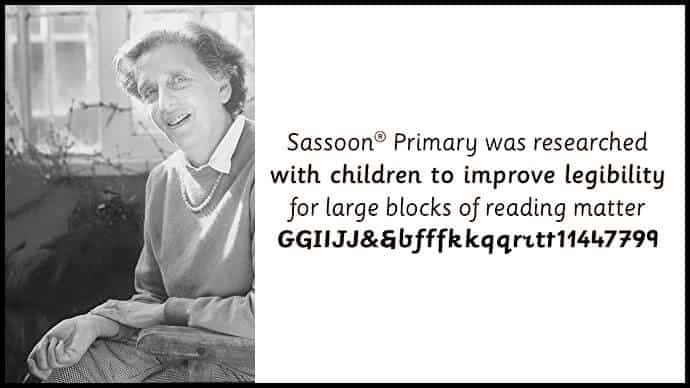 She said finding the right pen does make a difference in a person's handwriting, but what constitutes the "right pen" is a very individual matter. Thus, while fountain pens may be good for some children, they aren't necessarily the proper choice for all.
"I can't give you a blanket, 'Yes,'" she said.
Dr. Sassoon said it is important to good handwriting to allow the child to pick the instrument. That can be difficult these days since so many pens are packaged, leaving buyers with no way to test the feel and writing ability of the pen before making a purchase. But, when possible, kids should try them to find the ones they like.
"I do think the choice is a very good thing," Sassoon said.
Benefits of Fountain Pens at Junior School
However, some teachers insist that fountain pens improve are the proper tools for children's handwriting. You may have heard recently about a school in Scotland – featured on The One Show on BBC1 – that requires children in Primary 6 and 7 to use fountain pens.
The Mary Erskine and Stewart's Melville Junior School starts students off in P4 with a "fresh start" writing program in which students use pencils while they re-learn basic letter formation. After two years of that, students take up fountain pens as their required writing instruments and continue training in cursive writing.

The school reports:
When children are initially introduced to the fountain pen, the speed of their writing slows considerably as their focus is on care and attention to detail. As they become comfortable with the tool, their writing speed increases without marked deterioration in style and usually within half a term, they are writing faster than they were. Fountain pens allow the ink to flow smoothly from the nib and, although we acknowledge with the children that they will not use a fountain pen on all occasions, after two years of focus on the instrument they have the skill to use as and when needed for the rest of their lives.
Earlier this year, headmaster Bryan Lewis wrote a piece in the Edinburgh Evening News explaining the school's position. In it, he claimed that the simple use of a fountain pen affects other aspects of students' lives.
Although there is no direct link between using a fountain pen and examination results, there is a significant benefit to the children's self-respect.

When writing with a fountain pen, pupils have to concentrate and take their time. With practise they become proficient and they realise they have created something beautiful in itself, which encourages them to ensure the content reflects the quality of the writing.
And…
Children who are proud of the standards they set for themselves are far more likely to achieve academic success and for that reason, excellent handwriting, just like excellent manners and a commitment to hard work, is a crucial component of the education we provide.
It seems a bit of a stretch to think that the simple use of a fountain pen will in some way turn children into super-achievers, but there certainly is nothing wrong with trying to teach them to write correctly and take pride in their work.
Recommended Children's Fountain Pens
If you do decide to buy your child a fountain pen, we suggest starting with something inexpensive. The experts at the Fountain Pen Network recommend both the Pelikan Pelikano Junior and the Lamy ABC for young writers.
4.1 Lamy ABC Children's Fountain Pen
The Lamy ABC Fountain Pen has a maple wood barrel and an ergonomically shaped rubber grip that helps with finger placement. It uses Lamy T10 Ink cartridges which is probably best for younger children.
However, if your children are a little older you can buy a Lamy Z28 ink converter which allows you to refill it with ink from a bottle. I would recommend using Lamy blue ink to start with as this can be erased with an ink eradicator and rewritten over with using the other end of the eradicator pen if your little one makes a mistake.
Check Price and Reviews on Amazon
4.2 Pelikano Junior Fountain Pen
The Pelikano Junior fountain pen has a more modern design that may appeal to children a bit more than the Lamy ABC. The pens grip area has been specially designed to allow children to hold it with the perfect grip.
It has a pressure-resistant and elastic nib to aid writing and the cap has been designed to prevent it from rolling off a desk. The pen can only be refilled with Pelikan ink cartridges and again I would recommend using Pelikan 4001 royal blue cartridges to start with as these can also be erased and rewritten over with an ink eradicator pen.
Check Price and Reviews on Amazon
4.3 Refills and Accessories
Using royal blue ink and ink eradicators is a very good way of correcting writing errors for younger children but there are other methods which you can see in our guide on how to cleanly erase ink from paper.
As usual, readers, we want to hear what you think. Do fountain pens improve children's handwriting?
It is not just writing pens that children have to use at school but pencils as well. We have put together a guide on what makes a good mechanical pencil for children which includes our top recommendations.