Looking for the best mechanical pencil for your kids to use at school?
Adult's mechanical pencils tend to have slender barrels, relatively small lead diameter, and retractable or fixed lead sleeves which are great for straight edges but not that practicable for younger children.
This guide explains what to look for when choosing your kid's mechanical pencil and recommends what we think are 6 of the best mechanical pencils for children.
If you are unsure if you need a wooden or mechanical pencil, then look at Wooden Pencils Vs. Mechanical Pencils for more information.
1. Choosing a Childs Mechanical Pencil
When choosing a mechanical pencil for children, there are a couple of things to consider to ensure that it is easy to use, making it more enjoyable for them to write and draw with.
1.1 How Wide is the Barrel?
The first thing is the barrel size younger children don't have the dexterity with their hands to use a pen or pencil in the same way as their elder siblings and adults. Therefore, choosing a pencil with a lovely wide barrel allows them to get a firm grip and control it more easily.
For older children, the barrel diameter is not as essential, but several mechanical pencils have ergonomic grips that allow them to write in comfort for longer.
1.2 Lead diameter
Adult mechanical pencils will typically have 0.5mm or 0.7mm lead which is relatively small in diameter and will break quite easily under pressure. For very young children, the Stabilo Easyergo has the widest diameter lead at 3.15mm. This produces thick lines, and the lead is quite difficult to break.
Check out our Ultimate Guide to Mechanical Pencil Lead Sizes for More Information.
As the children get older, 1.4mm is quite a typical diameter; it is more suitable than 3.15mm for writing but still has good mechanical strength to prevent breakages.
Once they have outgrown using 1.4mm lead, then 0.7mm is the most popular size, and there is a wide choice of pencils available that use 0.7mm lead.
Using a good quality lead helps prevent frustration from breakages. Check out our guide to The Best Mechanical Pencil Lead for more information.
1.3 Ease of Use.
Last but not least, how easy it is to replace the lead and eraser if fitted. Obviously, you will be doing this for the younger children, but it should not be fiddly or difficult to replace the pencils lead or eraser for slightly older children.
2. The Top 6 Mechanical Pencils for Kids
Considering everything that we discussed earlier, what makes an excellent mechanical pencil for children? The following are The 6 best children's mechanical pencils. These will be perfect for your kids, from the very young who are just starting out to older children already at school.
1 Stabilo Easyergo 1.4mm Mechanical Pencil

Stabilo's line of writing instruments is designed to encourage proper finger placement with indentations for fingers and thumb on the grip. The barrel is wide to make the pencil easier to control, and it comes in a simple, colorful design that should appeal to kids. The 1.4 mm lead is twice as thick as the standard to help avoid breakage.
Check Price and Reviews on Amazon
Stabilo Easyergo 3.15mm Mechanical Pencil
For younger children, Stabilo also makes a 3.5 mm model that is perfect for when your kids are just learning how to draw and write their first letters. This is one of our top choices for left-handed writers in The 10 Best Pencils for Kindergarteners.
Check Price and Reviews on Amazon
2 Lamy ABC Mechanical Pencil

Like the Stabilo, this simple pencil also has a formed grip for finger placement. The barrel is plain maple wood and plastic and also has a broader body for control. It also uses a 1.4 mm lead to prevent breaking and help with smooth writing. The sticker for the child's name is one nice little touch, so the pencil doesn't get lost.
Check Price and Reviews on Amazon
3 Staedtler 771 Mechanical Pencil
A slightly more adult-looking pencil with a wide body for small hands and a triangular non-slip grip. It has a nice solid clip to keep it secure in backpacks and a retractable metal sleeve on the lead, so it's safe to carry in a pocket. The lead is 1.3 mm 'break-resistant.' Eraser extends with a twist.
Check Price and Reviews on Amazon
4 Paper Mate Handwriting Triangular Mechanical Pencil
These Paper Mate pencils are available in a range of bright colors with triangular-shaped barrels that help to promote a good grip. They have a strong 1.3mm #2lead which is the grade that is recommended for schools (#2 is the U.S. HB equivalent for those in the UK)
Check Price and Reviews on Amazon
5 Sakuro Sumo Grip Mechanical Pencil

Although better suited for older kids, the Sakuro SumoGrip still has a wide, comfy body and cushioned, triangle-shaped grip to shape the correct writing hold. The leads are smaller, with choices of 0.5, 0.7, or 0.9 mm, so you may want to try them to see which is best for the way your child writes. The name is cute, but the barrel colors are slightly more plain. For more details, see our Sakura Sumo Grip Review.
Check Price and Reviews on Amazon
6 Zebra Cadoozles Mechanical Pencils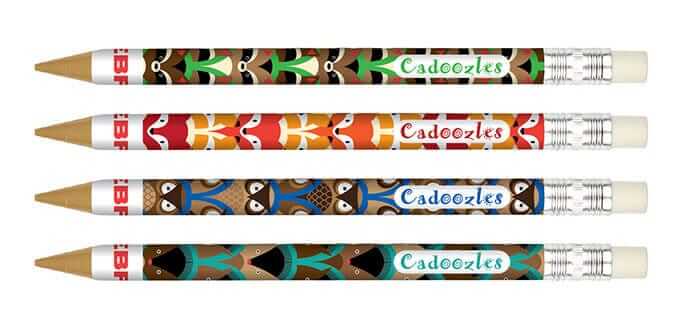 Probably best for children ages 10 and up, the Zebra Cadoozles mechanical pencils are recommended chiefly for their bright colors and a fun design that resembles regular wood-case pencils. Lead is standard 0.7 mm, so it's more susceptible to breaking if too much pressure is applied while writing. Available in a variety of colors and barrel graphics.
Check Price and Reviews on Amazon
Those are some suggestions to get you started.
One note: While all of these pencils come with erasers attached, mechanical pencil erasers are generally too small and don't last long enough to be of much use. It would probably be a good idea to pick up a couple of good rubber erasers to go with your mechanical pencils.
3. Improving Your Childs Handwriting
For traditional wooden pencils, we also have a great article on making DIY Pen & Pencil Grips perfect for smaller hands.
Pencils are great for when your children are first starting to learn to write but did you know that using a fountain pen may help improve your children's handwriting? Neat handwriting has many benefits in life & especially for exams.
A respected junior school switches their children over in year 5 to fountain pens. As they are a firm believer in the benefits that this brings to their pupils.
If you are also interested in the best children's pens, you may be interested in our article the 10 best pens for children.