I feel bad for the people who have to make Bic pen ads.
They just can't seem to get it right when it comes to women.
Remember the "Bic For Her" campaign a few years ago? The French pen brand launched a version of the classic Cristal with pastel colors and a thinner barrel it said was supposed to fit a woman's hand.
That did not go over well. Reviewers on Amazon savaged the Bic For Her with snarky comments and questions like, "Do you have any special pens for 'that time of the month?'" And the reaction to Bic's pen made news around the world, especially when the company was slow to respond. Bic has also been targeted on amazon by pranksters showing off their writing skills with their hilarious reviews of the Bic Cristal ball pen.
Now Bic pen ads have stepped in it again with a campaign in South Africa.
For national women's day, the Bic pen ad on its Facebook page showed smiling women in a suit with the words, "Look like a girl. Act like a lady. Think like a man. Work like a boss." Underneath: #HappyWomensDay.
Again, reviews of the Bic pen ad were not favorable. Twitter responses included gems like "srsly, think like a man…stabs eye out with Bic pen" and "Dear @Bic_SA please help. My little girl fingers can't handle your man pens. What should I do?"
Inevitably, spoof Bic pen ads popped up everywhere.
Image Credit Technically Ron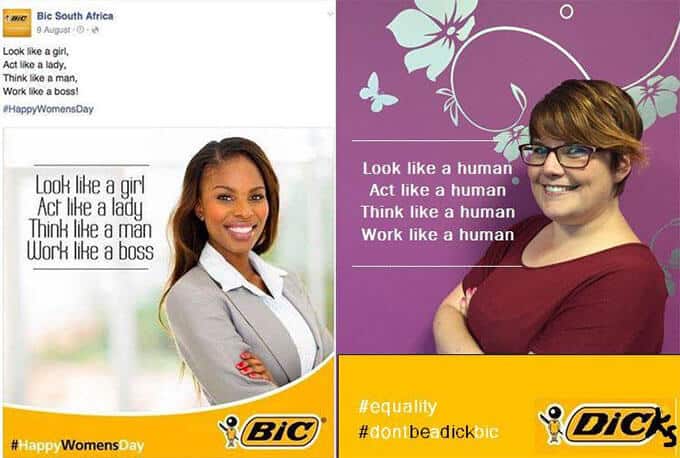 Image Credit Lowrie Williams
Bic South Africa first offered an explanation of what it really meant – empowerment for women – then just gave up and deleted the post and the explanation from Facebook.
This was followed by an apology on Facebook.
We're incredibly sorry for offending everybody. That was never our intention, but we completely understand where we've gone wrong.
Look, we love Bic. They're the originals, the classics. And they're making some decent newer pens that we enjoy using, too. We even sell them.
But for the love of all that's good, Bic, please stop with the clueless ads. It makes us embarrassed for you.
Meanwhile, the Bic pen ad misstep has been good for one competitor.
Stabilo was quick to step with with an alternative pen ad.
The ad, for the Stabilo Boss, shows a line-up of markers in various colors. Above them: "Look how you want. Act how you want. Think how you want. Work like a Boss."
Well said, Stabilo.