When it comes to wooden graphite pencils it can sometimes be difficult to find out which pencils have the darkest lead?
Finding the blackest lead pencils is not quite as straightforward as simply choosing a graphite pencil with the highest B number on the graphite scale (also known as the lead grade scale).
As the finished results on the paper may not give the desired effect. There are other options such as charcoals and pastels which generally produce deeper blacks but there are issues with these also.
Don't worry in this guide we will show you the best graphite pencils for drawing and sketching that will produce deep dark blacks. The pros and cons of graphite and charcoal pencils, other techniques to get blacker blacks as well as the Top 6 deep black pencils which include some specialist pencils to get darker blacks.
1. Graphite Pencils
Most people may know that pencil lead is not actually made from lead but from graphite which is a form of carbon. Check out our post What is Pencil Lead Made Out of? for more information. Although it is still commonly referred to as pencil lead.
The core of a wooden pencil or its "lead" is made up of a combination of graphite, clay, and other binders. How light or dark the pencil will write and how strong the lead core is depending on the ratio of the graphite to clay.
Pencils with a high ratio of clay to graphite have a stronger lead core and produce light marks when writing on paper. As the ratio of the graphite to clay is increased the core of the pencil writes increasingly dark marks but also becomes softer.
1.1. Graphite Scale (Lead Hardness Scale)
The graphite scale (lead hardness scale) is a visual means of categorizing the resultant marks from pencils with cores that have different ratios of graphite to clay.
There is some dispute as to who was the first to categorize pencils in this way. Czechoslovakian pencil manufacturer Koh I Noor claims that the pencil lead hardness scale was invented in 1802 by Franz Hardtmuth with H representing the family name, F represents his first name, and B after a town called Budějovice where they made the pencils.

However German pencil manufacturers claim that it is a system that they used which predates Franz Hardtmuth with H representing Hardness and B represents blackness. The truth of which has been lost over time but I kind of like the idea that Franz invented the pencil lead scale and named it after himself and where he worked. As opposed to the German efficiency of hardness and blackness.
For many years the HB scale was from 9H to 9B but eventually, some pencil manufacturers added 10H and 10B to their ranges with Staedtler going up to 12B.

Check out the Wooden Pencil Brands Ultimate Guide for more information on the pencils and grades available. It includes 20 of the biggest pencil brands and over 211 different pencils.
However, finding the darkest pencil lead is a little more complicated than just choosing the one with the highest B lead grade number. The problem is that there is no international standard for a pencil's lead grade. A Japanese HB pencil writes a lot darker than a German manufactured or USA manufactured HB pencil.
So although the German pencil manufacture Staedtler makes the Mars Lumograph pencil which is a 12B pencil and is the pencil with the highest Lead grade rating of any manufacturer's pencils. It may not be any darker than for example a Japanese-made Mitsubishi Hi Uni pencil which has a 10B lead grade.

Although the 10B and 12B pencils produced the darkest black lines of any standard graphite pencil a charcoal pencil usually can produce deeper blacks than a graphite pencil. But before you rush off and buy charcoal or 10B/12B pencils there are a few limitations to using both graphite and charcoal pencils which we will go into more detail in the next sections.
2. Charcoal Pencils
Charcoal pencils are also made from a form of carbon and are darker than the darkest graphite pencils. However, unlike graphite which is mined from the ground Charcoal is produced by slowly burning wood or other naturally occurring substances in a container with restricted airflow. This leads to the production of charcoal from the wood that had not completely burned through.
The charcoal is then compressed and mixed with a binder such as clay, wax, or gum to form the core of the pencil and encased in wood.
The pencils are usually classified by their consistency such as soft medium, or hard or it can also be by their color i.e. light-medium, or dark.
3. Graphite Pencils vs Charcoal Pencils
Graphite pencils are great for drawing as they don't smudge as easily and there is a wide range of color variations available from light grey to deep dark black. They are relatively smudged resistant although as the B number increases so does the amount that they will smudge. The main drawback of graphite pencils is that they have a small core so are not ideal for covering large areas and there is also a slight sheen to them.
Charcoal pencils can produce deeper blacks than graphite pencils but because charcoal is quite crumbly even when encased in the wood they are still a little messy and can smudge quite easily. Another problem is that they can be difficult to sharpen.
They will also need to be used with a fixer to preserve the drawing. As with graphite pencils, charcoal wooden pencils also have a relatively small core and cannot cover large areas quickly like the traditional artists' charcoal sticks can.
4. The Top 7 Darkest Pencils
Our top 7 darkest pencils include the darkest graphite and charcoal pencils that are generally considered to produce the deepest black colors. They are not listed in order of blackness and we do not recommend anyone to be blacker than all the others. At the end of the day, it is down to personal preference and you may need to try a couple of these pencils to find what suits you best.
4.1. Staedtler Mars Lumograph Pencil 12B

The Staedtler Mars Lumograph 12B pencil is the graphite pencil that has the highest B rating of any pencil on the graphite scale. Which in theory makes it the darkest wooden drawing pencil that there is. Being a German-made pencil it is usually a couple of degrees harder than a Japanese pencil. Although some reviewers have said that it is slighter softer to write with than a Mitsubishi Hi Uni Pencil.
4.2. Mitsubishi Hi Uni Pencil 10B

The Mitsubishi Hi Uni Pencil is widely regarded by many people as being the best drawing pencil in the world. It is pretty hard to tell if there is any difference in the blackness between this and the Staedtler Mars Lumograph 100 12B pencil. However, what is not in doubt is the quality of this pencil made from incense cedar wood with multiple layers of lacquer that form a luxurious finish with an almost velvet feel to them.
To see shading examples of this and the Staedtlers check out The Ultimate Guide to 10B Pencils.
4.3. Prismacolor Premier Ebony Pencils

Prismacolor Premier Ebony Pencils have a jet-black graphite core that lays down thick dark lines that can be easily blended. As with a lot of companies that produce a specialist black pencil, they don't give a comparable graphite scale grade. Looking at other people's reviews some say that they are one of the darkest pencils that they have used and are darker than 8B or 9B Pencil. The one caveat is that not all manufacturers 8 and 9 B pencils have the same level of blackness but it gives us a ballpark idea of how black these pencils are.
4.4. General's Layout Pencils

The General's Layout Pencil is a highly regarded specialist deep black wooden pencil. General Pencils make no secret of how black they think this pencil is as they describe it as an extra black pencil that is the equivalent black of an "Ebony Pencil". It is a premium quality pencil that is made from high-quality cedar wood.
4.5. General Pencil Kimberly Graphite Pencil #525-9XXB

The General Pencil's Kimberly Graphite #525-9XXB is their darkest graphite pencil and has a specially formulated extra soft and smooth deep dark black matte core. This is another pencil that often gets mentioned as been one of the blackest pencils but some say that although the wood is a high high-quality Cedar Wood the core is very soft to the point of nearly being powdery and difficult to sharpen.
4.6. Generals Carbon Sketch Pencils

General Pencil describes their Carbon Sketch Pencil as having a "unique formula that combines the smoothness of graphite and the darkness of charcoal" A little bit of clever marketing and misdirection is at play calling these Carbon Sketch Pencils. As graphite and charcoal are both forms of carbon. Their special formula must be charcoal-based as its main component otherwise it would not produce a deep enough black. It can also be used in a similar way to a water-soluble graphite pencil as you can use a wet brush to liquefy the top layer and manipulate it with the brush.#
4.7. Derwent Charcoal Pencils

Derwent Charcoal Pencils are a little different from the other black pencils as they combine a mixture of compressed charcoal and clay. The charcoal gives the pencil a deep black color and using clay as the binder makes them a lot more stable than traditional graphite pencils or sticks. They are less prone to smudging and sharpen better than charcoal which is a naturally crumbly material. They are however a little more scratchy due to the clay component. However, this has not stopped users from leaving 5-star positive reviews for them.
5. Drawing Techniques for Deeper Blacks
If you have a dark black graphite pencil or charcoal pencil then you can use them individually to get a deep black. However, there are several drawing techniques that you can employ that will give your drawings even deeper and more realistic dark blacks. These include using both charcoal and graphite pencils. Blending in a circular motion and cross-hatching for fill. The type of paper that you are using and how it interacts with the light also has an effect.
5.1. Drawing Realistic Textures in Pencil by J.D Hillary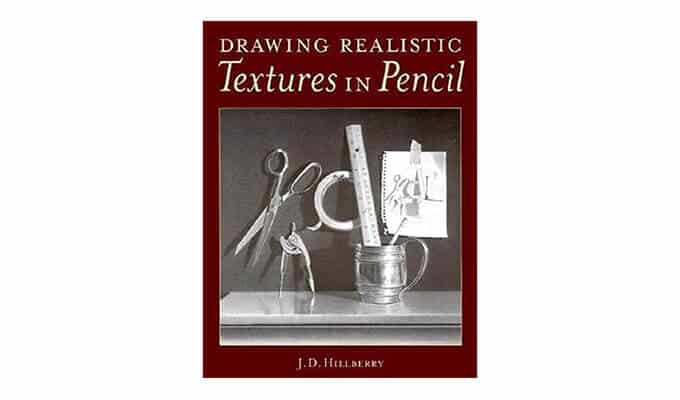 If you really want to master the art of using a pencil to create realistic drawings then Drawing Realistic Textures in Pencil by J.D Hillary is an excellent book that will take your drawings to the next level.
Please note this book is highly reviewed and rated but it is not for beginners who want to learn how to draw. The book is for those who already know and the fundamentals of drawing and want to improve their skills to take their drawings to the next level.
In the first 2 chapters, J.D covers the different materials and basic techniques. This is followed by seven step by step demonstrations on how to create different materials which are:
Old Pitted Metal
Reflective Metal
People – including eyes, skin, and hair
Glass
Weathered Wood
Leather
Barbed Wire
This culminates in two full still-life demonstrations. The book was released in 1999 but the clear and easy writing style of J.D. Hillary combined with images has made it a valuable reference book that has stood the test of time.
All the pencils are covered here but mechanical pencils and in particular clutch pencils are all extensively used for drawing. If you would like to find out more then check out Wooden Pencils Vs Mechanical Pencils for more information.
If you are unsure about which type of wooden pencil you need then check out our guide How to Choose a Pencil.