Considering graphite was discovered in the UK it's only fitting that there should be a pencil museum to mark the milestone. The Pencil Museum is promoted as having something for everyone charting the path of pencil making through written word, video & pictures. If you are thinking of visiting the Pencil Museum then you definitely should read the following 10 things that you need to know before visiting.
It is a little off the beaten path and if you are traveling a long way then you don't want to have wasted your time and money, and be disappointed when you find out that the museum is not how you envisaged it to be.
Andrew Abbott / Keswick Pencil Museum, via Wikimedia Commons
1. Location, Parking, Prices &  Opening Times

Location
So where exactly is the Pencil Museum? for those not familiar with the geography of northern England it is in Keswick which is a small town in the lake district. Keswick is about 16 miles from Junction 40 of the M6.
To put this into perspective it is about a two-hour drive north of Manchester or a two and half hour north of Leeds. For those in Scotland, it is about a 2 and half hour drive south from Glasgow.
Parking
There is a car park next to the museum with plenty of parking spaces available and the Artisan café which will give the shop a run for its money on being a bit on the pricey side. However, Keswick town center is only about a 10-minute walk and there are plenty of cafes there which may be more appealing in menu and price.
Prices
The Derwent Pencil Museum has standard pricing for adults and children with discounts available for senior citizens, family groups, and annual memberships.
Admission Prices
Adult – £4.60
Senior/Student/Child – £4.20
Child – £3.70
Family
2 adults + 1 child – £11.70
2 adults + 2 children – £13.50
2 adults + 3 children – £15.40
Membership
Yearly membership – £23.40
(Two adults and up to 3 children)
Includes 10% discount in the café and gift shop.
Opening Times
The museum is usually open seven days a week from 9:30am to 4pm with the last visitors being allowed in at 3pm. However, it is always best to check first before visiting in case the museum has had to close for any reason.
Contact Details
The Keswick Pencil Museum can be contacted either by telephone or email.
2. The Pencil Museum is Quite Small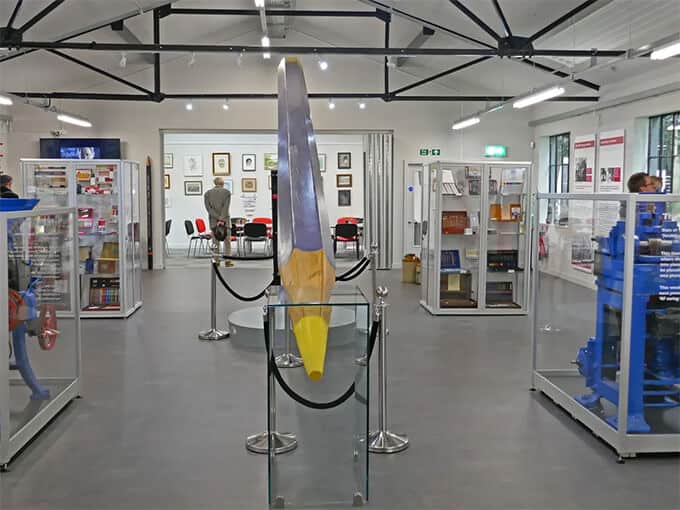 To enter the museum, you must walk through a cave that has displays about how graphite was mined in the area. It seems the cave entrance is a bit like marmite some really like it, and others don't think it brings anything to the party.
If you are thinking that a trip to the Pencil Museum will take up a full day, then you will be sadly disappointed. It is quite small, and it definitely is no Natural History Museum on average most people spend around about an hour looking around it.
Some reviewers have said that although they found it interesting and it is smaller than expected and some of the harsher reviewers even went as far as to say that they spent 10 – 20 minutes looking around it. After going through the entrance, the museum is a single room which can be quite crowded.
You may also be interested in Visiting the Birmingham Pen Museum which is the only museum of its kind in the UK again it is quite small but still very interesting. for those pencilheads who can't get enough of the wood-cased graphite writing instruments then check out Wooden Pencils Vs Mechanical Pencils which examines the pros and cons of both types.
3. It Can Get Very Busy
On school holidays and weekends with inclement weather (those lakes have to get all that water from somewhere) then it can be very busy. It is not uncommon to have to queue for quite a while before getting inside.
Once inside the actual room is open plan but not huge and it can soon fill up to the point where it feels overcrowded and you are crammed in. If you don't have children then if you visit during term time it should be fine.
4. Dogs are Welcome – Woof, Woof
You are more than welcome to take your four-legged friend with you as dogs are welcome and allowed into the museum and grounds. They even let you take your dog into the café. Better still admission is free for your pooch so that should keep a few tails wagging.
5. Home of the World's Biggest Colouring Pencil
Stinglehammer [CC BY-SA 3.0], via Wikimedia Commons
Without a doubt, the star attraction at the Derwent Pencil Museum is the biggest coloring pencil in the world it's around 26ft long & weighs a whopping 70 stones. It may hold the world record for being the biggest coloring pencil but it is not the biggest by far.
The biggest pencil in the world is at the city museum in St Louis Missouri and is a gigantic 76 feet long and weighs a whopping 1935 stones. You can see the Worlds Biggest Pencil and several others in our recent post The Biggest Pencils in the World. They truly are amazing in scale and the amount of engineering required to manufacture them.
6. Fun Quiz Sheet
On entering the museum, you are given a quiz sheet and a pencil it is one of the things that they have got right. The quiz sheets are age-specific and help you engage more with the information displayed on the storyboards. It is well received by both adults and children alike.
Most adults think that it is a great learning tool and a way of keeping their children engaged during their visit. Although the quiz is not just for the children's benefit as adults who go without any children find it enjoyable also.
7. Parents May Enjoy it More Than Their Children
Many parents take their children who enjoy completing the quiz and doing some coloring. Although it does not appeal to every child. Some younger children may find it a little dull hanging around while their parents are enjoying learning about the history of the pencils and the various displays.
8. Tuition Workshops.
The image is of artist Sally Kindberg taking a workshop at the Pencil Museum. Sally is a widely respected artist and author who runs drawing workshops for both children and adults. She has illustrated a series of comic strip books and drawing books for Bloomsbury.
There are demonstrations, tuition workshops in creative crafts like silk painting, drawing birds & animal portraits as well as family fun day events on & a drawing zone where the kids can get "hands-on".
The museum sometimes has a guest artist who teaches children to draw, and also pencil workshops which are better for older children and adults. Before you go it would be best to contact them first to find out what the workshops are going to be. This will enable you to plan your visit around a particular workshop that is taking place.
9. The Shop is Very Expensive
Derwent Pencils are a premium product designed for use by artists etc as such they command a premium price tag. The shop sells everything at full RRP so it is very expensive. People complain that everything can be bought a lot cheaper on Amazon.
I have some sympathy with Derwent here they must sell at RRP or there would be a flood of complaints from all their resellers if their supplier is undercutting them. Amazon sellers buy in bulk and cherry-pick the best products then sell high volumes at very low margins.
My advice is if you see something that you like in the shop but don't want to pay the full RRP to go and grab a cup of tea and order it online with prime delivery it will be there the next day. Or better still check out Our Wooden Pencil Brands Ultimate Guide where you will find lots of information about 20 of the world's biggest pencil brands including details of over 200 graphite and colored pencils.
10. What Disappoints People the Most About The Museum.
Generally speaking, the majority of people who visit the Pencil Museum are quite happy with their experience and the day out and this is backed up by 4 out of 5-star ratings from 1318 reviews on Trip Advisor. The educational historical information and the creative workshops are particularly well received.
But you can't please everybody and there are a few people who have been less than enamored with their trip to the museum. They tend to complain about the prices including the entrance fee, shop, and cafe. Some people also feel that there is a lack of exhibits or were expecting to see pencils being manufactured.
Overpriced
The number one complaint is that it is a little overpriced for what you get. if you take into account parking which is a minimum of £2.60 for two hours and the entrance fee is £4.60 for an adult & £3.50 for a child. One person went as far as to say that it is just a pay to enter the gift shop. Derwent Pencils do say that compared to other attractions in the area their prices are very competitive.
The other complaint is that the prices are at full RRP in the gift shop and the cafe is a bit on the pricey side. You don't have to buy anything from the shop buy online if you want the absolute cheapest price and most tourist attractions with a cafe take advantage of their captive audience with the pricing structure. Our advice would be to either take a packed lunch or try one of the cafes in the town center it is only a short walk and there are several different ones to choose from.
Lack of Exhibits
There are some good things at the museum such as The World War 2 Secret Pencil Exhibition, some 12 months in the making it details the exploits of some of the team designing a secret gadget & visitors can learn about the history of the escape artist's pencil used by RAF pilots, and how the phrase "black market" was coined. And of course the world's biggest coloring pencil.
The museum consists of main storyboards around the room with the history of pencils, glass display cases with historical and interesting pencil-related objects, a couple of TV monitors displaying informational videos, an old fashioned pencil grooving machine, and the star attraction the worlds largest coloring pencil.
This has left some people feeling a little underwhelmed taking into account that the museum has been on the site for 38 years, it was originally in the historic building behind the current museum which was erected in 2015 after flooding as Derwent felt was an opportunity to modernize it.
The Museum is Not in the Old Pencil Factory.
Quite a few visitors are either expecting or would have liked to have seen the museum in the old pencil factory. The old pencil factory sits derelict behind the mini prefab that now houses the museum.
Graphite was discovered in Borrowdale in the heart of the Lake District way back in 1564 where history has it that an oak tree fell during a bad storm revealing a large deposit of the mineral, initially thought to be coal. Although widely used in England as a lubricant as well as medicines & armaments the first records of a pencil factory in Keswick don't appear to have been until 1832. There are reports of pencil makers in Nuremberg Germany back in 1660, the city is still home to Faber Castell one of the oldest manufacturers in the world.
Derwent Pencils really are missing a trick they could have renovated the factory turning it into a large museum showing not only the history but the production process which is currently lacking. They say that they could not because of health and safety regarding visitors and machinery.  I am sure that there are obstacles and it would have required a considerable investment but with the number of visitors, they get combined with the added publicity they would have reaped the benefits in the long term.