When it comes to being the world's biggest pencil then size is everything but interestingly enough there are actually three different records for the largest pencil in the world. The most prestigious is the world's biggest pencil which has a graphite core. Then there is the world's biggest coloring pencil.
But even though the giant-sized graphite and coloring pencils hold the world record for being the biggest and largest pencils and are ginormous they are not the longest. There is a separate world record for the World's longest pencil.
1. The World Biggest Pencil – Sri Chinmoy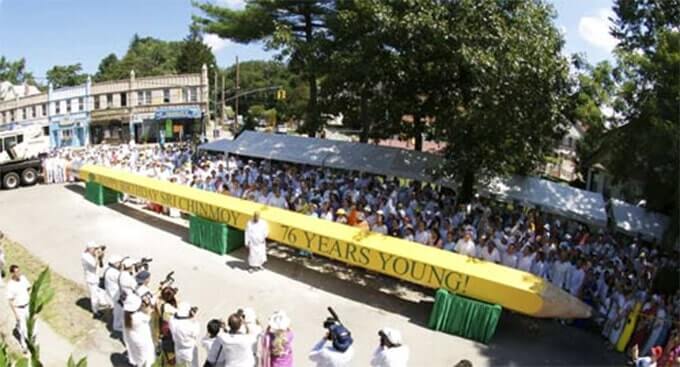 The World Record for the biggest pencil was set in New York in August 2007. This pencil has some incredible stats that are unlikely to be broken for a very long time.
Length – 76 Foot
Eraser Length – 2.5 Foot
Graphite Core Diameter – 10 Inches
Total Weight – 21,700 lb
Graphite Core Weight – 4.500 lb
Total Paint Used – 50 Gallons
Construction Time – 14 Days
Equivalent of 1,900,000 Standard Sized Pencils
The pencil was built by Ashrita Furman and a team of volunteers in honor of the 76th birthday of Sri Chinmoy. an internationally respected spiritual leader, artist, and humanitarian. He sadly passed away a couple of months after the world record was broken. It was painted yellow with a contrasting green message Happy Birthday Sri Chimnoy 76 Years Young.
You can see the pencil being built in this YouTube video.
In 2009 the world's biggest Pencil was moved to the City Museum in St. Louis, Missouri where it resides on the third floor.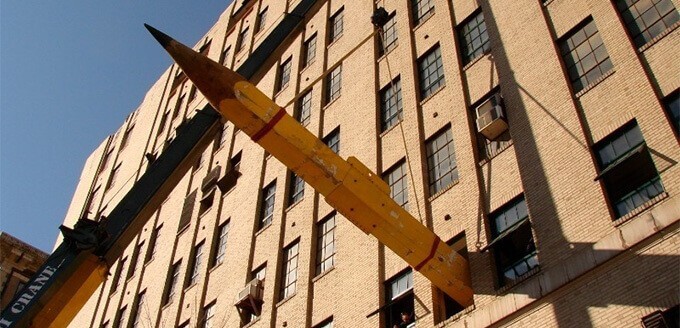 2. Faber-Castell Giant 9000 Pencil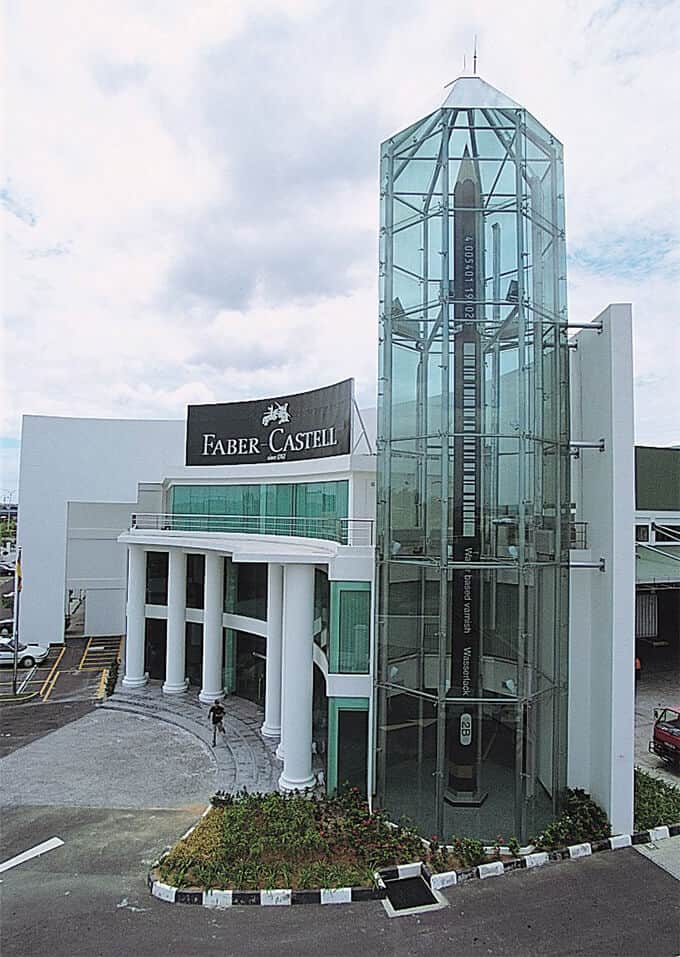 The German pencil manufacturer Faber-Castell used to dominate the world record for the biggest pencil until the world record was broken in 2007 by Ashrita Furman. With his pencil to commemorate the 76th birthday of Sri Chinmoy
In 2002 a giant version of the Faber-Castell 9000 pencil set the record for the world's largest pencil. It is housed in a specially built glass building to show it off in all its glory. The pencil was built from local Malaysian timber and the graphite core was manufactured in Germany and then shipped to Malaysia. If you want to see the pencil it is at the Faber-Castell building in Subang Jaya, Malaysia.
Length – 65 foot
Graphite Core Diameter – 6 Inches
Graphite Core Weight – 1322 lb
Construction Time –2 Years (7000 Man Hours)
3. Faber-Castell Giant-Sized Grip 2001 Pencil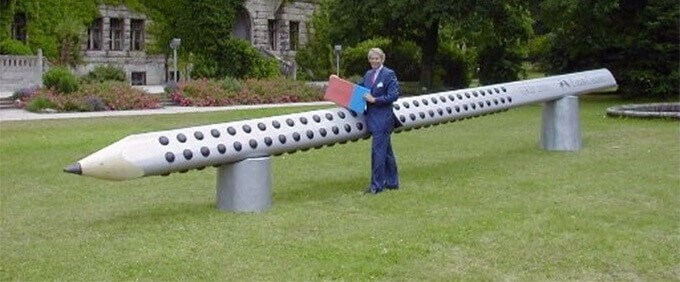 In the photo, you can see Count Anton Wolfgang von Faber-Castell with a giant triangular shaped Faber-Castell Grip 2001 pencil. The pencil's wood case is made from Weymouth Pine and it was photographed with the count in front of the family castle at Stein near Nuremberg.
Length – 39 Foot
Graphite Core Diameter – 4.7 Inches
Total Weight – 1322 lb
4. Chinese Giant Pencil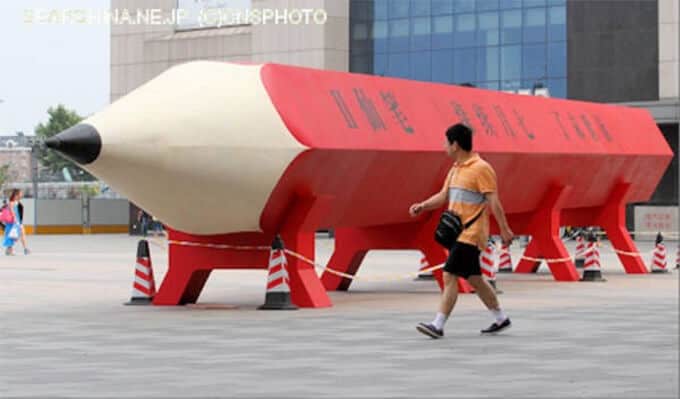 Photo Credit CNSPHOTO
In 2013 China displayed this giant pencil in the city of Nanjing, Jiangsu Province. It was built to promote the sequel to the Korean horror movie "Kokkuri-san".
Length – 79 Foot
Diameter – 6 Foot
Construction Two Months by 6 People.
5. Casey Illinois' No 2 Pencil

It may not be a world record holder but the folks at Casey Illinois are certainly proud of their giant size pencil. It is proudly displayed at 19 W Main St, Casey, Illinois 62420 USA. The tip of the pencil is sealed in a see-through reinforced cone to protect it.
Length – 32.5 Foot
Weight – 500 lb
6. Dixon Ticonderoga Giant Pencil

If all this talk of giant pencils has whetted your appetite to have your very own giant pencil then fear not all is not lost. Dixon Ticonderoga the USA's biggest pencil manufacture sells a giant version of their very own Dixon Ticonderoga #2 Pencil. it is available as a 25 inch or 6-foot pencil and can be bought from Amazon. Check out our Dixon Ticonderoga Pencils Guide for more information.
7. The World's Largest Colouring Pencil
Stinglehammer [CC BY-SA 3.0], via Wikimedia Commons
The world's largest coloring pencil is located in the UK at the Derwent Pencil Museum which opened in 1981. Their star attraction the giant yellow coloring pencil was made by the Derwent Pencil factory for the museum in 2oo1.
Length – 26 Foot
Weight 984 lb
8. The Longest Pencil in the World
Bic and Staedtler keep battling it out for the record of the world's longest pencil. The record is currently held by Bic and was set in October 2017 at their factory in the French city Samer. The pencil measures an incredible 1091.99 m and was made from polystyrene and graphite. There were 133 volunteers and employees involved in the world record attempt.
9. Staedtler Longest Pencil World Record

In 2015 Staedtler set the record for the world's longest pencil this was at Nuremberg in Germany. There were 110 employees involved in breaking the world record and the pencil measured 459.97 meters in length. The pencil was made from Wopex a composite material developed by STAEDTLER and made mostly of wood. The record was broken by Bic in 2017 with a pencil measuring a whopping 1091 meters.
10. The World's Smallest Pencil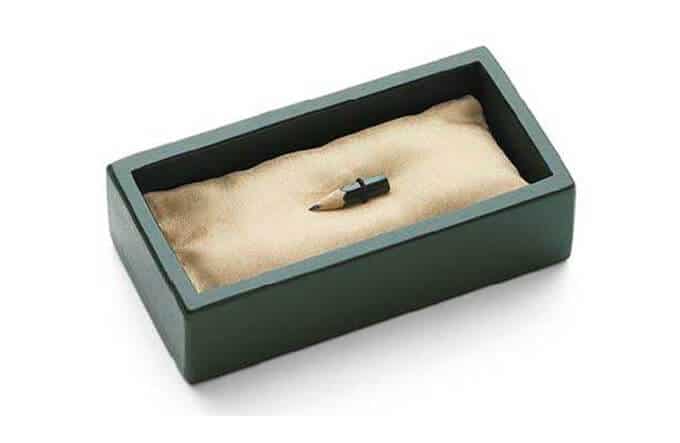 When Count Anton Wolfgang von Faber-Castell set one of the earliest records for the world's biggest pencil he commissioned a miniature pencil that was 17.5mm in length and 3mm in diameter with a 0.5mm graphite core. A limited-edition of 50 miniature pencils was manufactured.
As you can see it is three of the world's biggest pencil brands that keep battling it out for the pencil world records. If you would like to know more about these brands then check out our Ultimate Guide to Wooden Pencil Brands where we go into detail about the 20 biggest pencil brands and their pencils.