Are you unsure which refill you need for your Muji pen or pencil?
This complete Muji refill guide shows you every refill that Muji makes for their pens and pencils & which pens they fit.
This includes gel ink ballpoint pen refills, fountain pen ink cartridges, bottled ink, and pencil lead refills.
1. Muji Pen Refills
It's always a plus if you can use ink refills in a pen. Buying ink is typically cheaper than buying a whole new pen, and you are helping the environment by producing less trash. Most of Muji's pens are refillable, and they have lots of different refills available.
To see the full range of Muji Pens check out our Complete Guide to Muji Pens & Pencils.
Check out our Ultimate Pen Refill Guide if you would like to know more about all the different types of pen refills.
2. Muji Pen Refills Types and Sizes
Muji pen refills are available for their fountain pen and their gel inks, both the regular gel ink and the smooth gel ink. Gel ink refills are available in 0.7mm, 0.5mm, and 0.38mm, plus a smooth gel ink refill at 0.5mm.
2.1. Muji Gel Ink Ballpoint Pen 0.5mm – Refill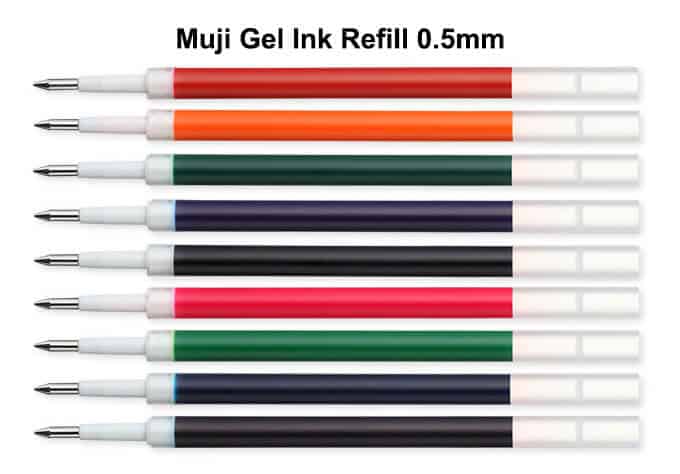 There are tons of different colors of Muji Geil Ink Ballpoint Pens, but unfortunately, they do not sell refills for their purple gel ink. So if you want colorful gel pens that you can refill in 0.5mm, only buy red, black, orange, blue, pink, green, light blue, yellow-green, or blue-black. However, this is still quite a variety of color refills for you to choose from.
2.2. Muji Smooth Gel Ink Ballpoint Pen 0.38mm – Refill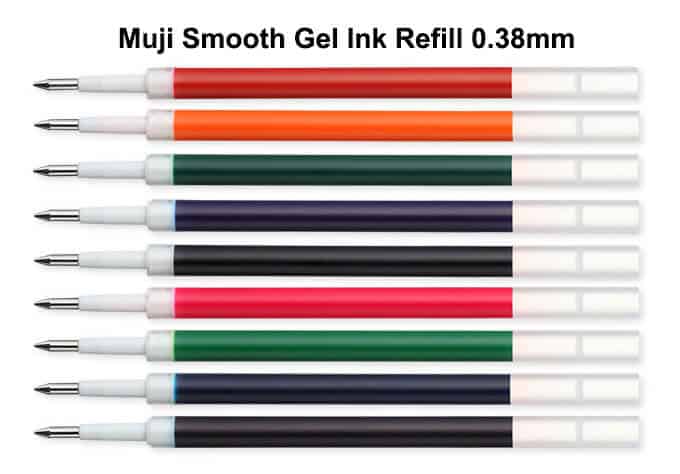 The Muji Gel Ink Ballpoint Pen .38mm refill is the same as the 0.5mm in that it has refills for every color gel pen available except the purple one. The good news is that if you like that skinny line, most colors are available to you in refills. Keep a refill of each color on hand so that your writing or drawing is never interrupted by the need to order more.
2.3. Muji Smooth Gel Ink Ballpoint Pen 0.5mm – Refill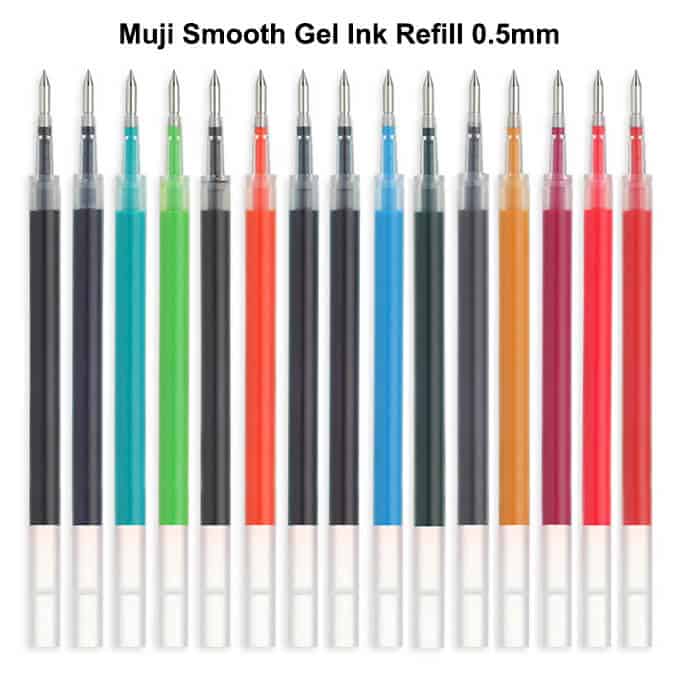 If you want tons of color variety, Muji Smooth Gel Ink Ballpoint pens in 0.5mm deliver in both pens and refills. These pens come in sixteen different colors, and you can get refills for all of them. This is perfect for artists who love one pen color in particular. With the Muji smooth gel ink refills, you don't have to keep buying pen sets to get the one color you like, you can just buy the refill.
2.4. Muji Smooth Gel Ink Ballpoint Pen 0.7mm – Refill

The Muji Gel Ink Ballpoint Pen refills for 0.7 mm come in four colors: blue, black, red, and blue-black. All of the different colored gel ink ballpoint pens that Muji makes at 0.7 are available in refills, so you don't have to worry about buying a specific color that you can't refill. These are the thickest point refills available, so they're great if you want to write larger letters.
2.5. Muji Triangular Ballpoint Pen 0.7mm – Refill

The Muji Triangular Pen is a multi-colored ballpoint pen with either 2 or 3 ink colors. These can be a combination of black blue o red ink.
The ink is an oil-based ballpoint pen ink and the refills have a 0.7mm tip. For more information on the different types of ink check out our guide Ballpoint, Rollerball or Gel Pen.
3. Muji Aluminum Fountain Pen – Cartridge Refill

The Muji Aluminum Fountain Pen is one of their most expensive options, so it's good news that they sell refills! You can get a refill for only $1.90, which is a fraction of the cost of a whole pen. In general, a fountain pen refill will not last as long as a standard pen refill, so these pens are best if you need a fancy pen for work or your desk.
Muji fountain pen ink cartridges are the international standard size. this means that they will fit any other brand of pen that takes the cartridges.
More importantly, it means that you can use other brands of ink cartridges in your Muji fountain pen. Such as Diamine or Kaweco which have a lot more colors to choose from.
4. Muji Mechanical Pencil Leads 0.5mm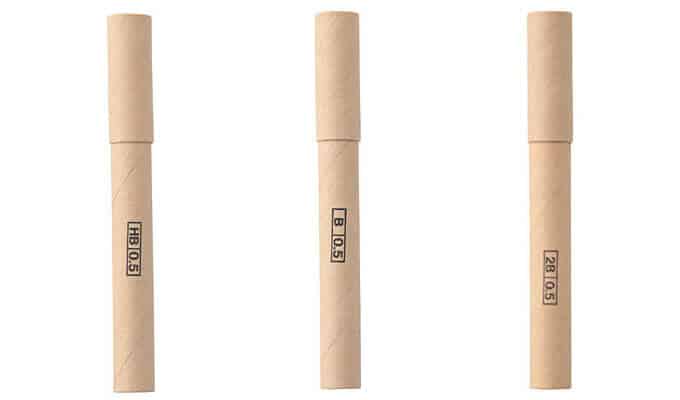 Most of Muji's mechanical pencils use 0.5mm, so the only refill available on their website is for a 0.5mm pencil. There are three types of graphite available, HB, B, and 2B. In the US, B graphite is used in a #2 pencil. If you need to use your pencil to take scantron tests, you should buy the B graphite refills. If you just need it for writing or drawing, but not for test-taking, then any of the three varieties will suit you.
5. What Size are the Muji Fountain Pen Ink Cartridges?
Muji fountain pen ink cartridges are the short international standard size. Therefore Muji ink cartridges can be used in any other brand's fountain pens that take this type of cartridge.
The opposite is also true if you want a greater choice of ink colors then Diamine ink cartridges for example have a greater range and fit straight in with no problems.
6. How to Refill a Muji Pen?
Muji pens are easy to refill it depends on the type of pen but either the cap or the bottom section where the tip protrudes is unscrewed.
The refill can then be removed and the new one inserted then screw whichever piece that you have removed and you are good to go.
Most mechanical pencils are refilled the same way and the Muji Mechanical pencil is no different.
To refill a Muji mechanical pencil simply:
pull off the cap from the end of the barrel.
Then pull the eraser out of the barrel.
The lead refills can now be inserted into the barrel.
Replace the eraser
Replace the cap.
8. Where Can I Buy Muji Refills
Muji Pens can be bought online at the Muji pen website, or at Kawaiipenshop.com. You can find them at brick-and-mortar stores, but it can vary depending on your location.
If you also have a different brand of pen, check out Pen Refill Guides, where there is a complete list of our in-depth refill guides for each manufacturer.