Do you have a Parker pen and are wondering what refills it takes?
Or if there is a cheaper alternative?
Maybe you want to know if a refill with a finer tip is available.
In this guide, we show you all the different types of refills Parker makes for their pens and sizes and any alternatives often cheaper than a genuine Parker refill.
1. Parker Ballpoint Pen Refills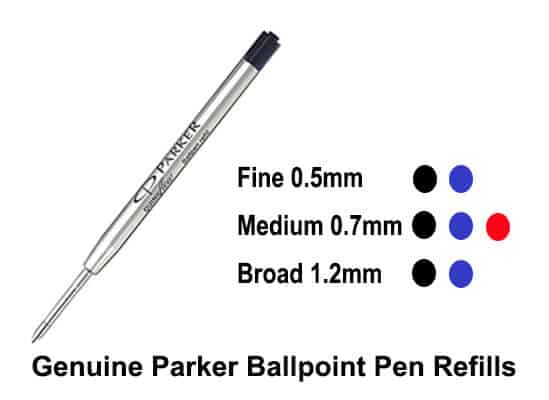 All Parker ballpoint pens use the same refills, so it does not matter if you have a top-of-the-range ballpoint pen such as a Parker Duofold costing hundreds of dollars.
Or if you have a Parker Vector ballpoint pen costing 10 dollars, the refill is the same.
Parker ballpoint refills are known as G2 style or G2 pattern refills.
This is historical, dating back to when Parker first patented their ballpoint pen refills.
For a long time, because of the patent, no other pen manufacturer could make a compatible version of a Parker refill.
Eventually, Parker relinquished the patent, and you can buy many alternative Parker refills online.
We cover this in detail later in the section Parker Style Refills section, where we show you exactly which other pen brands and refills are compatible with Parker ballpoint pens.
Three genuine Parker ballpoint refills are made by Parker fine, medium, and broad.
These are known as Parker Quinkflow refills, a derivation of quick and ink, referring to the quick-drying properties of the ink in these refills.
Genuine Parker refills are available in the following sizes and colors:
Fine 0.5mm – Black & Blue Ink
Medium =0.7mm Black, Blue & Red Ink
Broad – Black & Blue Ink
1.1. Parker Parker Style Refills (G2 Compatible)
If you want an alternative refill for your Parker pen, 22 different pen manufacturers make nearly 40 additional Parker-style G2 refills.
These include ballpoint, gel, and hybrid ink refills. Check out The Ultimate Parker Style G2 Refill Buyers Guide for more information.
One of my favorites is using the Fisher Space Pen refill in a Parker Jotter; it's not the smoothest writer, but it has all the other benefits of writing with a Space Pen.
You may also want to check out our Parker Ballpoint Pens Ultimate Guide, where you can find details of all the different current ballpoint opens that Parker makes.
2. Parker Fountain Pen Refills
Parker fountain pens can be refilled with either ink cartridges or bottled ink using an ink convertor.
2.1. Parker Quink Ink Cartridges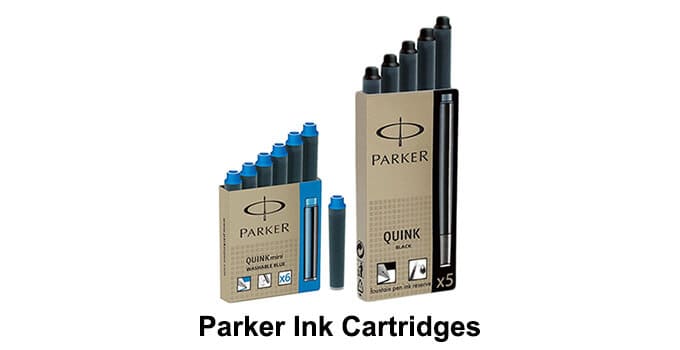 Parker fountain pens can only be filled with Parker ink cartridges.
They are designed explicitly for Parker fountain pens and cannot be used in any other brand of fountain pens.
Parker Ink cartridges are available as either a long or mini cartridge; both sizes will fit all Parker fountain pens.
The cartridges contain Quink (quick-drying ink) and are available in the following colors:
Parker Long Ink Cartridges – Black, Blue, Washable Blue
Parker Mini Ink Cartridges – Black, Blue, Red, Purple, Washable Blue
For those not familiar with washable blue ink cartridges, it simply means that the ink can be washed out of clothes.
This dates to when children in schools commonly used fountain pens; let us face it, accidents sometimes happen.
To learn more about fountain pen ink cartridges, check out our Ultimate Guide to Fountain Pen Ink Cartridges.
2.2. Parker Bottled Inks

An ink converter can refill Parker fountain pens with bottled ink. Any brand of ink can be used, but only three colors of genuine bottled Parker fountain pen ink exist.
The ink is Parkers Quink (quick-drying ink), and it is supplied in 57ml bottles and available in either black, blue, or washable blue ink.
2.3. Parker Ink Converters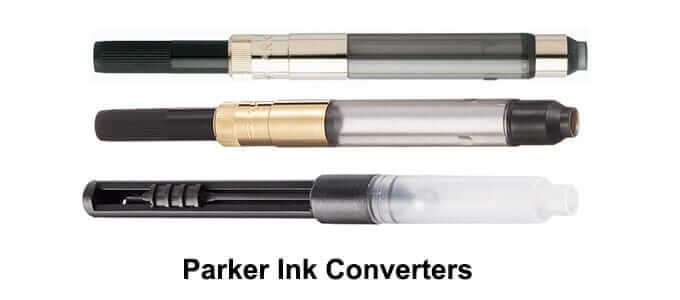 You must use an ink converter to use bottled ink in a fountain pen.
This is simply an ink storage reservoir with a mechanism to draw the ink from the bottle. Parker uses a twist-action piston fill converter to refill their pens with bottled ink.
Inside the converter is a plunger, and when a fountain pen nib is dipped into an ink bottle, twisting the grooved end of the converter moves the plunger up the ink reservoir and draws the ink through the nib into the reservoir.
There are three different Parker ink converters available, and these are:
Deluxe Piston Fill Converter CT (chrome trim) – Twist Action
Deluxe Piston Fill Converter GT (gold trim) – Twist Action
Standard Piston Fill Converter – Pump Action
Note the ink is drawn into the standard piston fill converter by sliding the black slide up and down three or four times.
3. Parker Gel Refills

Parker also makes a Parker Quink ballpoint pen gel ink refill which is a bit of a contradiction as it is not for a gel pen.
Check out Ballpoint, Rollerball, or Gel? for more information on the different types of pens.
The Parker gel refill will fit all Parker ballpoint pens, with a black barrel 0.7mm medium tip, and it is available in black, blue, or red ink.
The 2021 Parker trade catalog also lists a "New Gel Economy Refill" With a blue barrel and a 0.7mm tip.
It is available in black or blue ink, but no further information about how it differs from the black-barrelled gel refill.
If you are looking for a compatible Parker gel refill, these are listed further in the Parker Style refills section.
4. Parker Jotter Refills

Parker Jotters are ballpoint pens; any Parker ballpoint or gel ink refill will fit. If you want more ink colors, generic Parker refills will also work, as they are the standard G2 size refills. These can be found in the Parker Style refills section.
5. Parker Pen Refill Dimensions
Parker ballpoint pen refills are 98.1mm long and 5.8mm in diameter, with a front section length of 23.2mm. These dimensions conform to the G2 pen refill size as stated in ISO standard 12757.
Parker rollerball refills are 115mm long and 7.1mm in diameter, and the tip section is 15mm. They are a custom size and can only be used to refill Parker rollerball pens.
6. Parker Rollerball Refills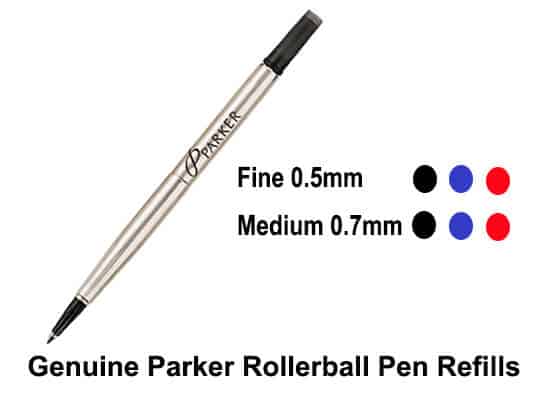 Parker rollerball refills contain smooth writing liquid ink and are available with a 0.5mm fine or 0.7mm medium tip. There is a choice of three ink colors which are black, blue, and red.
6.1. Parker Compatible Rollerball Refills
Parker rollerball refills are a custom patented size, meaning there are no compatible or alternative refills that fit Parker rollerball pens.
There are some cheap illegal Chinese copies of Parker rollerball refills for sale on eBay and Amazon, but do you want to put one of these in your pen?
Parker Style Refills (G2 Compatible)
7. Parker 5th Refills

Parker introduced their 5th generation technology pens in 2012 with a hail of publicity heralding their new Ingenuity pens as an innovative new writing system" that will "revolutionize the look and feel of putting pen to paper."
These pens had a metallic hood and flexible polypropylene tip.
Check Out Parker Ingenuity Collection, the Almost Fountain Pen, for more details.
By 2020 they had quietly removed the 5th Pens from their catalog and website.
The refills are still available and can be found with a fine or medium tip and a black or blue ink choice.
8. Parker Fibre Tip Refills

Vintage Parker pens such as the Parker 25, 45 & 75 were fitted with a Parker fiber tip refill. These have long been discontinued, and no alternative refills will fit.
Two options exist to convert these pens to accept a ballpoint pen refill.
First, contact Darryl at More Engineering to make a bespoke adapter.
The other is to use a 3D-printed adapter that takes a D1 pen refill.
9. Genuine Parker Refills vs. Alternative Options
When choosing between genuine Parker refills and alternative options, it's essential to weigh the advantages and disadvantages of each to make an informed decision.
Genuine Parker refills guarantee quality and compatibility with Parker pens, ensuring a smooth writing experience and consistent ink flow.
These refills also feature Parker's Quink ink technology, known for its quick-drying properties. However, genuine Parker refills can be more expensive than alternative options, and the available color and tip size choices might be limited.
On the other hand, alternative options, such as compatible G2 refills from other manufacturers, can be more cost-effective and provide a wider range of colors and tip sizes.
These alternatives may offer different ink types, such as gel or hybrid inks, for a unique writing experience.
However, the quality and compatibility of these refills can vary significantly, potentially resulting in a less satisfying writing experience or even damage to your Parker pen.
Ultimately, the choice between genuine Parker refills and alternative options depends on your priorities, such as cost, ink variety, writing experience, and willingness to experiment with refills from different brands.
10. Frequently Asked Questions
The following are some answers to the questions most asked about Parker Pen Refills.
Q: Are Parker Pen Refills Universal?
A: Parker G2 ballpoint pen refills will fit all Parker ballpoint pens and any other brand of pen that uses the G2 Iso Standard pen refills.
Parker rollerball pen refills are a bespoke size and only fit Parker rollerball pens.
For more information on the different types of refills, Check out our Pen Refill Guide.
Q: Are Parker Rollerball and Ballpoint Refills Interchangeable?
A: No, the size and shape of a Parker rollerball pen refill and a Parker ballpoint pen refill are entirely different.
Q: Do Parker Refills Fit Mont Blanc Pens?
Parker refills do not fit Mont Blanc Pens, and if you have a Montblanc Pen with a Parker-style G2 refill, it is a fake.
Q: Do Parker Refills Fit Sheaffer Pens?
A: The Sheaffer Sagaris, Taranis & Stylus pen ranges are fitted with a ballpoint refill "T" Style, which is a G2 refill.
Therefore you should be able to use a Parker refill for these pens.
All other Sheaffer pens use different refills; therefore, the Parker refills will not fit these.
Q: How Long Do Parker Gel Refills Last?
A: Parker gel pens will write for approximately 600 meters, and gel pens don't last as long as ballpoint pens. Check out our guide, How Far Does a Ballpoint Pen Write, for more details.
Q: How Long Does a Parker Ballpoint Refill Last?
A Parker ballpoint refill will write approximately 3500 meters, nearly six times longer than a gel pen refill.
10. Where Can I Buy Cheap Parker Refills From?
If you want to save money and buy cheap Parker refills, Amazon is probably as good as anywhere.
Many other online stores will sell them but struggle to compete with Amazon on prices and postal costs.
If you also have a different pen brand, check out Pen Refill Guides, where there is a complete list of our in-depth refill guides for each manufacturer.
References