We're not going to lie to you. If you've waited this long to think about shopping for Christmas, you're leaning more toward naughty than nice.
But that doesn't mean it's too late to find a nifty gift for someone you love. Pens are a classy, simple choice and don't necessarily need to be all that expensive, although you certainly can spend more than a few pounds on a high-end instrument.
Here are a few we recommend that would probably make someone on your Christmas list happy:
Parker Sonnet
This is a popular range from the classic pen maker. It's a medium-sized pen, comfortable and nicely balanced and regarded as a reasonably smooth and reliable writer. They're available in fountain pen and rollerball mode. Keep in mind with the fountain pen that it works best with regular use and has a bit of a breaking-in period. The nib might need a good washing with dish liquid before it's used for the first time. The Sonnet is a brilliant looking pen and comes in such a variety of sleek designs that you can find something for just about anyone, be they modernist or retro. We're partial to the Deep Red Lacquer GT and the Cisele Sterling Silver. Expect to pay £35 to £140, depending on the finish and mode.
Pelikan M800
If you're looking to spend a little more money, you can't beat the M800 for a luxury fountain pen. You get the same writing performance and style as a Montblanc, but for considerably less. This is a large, heavy-bodied pen made of hardened resin, with gold plating and solid brass piston mechanism. There are a wide range of points available, and many owners choose to have their nibs, which easily screw out, customized by fountain pen craftsmen. Can also be had in rollerball, but that would kind of be missing the point of this pen. The M800 will cost you about £200 to £225.
Pilot/Namiki Vanishing Point
This is a great workaday pen. Not known for its stylishness or for writing beautiful lines, but more for being convenient, simple and reliable. A nice cost-effective gift for a busy executive who needs a pen that performs well, even with frequent use, and holds an ample supply of ink. Like the name implies, one of the main features is that the 18K nib is retractable; there's no need for a cap (which is why it's also known as the Pilot Capless in the UK). One important thing to consider with the Vanishing Point is that the clip is located on the writing end, which can take some getting used to before it becomes comfortable. Prices run about £60 to £90. Limited Editions are much more expensive.
Cross Apogee
You might actually consider this one more for the rollerball model – what Cross calls the "Selectip" – than for the fountain pen, which gets mixed reviews on performance from users. The Selectip is made with the usual Cross precision and durability, comes in several sexy designs, including sable brown and black lacquer with silver trim, and offers a silky, gel ink writing experience. You definitely could get a nice gel writer for much, much less, but the truth is, the Cross is a pen you buy for the looks and the prestige. This is a gift for someone who likes to make an impression. You'll pay between £60 and £70.
Lamy Safari
This is one of those universally respected pens known both for its simple style and for its generally smooth writing. It's not a high-end pen and doesn't pretend to be one, but performs well, is easy to use for someone unfamiliar with fountain pens and is nearly indestructible. The minimalist design is attractive and available in a wide range of colours, and there's a small window in the barrel so the user can keep an eye on the ink level (refilled with proprietary cartridges or converters that are inexpensive and easy to install). Although the nibs, which tend to be a little wider than normal, are nothing special, they're also easily replaced so you can find the right size to fit your style. The triangle grip doesn't work for everyone, so that's a consideration. Expect to pay about £15 for the basic Safari, made from ABS plastic, or about £20 for the Al-Star, which is made from aluminium.
Pilot G2 Limited
Even if you're on a budget, you can still give an attractive, high-performing gel ink pen without spending much money. According to the company, the popular Pilot G2 gel ink rollerball is the top-selling gel retractable in the UK, with more than 25 million sold in the last decade. It offers a fluid, effortless writing experience and rich black lines in fine, medium and broad points. While the base G2 is made of plastic, the Limited model has a sleek metal body, making it a little more suited to professional environments. Of course, it's refillable. The one drawback is that the Limited comes only in champagne, silver and charcoal grey. It will cost you about £10 to £12.
Uni-ball Signo 207 Premier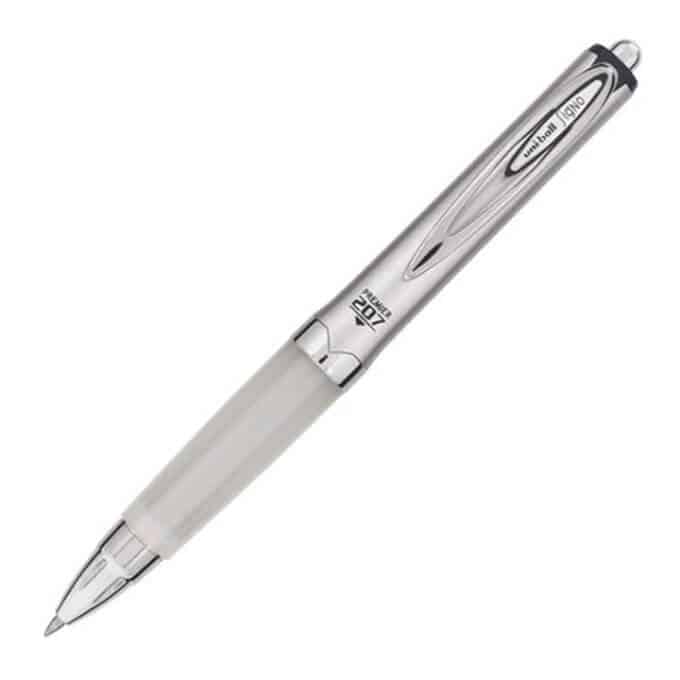 Another great gel pen that performs very well, while selling for relatively little. The writing experience is nearly as flowing as the G2 (some users even like it better), plus it has a soft gel grip for additional comfort. It also uses Uni Super Ink, which resists tampering, fading and water. Comes with a .07 mm point in black ink. Unfortunately, the range of colours available is also limited to blue, silver and gold. But since you'll pay only about £6 for this pen, you can get more than one.
Pilot VPen
This is the perfect gift for introducing someone to fountain pen writing at a low cost. The VPen is an inexpensive, disposable fountain pen that actually writes fairly smoothly and gives consistently neat lines, if a little wet. There's plenty of ink for steady use, and the VPen is available in a diverse palette, including black, blue, red, purple, green and pink. The blue ink is erasable with a Pilot eradicator. The barrel is not particularly attractive, but it's a disposable pen, so that doesn't matter much. Because the pen body is somewhat short, you probably need to write with the cap posted for the most comfortable experience. The best thing about the VPen? The price. You can get a pack of three for less than £5.
Most of the more expensive pens come in classy gift boxes and can be engraved, although time may be a little short for that. You also could probably pick up just about of these for a discount on eBay. Whatever you decide to do, get with it. You only have a few more days left.
Readers, feel free to pitch in with other pen gift ideas. We know we've left out some excellent choices and would like to hear your suggestions.