Now that we have entered the last month of the year & Christmas is fast approaching I've started to think about sending Christmas cards. Although I'm spoilt for choice for something to write with I usually just pick up something from the nearest desk tidy but have decided to break with tradition this year & give metallic pens & markers a whirl as they are rated as ideal for Christmas cards.
Here Are 5 of My Favorite Metallic Markers for Christmas Cards
Sharpie Metallic Markers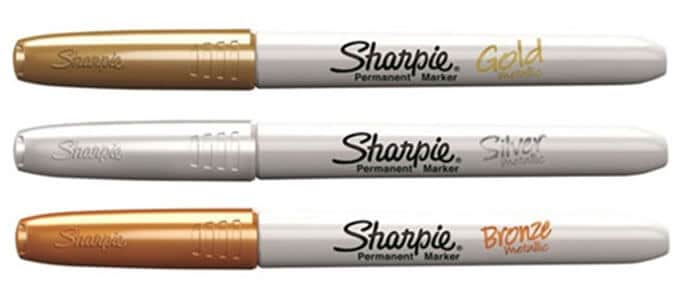 Sharpie is arguably one of the most popular markers around. I like the fact that they are great on both light & dark paper, it means I can zip through my card writing session without having to change pens when I come across the different colored card. These Sharpie Metallic Markers have a fine 1.4mm nib, the ink is quick-drying, so no fear of smudges when they are placed in the envelope immediately after writing. They are non-toxic & water-resistant, no need to worry the address may wash off when out for delivery on a wet winters day. They are available in gold silver and bronze making them perfect Christmas colors for your cards and other craft ideas in the festive season.
Check Price & Reviews on Amazon
Manuscript Callicreative Metallic Gold & Silver Italic Markers

Manuscript is known for its high-quality products that are all developed in house. The Callicreative Metallic Gold & Silver Markers have long-lasting 2.4mm square-cut fibre tips. The ergonomic grip makes them comfortable & easy to use. They come in a handy resealable blister pack with straightforward instructions should you fancy trying your hand at italic writing.
Check Price and Reviews on Amazon
Sakura Gelly Roll Metallic Gel Pens
These pens are available in a wide range of colors, so if you want something a little different from the seasonal silver & gold, you can choose from 14 different shades including pink, purple & emerald. These gel ink rollerballs write a smooth consistent line, they are waterproof, fade-resistant & will write on glossy surfaces, ideal for cards that so often have shiny paper. The Gelly Roll range has 1.0mm tips that write a 0.4mm line & the non-toxic ink meets ASTM & ACMI safety standards.
This rollerball has a 0.8mm tip that writes a broad 0.5mm line. They are available in 8 vivid colors including a festive bronze. The acid-free ink is quick-drying & looks opaque on both white & colored paper.
Check Price and Reviews on Amazon
Uni-ball UM-153 Metallic Gel Pens

The Uni-ball UM-153 metallic gel pens are a high-quality pen with a smooth writing 1.0mm broad tip. The gold silver and white are ideal Christmas colors that will add a shimmer to both light and dark paper.
Check Price and Reviews on Amazon
Pentel Sparkle Pop Metallic Gel Pens
Pentel Sparkle Pop metallic gel pens new innovative and reflective sparkling iridescent ink that is ultra-glittery. They have a bold 1.0mm tip and the ink changes when you write on white and dark paper. These will definitely add that extra touch of sparkle to your Christmas cards in the festive season.
Check Price and Reviews on Amazon
Once you have your Christmas cards sorted why not have a go at making your own handmade Christmas decorations to give Xmas that personal touch.