What better way to honour a man devoted to a life of peace and poverty than with a pen made only for the very rich? Apparently, that was the thinking at Montblanc, the German maker of high-end writing instruments. The company has released a special limited edition fountain pen bearing the likeness of Mohandas Gandhi, just in time for the 140th anniversary of his birth.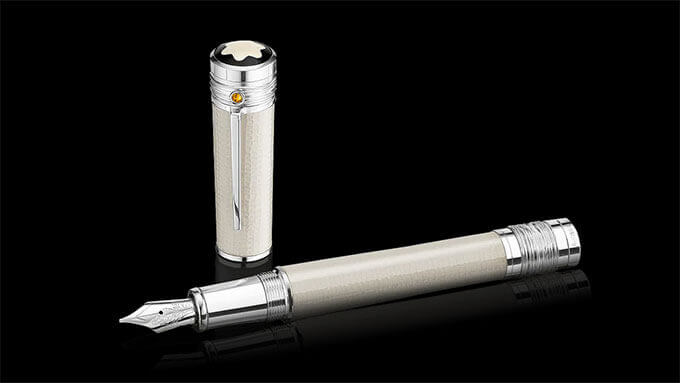 LiveLounge.com reported that Montblanc debuted the pen at an event this week at the Taj Mahal Hotel where:
The Mahatma Gandhi Limited Edition 241 pen set was placed under a spotlight…surrounded by a pair of resplendent gold Gandhi spectacles, some antique-looking fountain pens cased in wood and an oblong shaped small bottle of flaming red ink that contained, what was labelled, the Mahatma Gandhi ink.
The pen is 18k gold and rhodium-plated and contains a saffron-colored opal. Gandhi's signature is on the pen, and there's a carving of him on the nib, wearing a robe and leaning on a walking stick. It also comes with a 26-foot golden thread meant to be wound around the pen as a reminder of the simple cloths that Gandhi wove – because nothing says humility and simplicity like 26 feet of gold thread.
Montblanc plans to sell only 241 of the pens in order to commemorate the 241 miles Gandhi walked in 1930 to protest unfair salt taxes. They will cost about £15,000 each.
As you might expect, the release of this pen has caused considerable controversy, given the completely unmaterialistic life that Gandhi lived.  The criticism has been particularly strong in India, where Gandhi is revered as Bapu, or father of the nation.
One organisation has filed suit to stop sale of the pens. Dijo Kappen, managing trustee of the Centre for Consumer Education in the southwestern state of Kerala, argues that the use of Gandhi's name and likeness represents a violation of India's Emblems and Names Act of 1950, according to the Spicy IP intellectual property blog.
Kappen told the Associated Press:
"Mahatma Gandhi advocated a simple lifestyle…He was, of course, a nationalist and, in the nature of the independence struggle, the only thing he promoted was Indian-made goods. It is a mockery of the great man and an insult to the nation … to use him as a poster-boy."
Montblanc continues to be clueless about the impropriety of the pen. One senior manager told the AP that the pen is not "opulent." (UPDATED: the average annual income is about £300). And then there was this comment to the BBC from company CEO Lutz Bethge:
"I certainly have to say, I wouldn't have thought that people would have reacted negatively…Yes, there were questions asked. Does it make sense to combine Montblanc and Mahatma Gandhi? But from what I noticed people were delighted that we were paying tribute to him."
Interestingly enough, Gandhi's own grandson seems to support the idea. According to the BBC report, Tushar Gandhi's charitable foundation has already received about £91,000 from Montblanc and will continue to collect a portion of the proceeds from each pen sold.
If you like Montblanc pens then why not check out our Ultimate Guide to Montblanc Pen Refills, it lists every refill available for Montblanc pens and some cheaper alternative refills.