I found myself looking at a bunch of pens on a friend's desk recently.  Having some time to kill I wanted something to do.  A couple of Pilot rollerball's caught my eye & I decided to make a comparison.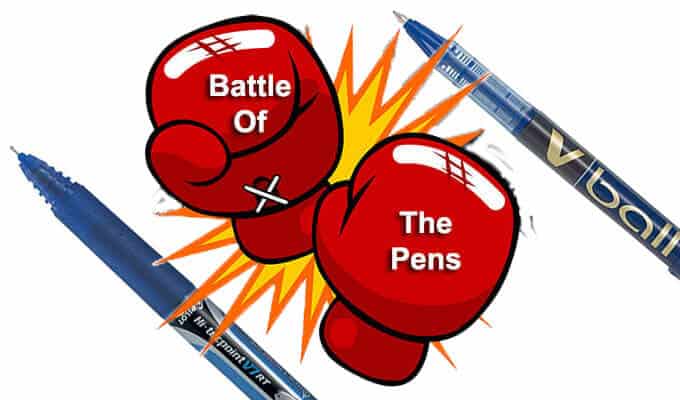 Pilot Hi-tecpoint V7 RT
The Pilot Hi-tecpoint V7 RT looks like a pretty standard pen to me.  My preference for retractable nibs has been mentioned before, making it a plus point.  As we live in these environmentally friendly times another good point is the fact it is refillable.  Whilst the topic of the eco system is a controversial subject, anything that helps to reduce waste, I imagine will prove to be a bonus to part of the population.

How does it perform?
The 0.7mm fine nib produces a smooth 0.4mm line.
Doesn't smudge or leave a snail's trail of blobs on the page.
The nib feels strong, is comfortable to write & gives the impression it will be long-lasting.
I didn't find the grip as effective as that on some of the other pens I have tried, it wasn't as springy.  Another negative point I have read about is that the 4 grooves just before the tip, can cause issues for people who tend to write clutching the very tip of their pen.  They report that the lines catch their fingers, making the pen uncomfortable to hold for any length of time.  This is something I can't comment on as I tend to hold a pen further up the barrel.
Pilot VBall 0.7
The cone-shaped tip on the Pilot VBall o.7 left my writing looking fairly smooth, but it did feel a little scratchy to use. Slightly thicker than the V7 this pen writes a 0.5mm line. The barrel is relatively slim, giving the impression of a classic pen.
In contrast to the Hi-tecpoint the VBall is disposable.  Nevertheless, it was consistent, no matter how much I wrote, not once did I feel it would run out of ink part way through my journal.

Pilot pure liquid ink pens are aeroplane safe.  As you are probably aware rollerballs are not known to travel well.  Some may say so what? Many people have similar problems & have to resort to taking a pill or two before starting their journeys.  To the rollerball fan for whom no other pen will do, & who can't leave home without one, these pure liquid ink pens are the perfect solution.  Just imagine you are mid-flight, go to take your pen out of your bag or even worse your pocket, ready for a little R & R with a crossword book, only to find it has exploded.
As much as I would like to have been able to put this to the test for myself, unfortunately, my next trip is several months away.
So what is my verdict?
My writing looked the same, for me, it was more about the writing experience.  For that reason alone I would choose a Hi-tecpoint.