I always like to have a nice sharp point on my pencil, but this causes problems when carrying it around. So how do you protect the point of the pencil and stop it from breaking when it is in your pocket, a pencil case, rucksack, or even at your desk and not in use?
Fortunately, to protect the point of a pencil there is a really handy little gadget called a pencil cap. They are widely used in Asia but are not as popular in the U.S which is why you find that better-quality pencil caps are usually made by Japanese companies.
Pencil caps are not to be confused with pencil cap erasers they are usually just an eraser that sits on the other end of the pencil and does not protect the tip. There is always an exception to the rule as the Faber-Castell Grip 2001 can be used as both a pencil cap and a pencil cap eraser.
If you are not protecting the points of your pencils then you really should check out our post on why do wooden pencil lead breaks so easily for more information, pencil caps are relatively inexpensive and the following are some of the best pencil caps there is available to buy:
You may also be interested in checking out The Ultimate Guide to Kum Pencil Sharpeners if you want to know more about the best pencil sharpeners in the world.
1. Blackwing Point Guard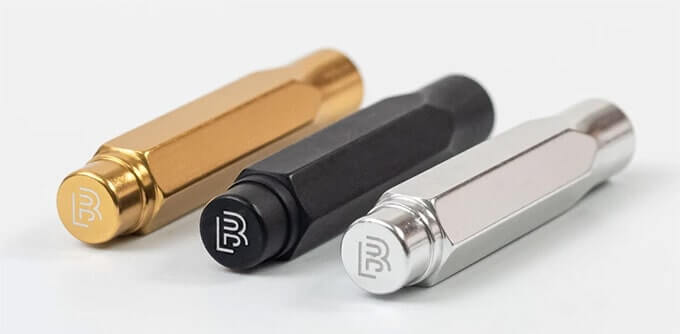 Price [amazon fields="B0725NZKPH" value="price"]
Blackwing pencils have now become synonymous with quality and have plenty of celebrity endorsements. Made from high-quality cedar wood they are a premium brand and retail for around the $25.00 mark. Naturally, you want to protect the points of these pencils and Blackwing have their own solution the Blackwing Point Guard.
The Blackwing Point Guard is a high-quality pencil point protector made from lightweight aluminum. It is designed to slip over the points of Blackwing pencils keeping them nice and safe. It is the most expensive pencil cap featured here but if you are using the most expensive pencils are you really going to make your own pencil cap fashioned from the cap of a Bic pen.
Blackwing Point Guard pencil protectors are usually available in matte black, bright gold, bright silver, or a mixed set of 3
2. Faber-Castell Grip 2001 Eraser Cap/Pencil Cap

Price [amazon fields="B007KVKZN4″ value="price"]
Faber-Castell is renowned for the quality of their writing instruments and The Faber-Castell Grip 2001 Eraser Cap is tremendously popular in Europe. Not only is it a superb PVC free eraser that cleanly erases without leaving a mark. It is also doubled up as a very good pencil point protector.
The Grip 2001 fits snugly and firmly on most standard-sized pencils giving the convenience of not having to carry an extra eraser around with you.
It is also a very good pencil protector the snug fit means that it stays firmly in place ensuring that the point of your pencil does not break or snag in your pocket or pencil case. This eraser cap from Faber-Castell may be simple in its design but it is one of those things that once you have one you will wonder how you ever managed without it.
3. Faber-Castell Perfect Pencil Cap with Built-in Pencil Sharpener and Extender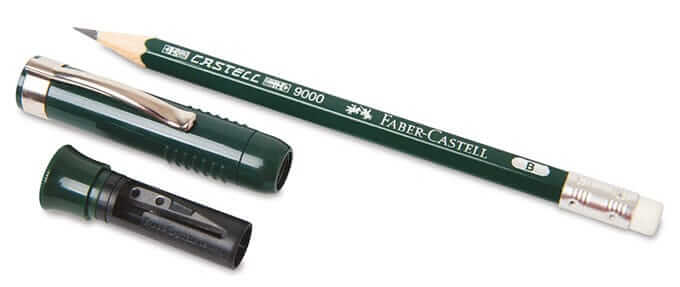 Price [amazon fields="B000KT8RSI" value="price"]
This Faber-Castell Multifunction pencil cap is the Swiss army knife of pencil caps. Not only does it protect the point of your pencil. It is a pencil extender that allows you to hold the pencil comfortably when it gets too small to use. As well as having a built-in pencil sharpener what more could you possibly need.
It is sold with a Faber-Castell #2 9000 pencil which is a pretty good pencil but you can use it on most standard size pencils so you are not tied to having to buy just Faber-Castel Pencil Sharpeners
4. Generals Sav-a-Point Pencil Caps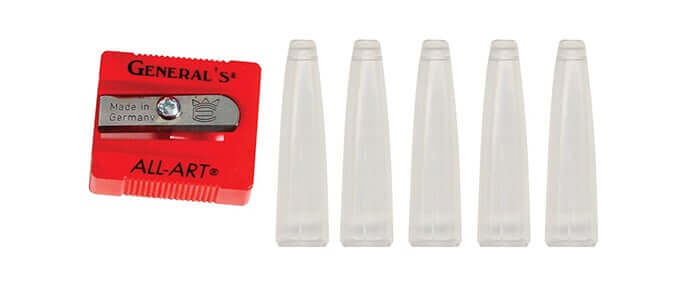 Price [amazon fields="B00KC0NBR2″ value="price"]
The Generals Sav a Point Pencil Caps are a simple durable plastic pencil cap that will fit most pencils. If you are a fan of long point sharpeners then these pencil caps may not be for you as some people have found that the point of the pencil can stick through the end of the cap.
If you are using ordinary pencil sharpeners then these should be perfectly fine.
5. Hide & Drink, Leather Pencil Caps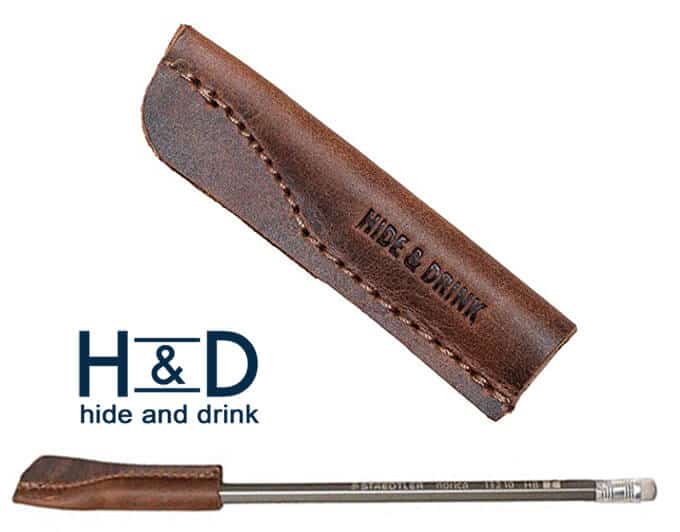 Price [amazon fields="B07SB6ZZ19″ value="price"]
Hide and Drink handmade leather pencil caps are another quality product backed up by their 101-year guarantee. I get that they are confident in the quality of the product and it is a good marketing point but I cant imagine anyone being around long enough to able to make a warranty claim.
That aside they are handmade and finely hand-stitched from soft full-grain leather and look to be a quality item which could be ideal as a gift if you are looking for something a little different.
6. Kutsuwa High Line Pencil Caps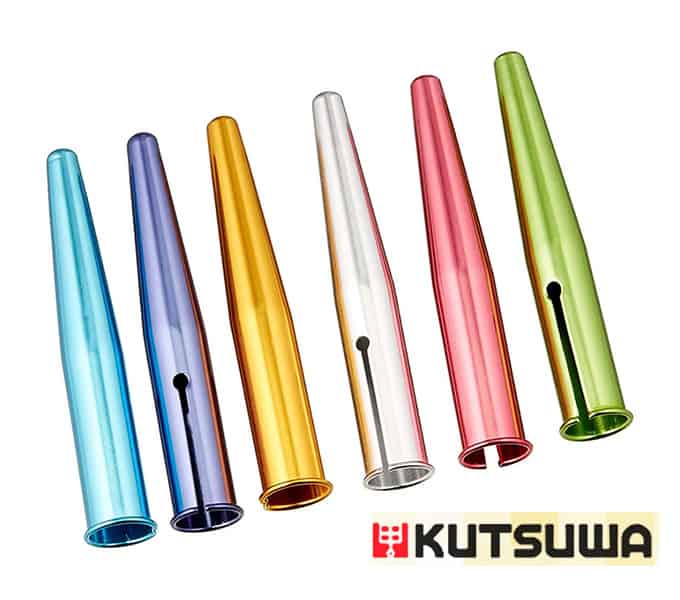 Price [amazon fields="B01B2UIIN2″ value="price"]
I have to confess I am a bit of a Japanese stationery junky they always make good quality products that are a little different from the everyday western stationery brands.
The Kutsuwa High Line Pencil Caps are right up my street they are made from durable lightweight aluminum. The caps are slotted for flexibility with a long taper to protect the points. They are supplied as a pack of 6 brightly colored caps and measure 9.5mm diameter with an internal diameter of 7.8mm and are 55mm in length.
They are one of the best sellers on Amazon with people finding them to be a good fit for their pencils.
7. Ogrmar Plastic Pencil Caps
Price [amazon fields="B071HGF7H4″ value="price"]
The Orgmar plastic pencil caps are a functional brightly colored pencil protector that is the value choice. They are supplied as a pack of 30 and fit standard sized pencils. If you have a lot of pencils then these could be ideal.
If you would like to know more about which are the best wooden pencils then check our Ultimate Guide to Pencil Brands.
If you are considering using a mechanical pencil instead of a wooden pencil then take a look at Wooden Pencils Vs Mechanical Pencils for more information.