Are you unsure which Fisher Space Pen refill you need?
The ultimate Fisher Space Pen refill guide shows you every refill that Fisher makes for their pens. As well as refills they make for other brands such as Cross.
Also included are alternative refills and how to use a Fisher PR4 refill in a Parker pen.
Read on to find out all this and much more…
1. Who invented the Space Pen?
An urban myth is that Nasa spent millions inventing the space pen used on Apollo 7 in 1968.
The truth is that an entrepreneur named Paul Fisher was the inventor of the Space Pen that took his name hence, the Fisher Space Pen.
He had already invented the universal refill in 1953, which could be used in many different pens.
He then spent many years experimenting and perfecting his ANTI-GRAVITY PEN, and on May 19th, 1965, he was granted patent number 3285228.
Nasa had already tried and failed to invent their own anti-gravity pen, and after testing Paul Fishers AG 7 Pen (Anti-Gravity Pen 7) decided to use it on the Apollo 7 Space mission, and so the Space Pen was born.
The original Space Pen used on Apollo 7 is still for sale today, with its design remaining unchanged for over 50 years, and is still one of Fisher Pens' most popular pens.
2. Fisher Pressurized PR Refills

The refill fitted to the original Fisher AG7 Space Pen was the Fisher PR refill, and its design remains unchanged to this very day.
The PR refill is a pressurized refill with a special type of ink invented by Paul Fisher in the 1960s that can not only write in zero gravity i.e., space.
But it can also write at extreme hot and cold temperatures from -30 to 250 degrees Fahrenheit.
Another benefit of having the ink applied to the ball of the pen under pressure is that it can write on wet or greasy paper and even underwater.
Because there is no air inside the PR refill, the ink does not dry up it is claimed that you could leave a Fisher Space Pen in a drawer, and it will still write as good as new in 100 years time.
Check out our Ultimate Pen Refill Guide for more information on Pressurized refills and all the other types of refills for pens.
2.1. Fisher PR Refill Colors and Tip Sizes
The Fisher Space Pen PR Refill is available in three tip sizes fine, medium and bold.
With a choice of 4 ink colors for fine tip refills, 9 ink colors for medium refills, and 2 colors for bold.
The PR refills colors and sizes are as follows:
Fisher PR1F Fine Refill 0.9mm – Blue Ink
Fisher PR2F Fine Refill 0.9mm – Red Ink
Fisher PR3F Fine Refill 0.9mm – Green Ink
Fisher PR4F Fine Refill 0.9mm – Black Ink
Fisher PR1 Medium Refill 1.1mm – Blue Ink
Fisher PR2 Medium Refill 1.1mm – Red Ink
Fisher PR3 Medium Refill 1.1mm – Green Ink
Fisher PR4 Medium Refill 1.1mm – Black Ink
Fisher PR5 Medium Refill 1.1mm – Burgandy Ink
Fisher PR6 Medium Refill 1.1mm – Purple Ink
Fisher PR8 Medium Refill 1.1mm – Brown Ink
Fisher PR9 Medium Refill 1.1mm – Turquoise Ink
Fisher PRSL Medium Refill 1.1mm – Silver Ink
Fisher PR1B Bold Refill 1.3mm – Blue Ink
Fisher PR4B Bold Refill 1.3mm – Black Ink
2.2. Fisher PR Refill Compatibility
The Fisher PR refill is their standard pressurized refill and fits most of the Fisher Space Pen Range, Including:
Astronaut Pens
Backpacker Pens
Bullet Pens
Cap-0-Matic Pens
The PR refill does not fit the Fisher Infinium, R80, Q4 Multi-Action, and the Contactors Pen. When you buy a replacement PR refill, the pack also includes a plastic adapter allowing it to be used in Parker pens.
We cover this in a detail a bit later on in the Parker adapter section.
3. Fisher Pressurized Cross Style C Refills

As the saying goes, these refills do exactly what it says on the tin, they are specifically designed to be used with Cross ballpoint pens and do not fit any Fisher Space Pen.
If you fancy giving your Cross pen the advantages you get from using a pressurized Fisher refill, then these are just what you need.
Note that these refills are only compatible with Cross pens that take their classic ballpoint refills. Check out our Ultimate Guide to Cross Pen & Pencil Refills for more information on Cross Classic refills.
We also list the complete range of Cross pens that these refills will fit.
3.1. Fisher Cross Refill Colors and Tip Sizes
Fisher Cross compatible refills are available in the following colors and sizes:
Fisher C1F Fine Refill 0.9mm Blue Ink
Fisher C1 Medium Refill 1.1mm Blue Ink
Fisher C4F Fine Refill 0.9mm Black Ink
Fisher C4 Medium Refill 1.1mm Black Ink
4. Fisher Pressurized Universal U Refills

These days the only Fisher pen that takes the Fisher Universal refill is the Fisher Q4 Multi-Action Space pen.
But the refill has a fascinating history as it is the first pen refill that Paul Fisher invented in the 1950s.
The refill was designed to fit in as many other manufacturers' pens as possible at that time hence the name "Fisher Universal Pen Refill"
These days the universal refill may not fit as many other brands of pens as it once did, but it is still very useful.
At around 67mm along its barrel, there is an ident that can be snapped off to shorten the refill.
Those familiar with pen refills may know that 67mm is the length of a standard D1 refill used in many multifunction and compact ballpoint pens.
Check out our Ultimate Guide to D1 Pen Refills for more information.
4.1. Fisher Universal Refill Colors and Tip Sizes
The Fisher universal refill is available in the following colors and tip sizes:
Fisher U1F Fine Refill 0.9mm Blue Ink
Fisher U2F Fine Refill 0.9mm Red Ink
Fisher U4F Fine Refill 0.9mm Black Ink
5. Fisher Contractor Tool Refills RP/CSP

The Fisher RP/CSP contactors tool refill is specifically designed for the Fisher Contractors Space Pen Tool and does not fit any other pens.
If you are not familiar with the Contractors Space Pen Tool, it is a rugged all-in-one tool made from plastic with a magnetic base.

It has a built-in spirit level/plumb level, metric and imperial ruler, and its refill can be taken out just to use as a space pen.
Being pressurized does everything someone in the trade wants from a pen and just works every time you need it with no fuss.
The Fisher RP/CSP contactors tool refill has a medium tip and black ink.
6. Non-Refillable Space Pens

Not all Space Pens can be refilled or, to be more accurate, have a refill that can be replaced by the user.
The pen is known as the Fisher Infinium Space Pen, and according to Fisher, it contains so much ink that most people will be unable to use it all in their lifetime.
In the unlikely event that it does run out of ink, simply send it back to Fisher, and they will refill the pen free of charge.
Unfortunately, Fisher doesn't say how much ink is in the pen or what the write-out length is in meters. But the pens cost in the region $170.00.
I am guessing that they have done their sums right when calculating how much ink to put in, as they won't want a flood of negative publicity about how the Infinium Space Pen that lasts a lifetime doesn't really.
7. How Does a Space Pen Work?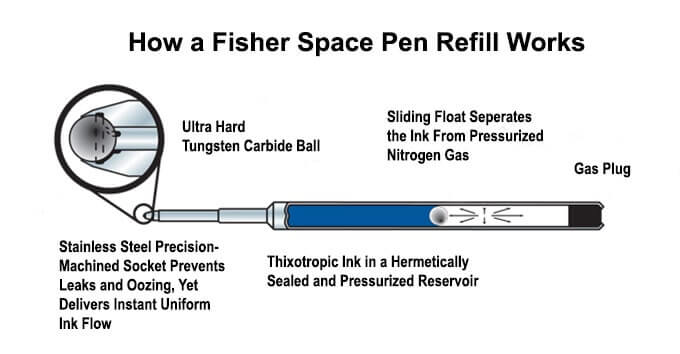 Most people know that a Space Pen has a pressurized refill, but how does this work?
If you look at the diagram, you can see that the ink in the refill is separated by Nitrogen gas by a sliding plastic float.
Nitrogen gas is lighter than air, so no matter what angle you hold the refill, there is always pressure on the ink in the barrel pushing it towards the Tungsten Carbide Ball.
The special Thixotropic ink is a thick paste that prevents it from oozing past the ball and leaking onto the paper.
As the ball rotates, the stress placed on the ink makes it fluid and thinner, allowing it to write smoothly on the surface of the paper.
When you stop writing, the ball stops rotating, and the ink inside the refill returns to its semi-solid state that does not leak past the ball.
8. Fisher Space Pen Refill Dimensions
Fisher Pressurized PR Refills measure 5.8mm in diameter it is 89mm in length without the plastic Parker adapter and 99mm in length with the adapter fitted.
Fisher Pressurized Cross Style C Refills measure 3mm in diameter and are 115mm in length.
Fisher Pressurized Universal U Refills are 2mm in diameter and measure 96mm in length. They have an indent at 67mm and 87mm, allowing the refill to be snapped off at these lengths.
9. Fisher Space Pen Refill Parker Adapter

Unfortunately, they don't supply the "Parker Adapter" with a new Space pen as the refill is already fitted to the pen and does not need it.
However, if you buy a replacement Fisher PR refill, then included in the packaging is a small plastic adapter, it may not look like much, but it is extremely useful.
The adapter is about 10mm in length and sits on the end of the refills barrel.
This allows your space pen refill to be used in nearly any pen that takes a Parker G2 style refill.
If you are not familiar with Parker-style G2 refills, they are a standard size used in many different brands of pens.
For more information, check our Ultimate Parker Style G2 Refill Buyers Guide.
10. How Long Does A Fisher Space Pen Last?
The Fisher PR Space Pen Refill has a large ink capacity and will write about 3,700 meters compared to the average ballpoint pen, which writes 900 meters.
The Fisher Cross refill is a lot thinner than a standard PR refill and therefore does not hold as much ink. It will write about 732 meters which is just less than the average of 900 meters for a typical ballpoint pen.
The Fisher Universal refill has a small ink reservoir that will write about 366 meters. Bear in mind that this is at its full length of 96mm, and if you snap it at the 67mm indent to use it as a D1 refill, then you are decreasing the length that it will write by approximately 30% to 256 meters.
If you are interested in how far ballpoint pens write or where we got the average length from, check out our guide, How Far Will a Ball Pen Write, for more information.
11. Fisher Space Pen Refill Alternatives
You have to ask why you would want to lose the excellent writing characteristics of having a pen fitted with an original Fisher Space refill.
However, if you are reading this, you are obviously looking for an alternative to use in your space pen.
11.1. Schmidt 4899 Megaline Pressurized Refills
The Schmidt 4899 Megaline pressurized refills are 4.8mm in diameter and 89mm in length; these will fit straight into a Fisher Space Pen without any alteration and work.
If you shop around, you may find them for a few bucks cheaper than the genuine Fisher Pr refills, but they are only available in black or blue ink with a medium tip.
11.2. Gel Ink Refill For Fisher Space Pen
Fisher doesn't make a gel ink refill as they use a semi-solid thixotropic ink, which we have already covered in the previous section, How Does a Space Pen Work?
All is not lost though the Zebra JK Plastic Refill can be modified to work in a Fisher Space Pen.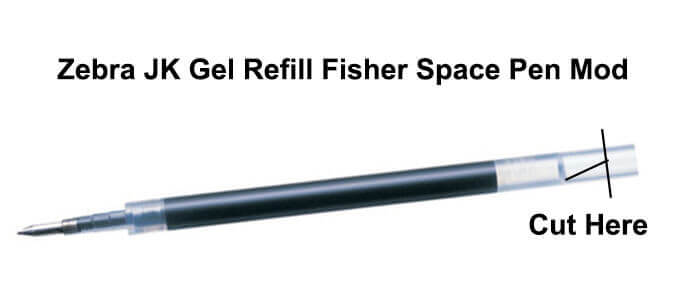 The refill is very similar in size to the Fisher PR refill and fits quite nicely in the pen after you trim approximately 5 mm off the end of the JK refill so that it is the same length as the Fisher PR refill.
However, it is prone to skipping and stopping writing; an enterprising young man posted the solution on Reddit a couple of years ago.
Simply cut it at an angle from halfway across the end of the refill to allow more air pressure into it.
11.3. Fisher Space Pen Rollerball Refills
At the time of writing this, there are no rollerball refills that fit or can be modded to fit a Fisher Space Pen. Please let us know in the comments if you are aware of any.
11.4. Adapter Fisher PR to D1 Mini Refill

Another alternative allows you to use any D1 refill in a Fisher Space Pen with a 3D printed adapter.
These can be bought online from Shapeways. I have no affiliation with them or receive any commission, nor can I vouch for their compatibility with every model of Space pen.
I have included these as although a D1 refill holds a tiny amount of ink, there is a vast range to choose from.
12. Fisher Space Pen Refills Vs Parker Refills

When it comes to Fisher Space Pen refills vs Parker refills, the first thing to remember is that Parker-style G2 refills do not fit Fisher Space Pens.
This is because they are longer than a space pen refill; however, Fisher PR4 refills have a plastic adapter approximately 10mm in length, allowing them to be used in most pens that can take a Parker G2 refill.
So it now boils down to personal preference about whether to fit the Fisher PR Space Pen refill or a Parker Style G2 refill in your pen.
Everyone knows the benefits of using the pressurized refill:
Writes at any angle, even upside down.
Writes on greasy paper
Writes on wet paper or underwater if it floats your boat.
Writes in very hot or cold temperatures.
Writes in zero gravity (very handy for the next time you find yourself on a spaceship).
The ink does not dry out
However, there are a couple of things where a Parker refill is better than a Fisher Space Pen refill.
The first is the smoothness of writing we discussed earlier in the section How a Space Pen Works about the fact that Fisher Thixotropic ink is a thick paste that liquefies as the ball of the refill rolls on the paper.
This makes Fisher Space Pens not the smoothest of writers, and a lot of Parker-style refills, including genuine Parker G2, refills, use a very smooth writing low viscosity ink.
The other is the choice and vibrancy of color; there is a far more comprehensive choice of colors for Parker-style G2 refills, and they have a much more vibrant color.
There are even G2 gel refills available, and Fischer doesn't make a gel refill.
13. Where Can I Buy Fisher Space Pen Refills?
You can buy Fisher Space Pen refills anywhere, including Walmart and numerous online stores. Although they may not have the full range to choose from.
If you buy directly from The Fisher Website, you know you are getting a genuine Fisher Space Pen refill. But you will pay top dollar for it.
If you are looking to buy cheap space pen refills, then Amazon is as good as anywhere, and sometimes it is a bit cheaper if you buy twin or triple packs.
Buy Fisher Space Pen Refills On Amazon
If you also have a different brand of pen, check out Pen Refill Guides, where there is a complete list of our in-depth refill guides for each manufacturer.